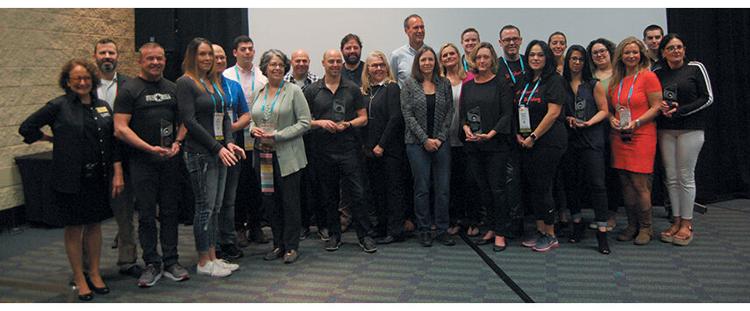 Northpoint Pets & Company, Pet Pantry Warehouse and Treats Unleashed received the top awards at the ninth-annual Retailer Excellence Awards presentation, which took place on Thursday, Feb. 27.
Presented by Pet Business magazine and the organizers of Global Pet Expo, the awards program celebrates independent pet specialty retailers that demonstrate excellence in a variety of categories, such as merchandising, marketing customer service and more. The awards ceremony was followed by a series of Retailer Roundtable discussions, where Global Pet Expo Academy speakers and past Retail Excellence Award winners conversed about the latest topics impacting the pet industry. The full list of winners includes: 
BEST SINGLE STORE RETAILER
Cheshire, CT
BEST MULTI-UNIT RETAILER (2-14 Stores)
Rye, N.Y.
BEST MULTI-UNIT RETAILER (15+ Stores)
St. Louis, MO
BEST MULTISERVICE RETAILER
Stratford, CT
BEST LIVE ANIMAL RETAILER
Gainesville, FL
BEST MERCHANDISING/STORE DESIGN
Centennial, CO
COMMUNITY SERVICE/OUTREACH & PARTNERSHIP
Boca Raton, FL
BEST CUSTOMER SERVICE
Fredericksburg, VA
BEST ECOFRIENDLY RETAILER
Knoxville, TN
BEST INTERNET MARKETING
Tauton, MA
This year's winning retailers were humbled and happy to receive their awards.
"You have no idea how exciting this is for me," said Blake Gibson, owner of Garden of the Paws, which won the Merchandising/Store Design award. "It's a true honor to receive this award… it lets me know I'm heading in the right direction as a new independent pet retailer by 'thinking out of the box.'"
Garden of the Paws has been open for a little more than a year, and it offers a rustic Colorado aesthetic with reclaimed wood trim throughout and recycled large wire spools for additional product merchandising.
"When we were designing the store, we wanted to keep it open, bright, well ventilated and welcoming," said Gibson. "We wanted to create an environment that puts pet parents at ease so that we can provide the highest level of customer service possible."
Nicci Decrisantis, owner of Northpoint Pets—winner of the Single Store Retailer award—also found the honor gratifying.
"This past year was an incredibly challenging year for so many retailers, as we've had to adapt to changing market conditions, health challenges and competition from the big guys," Decrisantis said. "I'm so proud of my team for building NorthPoint to what it is and humbled to have been chosen from an inspiring pool of other amazing retailers."
Wag Central, this year's Multiservice Retailer winner, is proud of how its one location has grown over its three years in business.
"It's an amazing honor to receive this retailer excellence award," says Angela Pantalone, CEO. "Wag Central was founded on a little idea centering around recreation for pups and their owners. It quickly blossomed into a one-stop shop for all needs canine."
Wag Central offers numerous services for pets and owners, which include doggy daycare, dog boarding, dog training, dog grooming, dog swimming, self wash, taxi service, veterinary, boutique, bakery, parties and more.
"Our offerings are ambitious, but I've always said, 'Go big or go home,'" said Pantalone.
Winners Come in All Sizes
Being recognized with a Retailer Excellence Award was also an honor for larger retailers, such as Treats Unleashed, which won Best Multi-Unit Retailer (15+ Stores).
"It is a testament to our team and the relationships they have built with our customers and community," said Ian and Teresa Miller, owners and founders of Treats Unleashed. "This award has a long history of recognizing very successful retailers, and we are proud to be among them."
Locally owned and operated, the St. Louis, Mo.-based retailer offers all-natural pet food, fresh-baked treats and custom pet cakes, grooming and self wash services, and a broad selection of quality cat and dog products. It has grown significantly over the nearly two decades since it was founded and now has 17 locations.
For Britt Sturm, owner of Agri Feed Pet Supply, winning Best Eco-Friendly Retailer this year has been a goal of his since attending Global Pet Expo last year.
"…We actually helped facilitate one of the small groups that focused on sustainability and being eco-friendly and what that meant from an individual level, store level [and] all the way up to an industry level," said Sturm. "We brainstormed with several other attending members and companies and after that meeting, I said to Melissa [his mother] that my goal for next year was to win this award."
To achieve this, Agri Feed has eliminated all plastics and only offers glass, metal/stainless or ceramic options in regards to bowls, diners, dishes and bottles. The store only offers paper shopping bags—no plastic—and only carries 100 percent biodegradable and compostable poop bags.
Agri Feed is dedicated to working with environmentally-conscience and sustainable brands, such as those that are part of the Pet Sustainability Coalition or those that have made diligent efforts of their own. For example, Agri Feed Pet Supply looks at what types of packaging their vendor partners use and is interested in how they're working to minimize the use of plastic and their overall carbon footprint.
In addition to focusing on what being recognized with an award meant to them, the winning retailers offered words of advice on how to achieve similar success.
For example, Gibson suggested that achieving an excellent store design is all about considering the kind of environment you would want to shop in and translate that vision into a place for your customers.
When it came to giving advice on how to be a successful multi-unit retailer, the Millers explained that the right business plan and effective collaboration are key to paving your way to success.
"The key to being a successful multi-unit retailer is building a strong team and facilitating communication so that everyone is on the same page from our mission and core values to the goals of the organization and operational processes," they said.
Of course, whether you operate one store or 100, it's imperative that retailers are clued-in to their competition, and figure out how to differentiate themselves.
"Take your time to research your competitors, visit great businesses near and far to see what they are doing right, and figure out what gaps are missing in your community that need to be filled," advised Pantalone.
Still, Decrisantis cautioned retailers against going too far in focusing on their compeition.
"Don't get caught up in what your competition is doing," she said. "If you do that, you'll always be chasing, instead invest in yourself, your education and your skills. These things will help build the foundation for something you can be proud of, and the rest will follow."