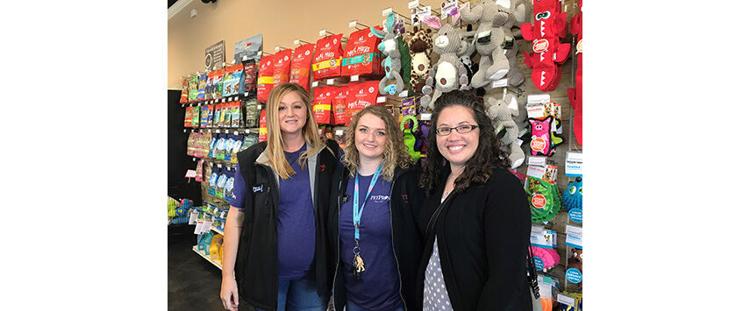 In the life of every business, there comes a critical moment when the ability to reach a new level of success requires an evolution. For Pet Pros, the 23-store independent pet specialty chain headquartered in Woodinville, Wash., that time is now.
Over the course of more than three decades since it was founded as a single store in North Seattle, Pet Pros' ability to consistently offer customers high-quality products, exceptional service and reliable pet care advice in a fun, community-centric environment has made it a favorite shopping destination for pet owners across the Pacific Northwest. But now, facing a rapidly changing competitive climate and having reached a size that requires clockwork-level consistency in operating practices and the ability to effectively and efficiently deploy resources across an ever-broadening geographic reach, the company finds itself on the cusp of a transition from what was, in many ways, a mom-and-pop operation, into a more modern retail force. With a clear understanding of what it will take for Pet Pros to achieve the next level of success, its executive team is up to the challenge.
It's for this history of success—built on its "four pillars" of natural, healthy products, education, fun and community—and commitment to continuing to evolve its brand for a new era of growth that Pet Pros has been selected as Pet Business' 2019 Retailer of the Year.
Back to the (Almost) Beginning
To understand how Pet Pros has gotten where it is today, one has to go back to the beginning of the chain—or more accurately to 1992, about six years after Pet Pros was founded. That is when Harvey Peterson and his partner, Dan Albrecht, acquired the business, which at the time was still a very small operation. Both men were successful entrepreneurs who had a passion for pets, so taking on a venture that combined two of their shared interests was an obvious choice.
"Dan and I had been longtime friends through the retriever field trial game and were partners in the ownership of a competitive retriever," says Peterson, who still serves as the CEO of Pet Pros, despite now being in semi-retirement. "Dan was the owner of Lucky Dog Equipment, which manufactured and sold retriever field trial training and hunting equipment, and one of his customers was a chain of five retail pet supplies stores called Pet Pros. The owners approached him with a possible acquisition opportunity, and he approached me about forming a partnership."
Under the terms of the partnership, Albrecht ran the company and Peterson provided the financial backing to make the acquisition and finance the business. While this arrangement proved successful, operating a growing pet store chain alongside the Lucky Dog Equipment manufacturing business was no simple task.
"The first years owning the company were a real challenge," says Peterson. "We were a couple of guys with little to no retail experience.  We were learning on the job."
Quickly realizing that operating an organization with the combined size of Pet Pros and Lucky Dog would require "fairly sophisticated" inventory and cash management resources, the partners invested in their first point-of-sale system within the first few months after the acquisition. While working with the new the system was a challenge in and of itself, it was hardly the biggest test that the partners faced in those early years. That distinction, according to Peterson, goes to the emergence of the big-box pet store concept right in Pet Pros' backyard.
"We discovered that PetSmart was opening their first store in the Pacific Northwest, just down the road from one of our stores," he recounts. "We had to battle their very low pricing from the beginning."
Luckily, the Pet Pros owners discovered that they could compete with big-boxes and still remain profitable. And while the chain continued to face other challenges along the way, it continued to grow stronger and add stores.
"Early on, it was evident that in order to gain buying power from distributors, we needed to grow by adding new locations," Peterson explains, noting that the chain's philosophy of adding new stores has always been conservative. "We have been very careful and deliberate in adding new locations."
Still, less than 10 years after acquiring Pet Pros, Peterson and Albrecht had expanded the chain to 10 stores and reached 20 stores in 2009.
By that point, however, the partnership had gone through its own changes. After Lucky Dog Equipment was sold to Radio Systems in 2008, Albrecht significantly scaled back his involvement in Pet Pros. Then, in 2012, Peterson bought out his partner's stake in the chain.
However, Peterson still had another important partner helping him run the pet store chain—his wife, Nancy. The couple shared a passion for retriever field trials and hunting, with Nancy running retrievers competitively on the local and national level from the early 1980s. And with her strong background in business, she proved instrumental in implementing Pet Pros first point-of-sale system.
"Our shared interest and passion for pets has made the working relationship a marriage in business and in life that works for both of us," says Peterson.
A Team Effort
Now, as Harvey and Nancy Peterson finally allow themselves to ease into semi-retirement, they are able to do so with confidence in the exceptional team of retail executives in whom they have entrusted the future of the Pet Pros chain. Atop that team is Georgann McConn, general manager. Originally serving as the company's controller, McConn's role with Pet Pros began to shift shortly after she came on board in 2011, as Peterson realized her potential as a leader.
"Georgann's passion for pets and love for this company was evident from the first day she walked into the office," he says. "We could see that she had found her dream job. She didn't waste any time; she immediately dug in and saw ways to improve processes that made life easier for the stores and the company as a whole. She dug into every facet of the business, from managing inventory to finding new locations and negotiating leases.
"Then, a few years ago, she was looking to grow, and we saw a need to have someone oversee the everyday activities of the company. She took on the responsibilities of being general manager without hesitation and has performed at a very high level."
While McConn officially became general manager of Pet Pros in late 2016, she describes it as a role that she grew into over time, with Peterson's help.
"That's what Harvey does, he grows people," she says. "When he sees someone taking an interest, he focuses in on that. He pulled me into meetings with distributors, for example, and I learned a lot. Also, Harvey, Ernie [Greene, category manager, food] and I used to go out to lunch almost every day and talk business."
As general manager, McConn is responsible for Pet Pros' overall business strategy, as well as a variety of specific functions, such as scouting and procuring new locations, accounting and much more. However, the most important part of her role is in leading the rest of the Pet Pros executive team, which includes:
Ernie Greene, Category Manager, Food
Greene is responsible for managing Pet Pros' relationships with its food partners, evaluating and selecting the food products carried, pricing on food and plan-o-grams.
"Ernie is also on the new store build team, and he and Mikie [Pierre, retail operations manager] can assemble racking like no one else!" says McConn.
Melissa Grosjean, Category Manager, Hard Goods
Grosjean is responsible for evaluating, selecting and managing just about all of Pet Pros' non-food products, including supplements, litter, treats, collars and leads, toys, etc.
"Melissa's undergraduate degree was in animal science, and her particular passion is animal nutrition," says McConn. "We rely on Melissa for developing our training and materials relating to pet nutrition."
Patti Cofano, Marketing Manager
Cofano is responsible for all of Pet Pros' advertising and marketing efforts. "Whether it is print, digital or radio, Patti is on it!" says McConn, noting that Cofano developed the chain's messaging framework and brand identity, which led to the four pillars of "Natural Healthy Products, Education, Fun, and Community."
"Patti also is involved in planning and executing our company wide events, such as the Paw-cific Northwest Summer event, Paw-aliday Giving and various photo contests throughout the year, as well as being a resource for our store teams in planning their own events."
Joe Furness, IT Manager
Furness maintains the chain's IT infrastructure, manages outside IT consultants and is responsible for making sure Pet Pros stores can run 99.99 percent of the time. He has developed IT trouble shooting guides, training resources and a standardized ticketing system, so any issues can be tracked and handled promptly.
"Joe also maintains our in-store video displays and puts on our Santa Claus suit when we visit our stores to deliver their holiday gifts from the company," McConn notes.
Mikie Pierre, Retail Operations Manager
Pierre manages the day-to-day operations of the stores, which includes recruiting and addressing any human resources issues, and coordinating and managing facilities maintenance. She also is responsible for the content and trainings for manager meetings and team training development.
According to McConn, "Mikie also makes sure our stores have the resources and supplies to execute on our company wide events and initiatives."
Stacey Hendrickson and Wes Randal, District Managers
Hendrickson and Randal are primarily responsible for the smooth and effective running of the day-to-day operations in Pet Pros' stores, staff development and training, identifying and developing team members who show an aptitude for management, and bringing these folks to the attention of McConn and Pierre.
"Through training and development of their teams, they are responsible for elevating our guest's in-store experience," says McConn.
Morgan, Chief Office Dog
"Morgan is responsible for making us smile, rolling her treat toy around when she feels like it, begging for treats and napping," says McConn.
While each member of the Pet Pros executive staff brings his or her own unique perspective and talents to their respective roles, they all do so with an eye on fulfilling the vision that the Petersons have always had for the chain.
"We really honor the original mission," says McConn. "Even though Harvey and Nancy aren't here, we do everything with an eye toward, what would they want us to do? Take care of our people. Be kind. Be loyal."
A Solid Foundation
The team that Peterson assembled has been instrumental in building Pet Pros into a formidable retail operation. As with most successful retailers, this begins with having the right products on store shelves—in this case, a mix of wholesome pet food and treats, as well as supplies that make owning a pet more convenient and enjoyable. This is where Greene and Grosjean have proven adept in their roles, serving as vital gatekeepers in deciding what products live up to the promise that Pet Pros makes to customers in its four pillars.
"In choosing foods for Pet Pros, we focus on premium foods from manufacturers that are thoughtful about their ingredients and formulations," Greene explains. "We seek out manufacturers that focus on quality ingredients and scrupulous processing. We work with partners we know our guests can trust to have their pets' optimum health as a top priority.
"What we do not allow: artificial colors, preservatives or flavorings, refined sugars, or unnamed meats or meat meals, or unnamed sources of fat."
To meet the varying needs of a broad customer base, Pet Pros offers a wide variety of foods, including kibble and canned food with and without grain, limited-ingredient diets, and diets for specific stages of life or lifestyle requirements. The chain has also demonstrated its willingness to cater to the shifting demands of pet owners by embracing newer, alternative diets, such as freeze-dried, dehydrated, raw food and toppers.
"We are always on the lookout for foods that are unique to our market or emerging brands that offer something different than the larger, widely distributed brands," says Greene.
According to Grojean, Pet Pros follows a similar process with its treat and chew selection.
"We look for brands we can trust and that include only ingredients that add to nutritional value—nothing artificial and no purposeless fillers," she says.
Whether its treats or pet supplies such as collars, apparel or toys, Grosjean strives to provide Pet Pros customers with unique, quality products that not only fulfill the needs of pet owners, but also support local businesses and can't readily be found in competitors' aisles.
"Our guests are open to trying new things, so we work on offering fresh options on a regular basis," she explains. "We search far and wide for high-quality, unique supplies, but what we love best is to find outstanding products that meet our guests' needs and are made locally."
Yet, while Greene and Grosjean are responsible for making all final buying decisions, they look at the process as a group effort and give other team members an opportunity to weigh in with their opinions when considering new products. In fact, when the timing allows, new products are taken to Pet Pros' quarterly manager meetings, where every store is able vote on whether or not to bring them in.
Of course, stocking the right products is only part of the equation. Even the best product selection won't amount to much if customers do not receive the high level of service they've come to expect from specialty retailers. Luckily, this is an area in which Pet Pros' store staff really shines, thanks in large part to a great group of managers that the company has groomed for their roles.
"Our goal is to develop or find store managers who are well rounded and have a passion for pets," says Pierre. "They need to be able to complete day-to-day operations, but ultimately we want leaders that are looking to build their team, grow and develop their people in order to best service our guests."
An important part of building the chain's team of store managers is identifying the right candidates, which is a process that begins at the weekly meetings held between the Pet Pros district managers, operations manager and general manager. Here, the district managers will point out which employees are showing potential for advancement.
"We discuss how current store managers and team leads are performing, which ones are advancing faster and which ones need additional support or training and how we go about providing that," Pierre explains, noting that the company has a list of short term goals for high-performing assistant managers—in areas such as leadership skills, delegating, coaching, team building and operations—to prepare them for managing a store of their own.  "Once an assistant store manager has completed these goals successfully, they move on to running the current store for two plus weeks, as if they are the store manager. This process gives the ASM the ability to lead but with a support net if needed."
In addition to helping identify potential store managers, Pet Pros' district managers play a vital role in the ongoing support and development of the chain's store staff, from the manager level on down. Hendrickson and Randal each supervise more than 10 stores, visiting two to three locations each day, depending on what is going on in those stores on a given day. The goal, says Pierre, is to make sure they see every store in their district at least every other week, if not more often.
"The focus of their day is typically on our people," she explains. "They ensure new team members are progressing in their training and are gaining the knowledge they need to confidently serve our guests. They check in on more seasoned team members to see how they are developing in their skills in areas such as product education, guest service and leadership development."
Finally, Pet Pros' district managers coach and support the chain's store managers through a variety of day-to-day situations, from guest service expectations to handling tough conversations with staff members about performance.
"If a team member does not appear to be on track, our goal is to take a step back and see where we may have failed them or where we could have done better," says Pierre. "We then give the support and retraining needed so that they can learn and be successful moving forward."
The Next Evolution
With a solid foundation firmly in place, Pet Pros stands ready to tackle the changes that will be necessary to sustain the success that the chain has enjoyed over the past 30-plus years. And while the chain has, in fact, been evolving consistently since Peterson and Albrecht acquired it more than 30 years ago, it has been necessary to accelerate that progress over the past decade for several key reasons.
"Since the recession of the late 2000's, independent pet businesses have been restructuring to compete with the big-box stores and the new world of online purchasing and home delivery," says Peterson. "We needed to figure out new ways to engage customers and offer services on a competitive basis."
Not surprisingly, this is perspective that is shared by McConn. "The pet retail industry—and the retail industry at large—has seen significant changes over the last several years and it is still evolving," she says. "As it continues to change, we need to evolve to the shifts in customer preferences so we are continually looking at how we can improve."
While incorporating services like "Buy Online Pickup In-Store" (with home delivery coming soon) and using social media to reach customers have been critical elements in Pet Pros' next evolution, there are other aspects of change that, although not as flashy and visible to customers, are just as important to the chain's future success.
For example, McConn explains that updating and improving back-office systems will not only improve a variety of functions, it will create efficiencies that will enable her team to redouble their focus on the chain's staff and customers.
"We have run with disparate systems for years—one program for POS, another for accounting, another for fixed assets—and basically chasing our tails trying to figure out why things don't agree between the systems. We want to streamline our entire company so we are focusing on the things that enhance our guests' and employees' experiences."
Another example of the types of improvements that Pet Pros is undergoing can be found in its approach to human resources management, which the company has brought into the digital age with the rollout of paperless recruiting and applications. This rollout will soon be followed by paperless on-boarding, performance reviews and benefits enrollment.
"To enhance our employee experience, we want them to have the information they want and need, using the media they are comfortable using," McConn explains. "Our employees can see their schedule on their phones, check their vacation and sick time accruals, see pay stubs. They can also give and receive feedback and recognition in our HRIS [human resources information system], a visible way of saying thank you for going above and beyond that is seen by everyone in our company."
Along with streamlining the back office and using technology to engage both its customers and staff, Pet Pros latest evolution is focused on creating consistency from one store to the next—a step that will be vital to the ongoing expansion of the chain. With this in mind, the company is developing plan-o-grams for its stores for the first time in its history.
"Our store personnel have been doing their own ordering for years," says McConn, noting that this approach worked well when Pet Pros had fewer stores and product choices. "As the industry has exploded with more and more SKUs every year, we realize that we need to standardize our product offerings among our stores. It's just not effective for a chain our size to have tens of thousands of SKUs available. It's unwieldy to manage and definitely not close to the realm of best practices for a retail company."
Much like it was in Pet Pros' first evolution after being acquired by Peterson and Albrecht all those years ago, a new POS system will surely be the lynchpin for much of the change that is taking place at Pet Pros today. The right system will help the chain's executives accomplish the back-office streamlining and customer engagement improvements, which will be key to a new era of growth.
"For our team members, the new POS must be easy and intuitive to learn and use and not get in the way of taking care of our guests," says McConn, noting that the new system must be omni-channel capable so the company can offer a seamless customer experience, whether its in the store or online.
"We also want to be able to fully integrate with the industry's best in class loyalty platform, so our guests can earn loyalty points, track their purchases, participate in brands' frequent-buyer programs and take advantage of the promotions offered. We want to be able to provide our guests with information that is relevant to them, so the loyalty platform must have very robust data mining and marketing capabilities."
With so many internal changes in progress, Pet Pros has not placed any emphasis on expansion recently. Still, the evolution that is taking place right now will not only improve the chain's current operations, it will also perfectly position the company for future growth.
"It's hard to think too far ahead when we are going through so much systemic change at this time," says McConn. "However, I believe wholeheartedly we will be a much stronger organization. We have held back on expanding these past couple of years because of these change efforts, but we do plan to add more stores in a cautious and conservative manner once we get through the majority of these projects."  PB