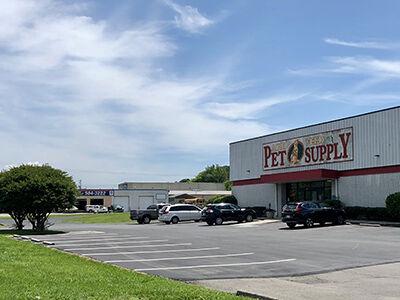 Britt Sturm always knew he'd get involved with the family business, Agri Feed Pet Supply. Founded in 1976 by his grandfather, the company got its start selling bulk feed to local farms and, over the course of two decades, grew into the first pet supply superstore in Knoxville, Tenn. Now with two locations, and a history of adapting to the times and staying relevant, Agri Feed—2018 winner of the Retail Excellence Award for Best Overall Multi-Unit Retailer (2-10 Stores) at Global Pet Expo—is continuing its success well into the 21st century.
Melvin Sturm, now 94, started Agri Feed when he took a chance on a young man who approached his business advisory board in Oak Ridge, Tenn. to discuss a potential opportunity involving Purina and its divested warehouses. Melvin became a silent partner and a contract was drawn up, capital was supplied and goals were outlined. When the young man failed to accomplish them, Melvin bought him out of the company and asked his son, Bradley, to temporarily step in as the general manager.
Bradley accepted, deferring a job offer in Texas to lend a hand throughout the summer. Soon after, his life fell into place. Bradley met his wife, Melissa, and they decided to get married, have kids, stay in Knoxville and take on managing the store full time. Over the course of 20 years, they were able to expand the business to three locations.
From a young age, their son, Britt, went store to store with his parents to help with work. As he grew up, he took on more responsibilities after school, on the weekends, and during summer and winter breaks—aside from the one summer during his teen years where his mom temporarily fired him. 
After successfully guiding the store through the shifting economy of the early '80s and expanding to three locations in the '90s, Bradley passed away just before the turn of the century.
Determined to keep the legacy going, Melissa stepped up to the plate and took over the business, which she has been running for the past 19 years. To make things more manageable, she streamlined operations back down to two stores so she could better distribute her time. Luckily, Britt was there to help. 
"In the back of my mind, I always knew I wanted to be involved in the business in some form or another," recalls Britt. "I just wasn't sure to what capacity." 
He went on to graduate from Lindenwood University in St. Charles, Miss., with a bachelor's degree in entrepreneurial studies, a minor in marketing and a MBA in finance. Initially, Britt planned on getting involved with the St. Louis music industry with a friend, but when those plans fell through, he decided "it seemed like the right time to come back to Knoxville and take on a more serious role in my family's business."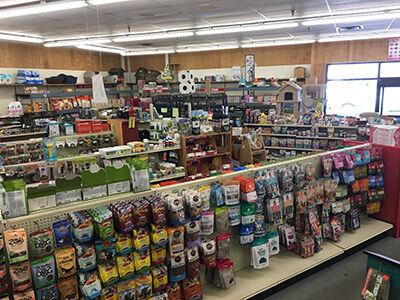 Customer Consideration
Agri Feed, the area's largest and oldest family-run shop, has been in business for 42 years, but that doesn't mean it hasn't had its fair share of challenges. It's a destination store, located in an industrial part of Knoxville, and has to compete with online, direct-to-consumer giants and brick-and-mortar stores that are located in more populated areas of the city. To compensate, Britt relies on customer service.
"We try and carry a lot of products that are unique to our store and that also gets the customer coming back more frequently," he says. "We go above and beyond to exceed our customer's expectations and will bend over backwards to make a customer happy."
In order to ensure its employees are well-trained and knowledgeable, they go through a rigorous orientation process. After shadowing a manager for two weeks, they are then subject to in-store and online training programs in customer service, cashiering and telephone etiquette. Potential employees are provided with a company handbook that includes several more training exercises and extensive information about the brands and products that the store carries. Additionally, there are quarterly dinners where manufacturer representatives come in and spend an hour or two discussing products with the staff.
"I remind my employees that without the customer, they won't have a job," Britt explains. "It's most important to make sure we drop whatever our busy task at hand is and tend to our customers."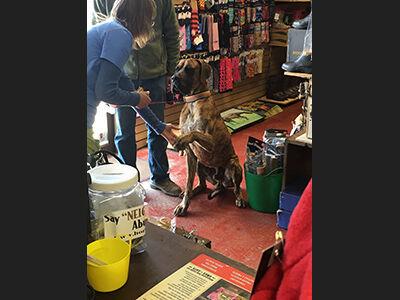 Community Centered
Agri Feed has made a significant impact in the community through its work with area rescue groups and shelters, and involvement in organizing local events.
The company's goal is to place more pets into loving homes and reduce euthanasia rates of healthy, adoptable animals. They donate thousands of pounds of pet food a year to local rescues, and have donated dozens of crates to GoNorth, an organization that helps transport dogs from over-populated shelters in the south to empty shelters in the north. Agri Feed houses cats with the help of Stray Connection and guinea pigs through the Knoxville Guinea Pig Rescue, which also has the capacity for rabbits. The company sponsors the adoption publication Critter Magazine and has a variety of rescue groups that visits the store each Saturday to promote adoption.
Agri Feed sponsors several community events a year, including Bark in the Park, Mardi Growl Pet Parade and Party, Horse Haven 'Dancing with the Horses,' Boo at the Barn, University of Tennessee Botanical Gardens Pooch Parade, First Friday: Dog's Night Out, Petoberfest (its customer appreciation event), IJAMS Nature Center Hummingbird Festival and Village Vet Fair, to name a few.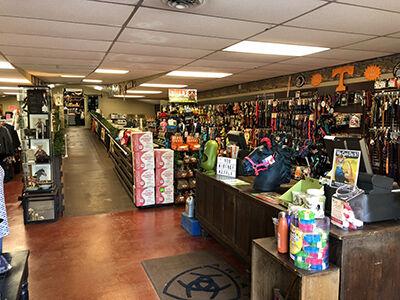 Changing Times
Agri Feed successfully transitioned from a bulk-feed distributor to a pet supply superstore over the course of 20 years, and that adaptability is proving beneficial in the technologically driven world. 
"As business owners, we can't sit around and be blind to the fact that the internet is affecting our overall business," Britt says. "It is crucial that we try and stay ahead of our individual markets by watching trends."
To ensure he's up to date, Britt reads, listens and watches industry news, articles, reports and publications that he thinks would be helpful to the business.
His research has led him to expand the company's internet presence through social media and e-commerce. Agri Feed now offers a weekly texting program that sends deals and coupons straight to customer's phones; a bi-monthly e-blast that features products, local events and a rescue schedule; and a free, in-store loyalty card that helps customers acquire points based off of purchases for discounts on future visits. The e-commerce site, which Britt equates to the management of a third store, offers in-store pick up, the ability to ship from store and local delivery. The delivery service, not even a year old, has helped the company see a noticeable increase in traffic and growth.
When asked about future expansion, Britt was optimistic. Going forward, he would love to see another brick-and-mortar location open, adding that the company is always thinking of new ideas for services, products or experiences that it could offer.
As Britt looks ahead, he can't help but look back. "These 42 years wouldn't have been possible without all the hard work and dedication of our wonderful team," he explains, noting that some employees have been with the company for over 30 years. "I think that speaks for itself in the type of work place we offer and the people we surround ourselves with." PB