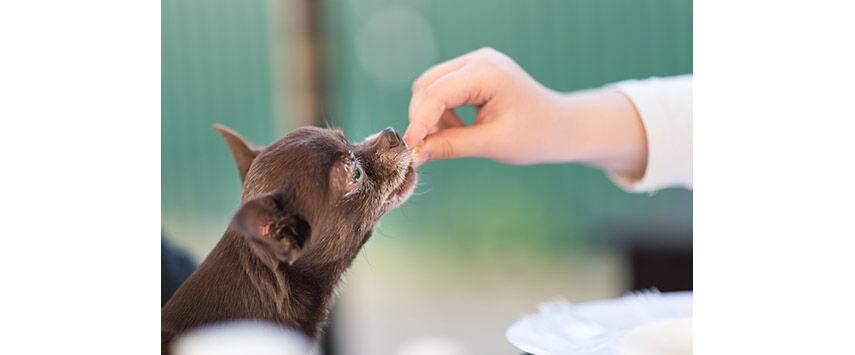 Even though snacks are meant to be used as a special treat and not a meal replacement, pet parents still want these products to provide nutritional value. Manufacturers of all-natural snacks are focusing on limited ingredients and responsible sourcing processes to satisfy this demand.
One of the keys to selling all-natural snacks is to source wholesome ingredients. As retailers continue to see the increased humanization of pets, they will encounter customers who conduct their own research to remain knowledgeable about the different health benefits of all-natural snack ingredients. One of the things that pet owners will likely find in their research is the benefits limited-ingredient formulas can provide.
"It's easy to have more confidence that you're feeding your dog only good things when there are just a few, natural items listed in the ingredient list," says Laura Taylor, co-owner of Woofables, The Gourmet Dog Bakery, in Coralville, Iowa. "The nice part is fewer ingredients don't require much training to sell the product. It's clean and simple and better for the pet."
There is a challenge to remaining transparent and maintaining a comprehensive collection of these all-natural snacks in a retail space, though. To keep snacks natural, manufacturers must rely on preservation methods that will not alter the wholesome characteristics of products but still maintain freshness on shelves.
"Consumers and pet suppliers want treats with a limited list of natural ingredients and no preservatives," explains Taylor. "This requires manufacturers to rotate fresh product more frequently and ship in ways to preserve freshness."
Pet parents who want all-natural snacks for their animals will often bypass products whose formulas include unfamiliar or difficult-to-identify components. These consumers will opt instead for recipes that include the most recognizable ingredients, according to Eric Abbey, president and founder of Cranbury, N.J.'s Loving Pets.
"Pet parents are seeking USA-made treats that contain carefully selected ingredients that they recognize on an easy-to-understand ingredient panel and a healthy tasty treat or chew that promotes their pet's good health in a taste they will love," he explains. "My mom said it best: 'If you've never heard of an ingredient, it probably isn't natural.'"
Grasping the attention of retail shoppers in this segment requires effective marketing. By clearly outlining the primary benefits of the formulas offered by their products—whether limited-ingredient or grain- and gluten-free—brands are helping retailers create an easier shopping experience.
"Since the human pet parent is making the purchasing decision, retailers want to offer treats that their customers can easily relate to, and understand the ingredients and benefits," explains Abbey. "Also, companies use eye-catching packaging to clearly call out what's in and sometimes what's out."
As manufacturers of these wholesome snacks remain vigilant to become a trusted source for treats, they are finding that pet parents are relying on them for not only the latest industry information, but also the basics of snack usage, says Jaclyn Sion, marketing director at NPIC in Plano, Texas.
"This seems pretty basic, however, when it comes to treats, it's important to remember that they should not be considered as a nutritional replacement for meals," advises Sion. "Treats should be nutritious, natural, functional and made without fillers, but we emphasize the importance to follow proper feeding instructions as well as maintain regular dietary best practices."
Through studying the production methods and supply chain sources of manufacturers, consumers are learning more by looking beyond labeling on packaging, says Rashell Cooper, director of marketing for Long Beach, Calif.-based Redbarn.
"We're excited to see pet parents taking such an interest in nutrition and are working hard to not only offer safe, healthy treats and foods, but to be an educational resource for them via our social media, blogs and product videos," Cooper says.
Natural Evolution
To create products that will sell in the retail space, manufacturers are seeking innovative ingredients that fulfill the nutritional needs of animals. Citing the potential nutritional benefits of wholesome exotic protein sources—such as bison and duck—for all-natural pet snacks, Stephen Trachtenberg, president and owner of Hudson, N.H.'s Chasing Our Tails, Inc., reveals how these products could improve a pet's quality of life.
"With the rising prevalence of pet food allergies, the industry has had to adapt accordingly," Trachtenberg says. "Gone are the days that chicken and beef are the lone protein sources for pet sustenance. Pet parents are seeking novel proteins and limited ingredients to more easily navigate dietary needs."
While these ingredients might not be familiar to all consumers, retailers should be able to discuss the benefits of how these all-natural formulas contribute to animal wellness. The informed pet parent will be more likely to understand the ways these products can serve as healthful treats, reveals Cooper.
"While the nutritional needs of our pets technically has not changed in the last few decades, our understanding of what ingredients truly impact their health and wellness has grown significantly—and will continue to do so year over year," Cooper explains.
Aside from the health benefits of nutritious pet snacks, consumers are also searching for natural food products that heal.
"CBD treats are a trendy item," Taylor reveals. "Many dog owners are becoming aware of CBD and are interested in trying [it], if they haven't already."
Earth-Centric
While some trends in natural snacks, such as exotic protein ingredient sources, have become more commonplace, other consumer demands are mission-driven beyond dietary needs. Pet parents who are cognizant of how the edible products their animals are ingesting could promote wellness are likely to fall into the category of shoppers who are concerned about the health of the planet.
"Treat time doesn't have to be for pets or the planet," explains Lisa Momberger, partner at Honey I'm Home in Los Angeles. "There is an opportunity to provide pet parents with sweet, tasty snack options that are sustainably sourced and manufactured, and help support the health and longevity of the pets they love."
Due to the market saturation of pet snacks that make natural claims, some manufacturers are setting themselves apart from the competition by appealing to consumers through responsible production.
"Because of the ubiquitous way in which the term 'natural' is used, today's treat and chew consumer is looking for brands and products that meet more definable, and sometimes higher, standards," Momberger added.   
Regardless of trends, there exist a few key characteristics that manufacturers can exhibit to gain the trust of pet parents who want to feed naturally-sourced products to their animals.
"Traceable, identifiable, verifiable single-ingredient treats will always remain relevant as trends change. The popularity of novel proteins is on the rise," explains Trachtenberg. "Pet parents are demanding traceability and transparency in the treat segment. They want to see the quality."  PB