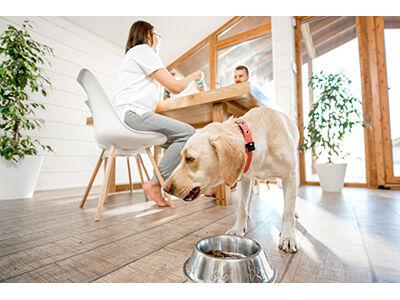 While raw diets continue to grow more popular with pet owners, thanks to the many benefits they can provide to our furry friends, they simply are not for everyone. With this in mind, a number of pet food manufacturers are striving to provide the nutritional benefits of a raw diet while addressing common pet owners concerns with alternative options like air-dried, dehydrated and freeze-dried foods. Retailers should be aware of these new offerings in order to help customers select the most convenient and healthy options for their pets.
"The main drawback of feeding raw is that it can be complicated and time-consuming to source, prepare and store. Care must be taken to ensure that the diet is complete and balanced to avoid nutritional deficiencies," says Sharon Durham, marketing communications manager for Ziwi USA. 
Ziwi offers pet parents air-dried food options for both cats and dogs. With its U.S. headquarters in Overland Park, Kan., the company uses only free-range and grass-fed meat from New Zealand, as well as sustainable seafoods. Family-owned, the company uses its own private air-drying kitchens to manufacture its food in small batches. Its Ziwi Peak Air-Dried recipes come in Beef, Lamb, Chicken, Venison, Mackerel & Lamb flavors for dogs and cats, as well as Tripe & Lamb Recipe for dogs.
"The ingredients in our air-dried recipes are nearly identical to a raw diet," says Durham. "In our red meat recipes, the first eight ingredients are meat, and all of our recipes have 96 percent inclusions of muscle meat, organ meat and ground bone, including superfoods like green tripe and green-lipped mussels."
Durham says these air-dried options have all the benefits of a raw diet while being easier to store and handle, since they are lightweight and shelf-stable, and do not require thawing. They are also formulated to ensure that pets get a balanced diet without needing nutritional supplements.
"As an alternative to raw feeding, air-drying is the perfect marriage of solid nutrition and convenience," she says. "When done correctly, air-drying protects the nutritional integrity of the raw ingredients, while eliminating potential pathogens like e.coli, salmonella and listeria. Air-drying minimizes nutrient loss to the ingredients, and results in high palatability and digestibility."
For pet parents who are concerned over the expense of a raw diet, retailers can recommend more cost-effective options, like Ziwi Peak.
"Air-dried foods are extremely nutrient-dense and highly digestible, so serving sizes are smaller than kibble or raw, often resulting in a lower daily feeding cost," says Durham.
Retailers can also tell customers about the health benefits of these air-dried options. Made with limited ingredients, the diets are good for pets with food sensitivities and allergies. They are also designed to mimic a natural carnivore diet high in protein and fat, and low in carbohydrates.
"Feeding a species-appropriate diet, like Ziwi Peak Air-Dried supports lean muscle mass, healthy skin and coat, good digestive function, and strong cardiac and immune systems," says Durham.
Dehydrated Delight
The Honest Kitchen, a pet food company located in San Diego, Calif., also offers alternatives to raw options, but uses dehydration rather than air-drying to manufacture them.
"Dehydration is a gentle process, which removes only the water from whole foods," says Carmen Velasquez, marketing director for The Honest Kitchen. "The finished product is really concentrated—taste and nutrition stay intact."
These dehydrated diets are shelf stable and compact, making them easy for both retailers and pet parents to store. They are also human-grade, which means that all of the ingredients are fit for human consumption and made in a human food facility.
"Feeding pets a whole food, healthy, minimally processed diet can help support their optimal well being," says Velasquez.
The company has introduced dehydrated diets for cats and dogs that include Grain-Free Turkey and Grain-Free Chicken recipes. The company also offers Proper Toppers, which are dehydrated food toppers, and Pour Overs and Daily Boosters, which are liquid options that can be added to dehydrated food.
Velasquez says there is a growing interest in raw alternatives in the pet food market and that retailers should stay on top of this trend.
"As people discover the benefits of eating a whole food, less processed diet, they want the same for their pets," she says. "We also believe that now more than ever, customers are looking to add variety in their bowl—which has helped propel growth in the alternative market."
The Honest Kitchen offers an online training portal for retailers that includes information on its raw alternative offerings. Its sales managers also arrange product trainings, and lunch and learns for independent retailers across the country. It also has a "True Stories" customer testimonial database that retailers and pet parents can access to learn about the benefits of dehydrated food. The company plans to introduce new pet food options in 2019.
Freeze-Dried Fun
In crafting freeze-dried food options for pets, Purpose Pet Food only uses meat from humanely treated animals. The New York-based company released new options in December 2018, including a Chicken Carnivore recipe for cats, and Duck & Veggie and Rabbit & Veggie recipes for dogs. Purpose also introduced new dog and cat treats in Chicken Breast, Duck, Lamb Liver, Rabbit and Salmon varieties.
"Without a doubt, pet parents are fiercely dedicated to their pets and conscientious pet owners are looking for healthy, nutritious alternatives to kibble, including a raw diet," says Vanessa Quick, Purpose's director of sales. "At Purpose, we take it a step further by providing convenient freeze-dried raw diets and treats that are ancestrally appropriate for dogs and cats."
Quick says there are several advantages to freeze-drying pet food in terms of both pet health and convenience.
"Freeze-drying is an innovative process that locks in the nutritional value, taste, color and freshness of each ingredient, allowing pets to enjoy the same great taste as traditional raw food without safety issues," says Quick.
Champion Petfoods has also embraced freeze-dried food. With its U.S. headquarters in Auburn, Ky., the company offers ORIJEN pet food which uses 90 percent real meat ingredients and no artificial hormones.
"Freeze-dried foods have the nutrition of a raw diet without the mess," says Julie S. Washington, CMO at Champion Petfoods. "They're prepared at an extremely low temperature, removing moisture while sealing in flavor and nutrients. Freeze-drying also acts as a natural preservative, so there's no need for chemicals or additives."
Washington outlined strategies to help retailers educate their customers about raw alternatives.
"Retailers can use digital and print material to bring attention to freeze-dried foods and offer things like enewsletters that provide useful, valuable pet care information in a mobile-friendly format where promotional offers can also be shared," she says. "Display efforts can also be enhanced with value-added offers, such as a free bag of treats or a free trial bag of food with purchase."
Between freeze-dried, dehydrated and air-dried foods, pet retailers can be ready with multiple options for pet parents who are hesitant about implementing a traditional raw diet. By studying changing trends in the pet food market, retailers can ensure they're a trustworthy source of knowledge for their customers. PB