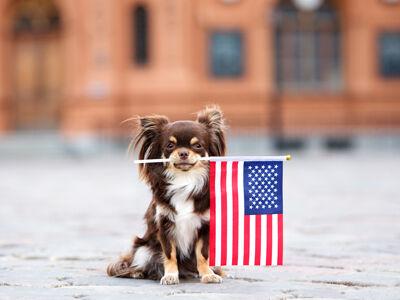 With the recent recall of dog food cans containing pentobarbita—a sedative used to put dogs down—and recalls of dog food for salmonella every few days, it's no wonder pet parents are concerned about where the products they buy are coming from. While there have always been owners who bought pet supplies solely based on where they were manufactured, this trend continues to grow with no sign of stopping. Manufacturers are embracing this, and retailers should too.
"There has always been a group of consumers that bought products based on where they were made, but that population surged after major pet food and treat recalls in the late 2000s, some of which were attributed to internationally sourced ingredients," says Ann Hudson, vice president of marketing for Whitebridge Pet Brands, based in St. Louis.
Len Horowitz, founder and CEO of 4 Paws Butcher agrees, adding that the issue of tainted treats from China resulted in consumers wanting the security that the USDA provides in products made and sourced from the U.S.
These recalls aren't the only thing attracting both customers and manufactures to the "Made in the USA" trend. Keeping all aspects of a business entirely in the USA allows both companies and consumers to support the U.S. economy.
"More small businesses are opting for local production rather than off-shore. It's a movement that strengthens the American Dream and is an expression of our values that 'American Made' matters," says Beth Sommers, president and chief merchandising officer of Pura Naturals Pets.
The Seattle-based company began selling grooming products for canines in 2016, and has since grown to include wellness products, eco-friendly stairs and a line for felines as well. Even as it continues to grow, the company is keeping all of its manufacturing local. "I believe in keeping jobs here and manufacturing locally for quality control and to minimize our global footprint," Sommers adds.
Chad Tillman, national sales manager for Grizzly Pet Products notes that local companies benefit customers who want to keep their "hard-earned dollars in U.S. economies and to support U.S. companies." Grizzly, which is based in Woodinville, Wash., sources Alaskan wild salmon from its own plants in Alaska, and when the company discovered that many parts of the wild salmon were being discarded, they developed partnership agreements to extract the salmon oil with no extra processing, allowing for quality ingredients with minimal footprint.
Quality Control
Just because ingredients are sourced in the U.S., doesn't mean they will automatically be up to par and acceptable by a manufacturer's standards. Companies that produce products made in the USA put a lot of scrutiny into the ingredients they source, companies they source from and places where they are manufacturing.
For example, Dogswell dog food and treats are made in the company's own Missouri-based manufacturing plant, allowing for maximum quality control.
"Made in the USA is as much about the source of the ingredients as it is the place where the food or treats are made," says Hudson.  "We carefully scrutinize all of our partners and have strict quality and food safety measures in place to assure all our pet parents that they can safely feed and treat their pets with Dogswell products."
Tillman agrees, adding that "sourcing products from our own facilities or from other USA sources ensures control, integrity and reliability of ingredients, and ultimately our products."
Pet parents don't just want products made and sourced in the USA, they want to know that the U.S. ingredients are from the best possible sources out there.
Location of the source is important as well, especially when it comes to creating food and treats for pets. Consumers don't want the meat and vegetables their pets' food is made from spending days in transport. What's the point of buying "Made in the USA" products, if the ingredients aren't fresh?
That's why 4 Paws Butcher Shop maintains that their ingredients are fresh, not frozen. "We only use USDA approved meats, poultry and produce, and source most of our ingredients from local farms in close proximity to our Pennsylvania processing facility. It's our farm-to-pup philosophy, as we use only fresh, not frozen ingredients that are all designated human-grade," says Horowitz.
4 Paws Butcher Shop, based in Glen Head, N.Y., was conceived when Horowitz was looking for treats to purchase for his Golden Retriever, Mia, and decided to read the ingredient panels. He noticed that the U.S. was not a prominent denominator, and that many products that were made in the USA had ingredients sourced in other countries. That was when he decided to "take our brand known for safety and active wear for dogs to the next level, and produce an all-natural treat." The company's treats contain no by-products, preservatives or glycerin and are 100 percent sourced and made in the USA.
Knowing where to go to find locally sourced ingredients is easy when your family has been in the meat cutting and butchering business since 1859, like the Jones family. The family provided custom butchering and smoking for local farmers in Woodstock, Ill., but when word got out that the best cuts of meat also produced the best bones, Jones Natural Chews was born, introducing the first baked dog chews to the public in 1987.
The dog product line was officially established in 1991, and now operates out of three faciilites in Rockford, Ill.
"Using locally sourced, natural U.S. ingredients helps ensure that the Jones Natural Chews and Country Butcher brands deliver the highest quality and freshest treat eating experience for dogs," says Joe Wallington, president of Jones Naturals. "Pet owners feel confident that they are feeding their dog a safe, fresh and tasty treat or chew."
It's What the Customer Wants
According to the 2017-2018 APPA National Pet Owners Survey, 61 percent of current pet owners said buying pet products made in the USA was important to them—a statistic that wasn't even tracked a few years ago, and one that is likely to continue growing as consumers learn more about what they are giving their pets.
One reason for this growth is that pets are more often being treated as members of the family, rather than a family pet. "Because today's pets are an even more important part of the family than in the past, pet shoppers are more deliberate in what they purchase and feed their pets," says Wallington. "Today's consumers are more conscientious and intentional about feeding their pets safe, quality U.S.-sourced and -manufactured products."
Pet parents don't want to feed their four-legged family members food that they wouldn't eat themselves, so they are searching for companies that are transparent about what ingredients are used and where those ingredients come from. "Knowing your source of ingredients gives customers confidence, and being produced by a family-owned USA company assures quality products," says Dan Schmitz, national sales manager of Perham, Minn.-based Tuffy's Pet Foods. Tuffy's has been producing healthy pet food since 1964, making sure the ingredients are produced ethically, and in accordance with local laws and the company's high standards.
According to the Food and Drug Administration's (FDA) website, "The Federal Food, Drug and Cosmetic Act (FFDCA) requires that all animal foods, like human foods, be safe to eat, produced under sanitary conditions, contain no harmful substances and be truthfully labeled. In addition, canned pet foods must be processed in conformance with the low acid canned food regulations to ensure the pet food is free of viable microorganisms."
These regulations, along with others in place, are what make pet food made in the USA stand apart from food made elsewhere. "The USDA and FDA regulations for farmers and manufacturers ensures a higher quality end-product than one would get from other countries," says Horowitz.
Tillman notes that the regulations are even stricter when you compare them to the standards of not just food, but specifically pet food in other countries. "USA-made products, especially in the pet industry, are held to a much higher standard and are more regulated than many products from other countries," he says.
Worth the Money
When it comes to products that are made in the USA, one of the main reasons consumers may avoid these products is the price. But spending a little extra money for the peace of mind of knowing where products are coming from seems worth it to many people. "A recent Consumer Reports survey found that 80 percent of Americans would prefer to buy an American-made product, and over 60 percent would even pay 10 percent more for it," noted Sommers in regards to the general American market.
Other pet manufacturers agree, noting that if the results and benefits are there, consumers will see the worth in spending more money for the products. "If we need to be a little bit more expensive, we're not afraid to do that, because if the product shows up on the animal and heals the animal, and the animal starts to have a new vitality, pet parents really don't mind it. They don't mind spending the extra dime," says Susan Goldstein, founder of Earth Animal which is based in Southport, Conn.
Earth Animal has been producing natural pet health products for nearly four decades. Goldstein's husband, Dr. Bob Goldstein, opened his first vet hospital in 1971. When the husband and wife team adopted their Golden Retriever, Leigh, who suffered from hip dysplasia, Dr. Bob began studying alternative medicines and therapies to help and treat Leigh. After that first success, Goldstein opened their first Natural Health Food Store for Dogs & Cats next door to the vet hospital, using the same holistic philosophies.
"Our practice has specialized in cancer for over 25 years. So these ingredients, these remedies, the vitamins, the fruits, the vegetables, all have been used in our practice. And I think that makes a big difference. We're not coming from any other place other than your animal is an individual with individual wellness and healing needs, and we do our best to try and help you meet them," says Goldstein. With a pet's health and well being in mind, pet parents see the benefit of spending a little more to know where the products they buy are coming from.
While there is plenty of research and literature about the benefits of buying local when it comes to ingredients for pet food and treats, what about the benefits of utilizing "Made in the USA" products when it comes to aquariums? The tubing, connectors and parts used to filter and deliver water to marine livestock in tanks can leach out chemicals, including arsenic and lead, and these can accumulate in the tank causing problems with your fish.
Python Products has been addressing these issues for 34 years. "We're the only ones that can tell you, all our plastics are BPA-, arsenic- and lead-free. We only use medical-grade tubing. When you get your stuff from overseas, there is no consistent quality, at all," says Lance Reyniers, president of the Milwaukee-based company.
Reyniers adds that most of his competition comes from China, and while the products might be slightly cheaper, the quality is sub-par. Consumers know they will get consistent quality and safe products from Python, and the price isn't as big of a variable as one would expect. "We're not paying to ship it across the pond. Maybe they're paying a little bit less for labor, but the transportation prices are ridiculous," says Reyniers.
Retailers have it easy when it comes to displaying and marketing "Made in the USA" products. Manufacturers of American-made products know their customers value this, so they want to emphasize where their products are from, with many companies choosing to display it prominently on the products or packaging.
"All Pura Naturals Pet products proudly feature a 'Made in the USA' icon on every bottle or box. This is also prominent in our advertising, website and on all of our collateral," says Sommers. Pura Naturals Pet utilizes the American flag as a symbol, so consumers can easily identify the icon and know that the product was made in the USA. Retailers can embrace the flag as a symbol as well, whether they want to color code a section of the store red, white and blue, or create an endcap that totes the American flag so customers can easily identify where the "Made in the USA" products are.
Stores, and even salons, should also go big on national holidays and find a reason to celebrate them, says Goldstein. Any event that supports the USA will be an easy way to promote products made in the USA.
"We are really big in tying our products, as an example, with the summer holidays. So with a summer holiday, we would be incorporating all the products that a family needs for travel, fireworks, fear of thunder, etc.," Goldstein adds. "I think that's a good place to start and be creative. Absolutely utilize those events, and turn your store into a USA holiday party." PB