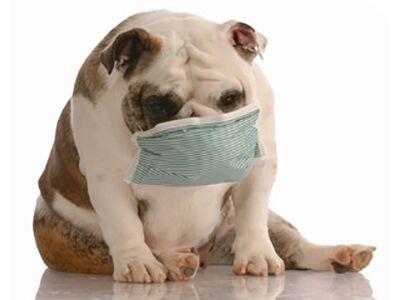 Concerns about the coronavirus now include protecting pets.
With the coronavirus outbreak dominating headlines and causing fear around the globe, the production of protective face masks has skyrocketed. A recent report indicates this demand for masks has even extended to ones specifically designed for dogs.
The number of coronavirus cases has nearly reached 8,000 worldwide, with 170 deaths reported in China, the country where the illness was first discovered. One of China's top infectious disease experts has stated that the virus can be transmitted between mammals and that people should monitor their pets.
Vendors who sell masks for canines in China have reported huge boosts in sales since the outbreak began. Dog masks in China are not a new thing, as they are often used to help protect pets from the harmful effects of air pollution. However, the recent panic over the virus has prompted greater interest in the products for their supposed ability to protect against diseases that spread via viral particles in the air.
However, there are doubts over whether these masks are actually needed for pets. The World Health Organization's  (WHO) website has a "Myth Busters" section in its coronavirus information, where it states "At present, there is no evidence that companion animals/pets such as dogs or cats can be infected with the new coronavirus."
The idea that the masks are helpful in protecting against illness is also controversial. The masks that are often sold to the general public at drugstores are usually flimsy and not very tight, thus allowing viral droplets to still be breathed in. These masks are different from the surgical ones worn in operating rooms, which are tighter and prevent germs from leaving the nose and mouth rather than keeping them from being breathed in.
To reduce the risk of contracting the coronavirus, WHO recommends frequent hand washing with alcohol-based hand rubs or soap and water, and avoiding contact with those who are sick.