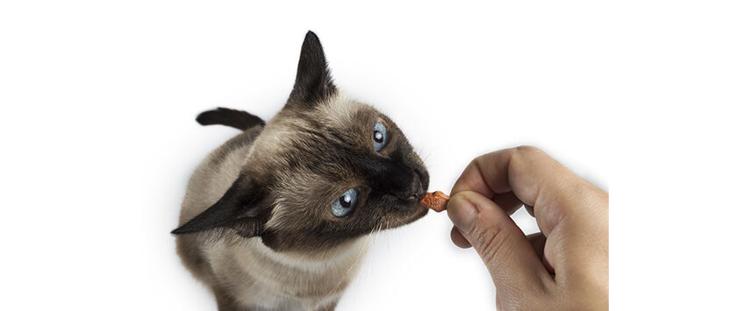 It seems that the dog days are over—literally. According to the 2017-2018 APPA Pet Owners Survey, cats outnumber dogs in the U.S. by nearly five million strong. As the feline-owning population continues to grow, so does the demand for tasty and beneficial treats to round out feline nutritional needs.
"Cat treats are an essential part of a cat's daily diet," says Barbara Ratner, co-owner of K9 Crisps. "Many cats that are on dry food diets are not receiving the proper supplementation of additional organ meat, real meat or any form of freeze-dried benefits included in their daily diets."
When curating the perfect selection of cat treats, it's important to consider their health value.
"Today's pet parents, especially millennials, seek out products that they can feel good about giving their cats," says Eric Abbey, founder and president of Cranbury, N.J. Loving Pets. "At Loving Pets, we know that pet parents of all ages are increasingly focused on what goes into their pet's diet—of which treats and chews are included—since they care as much about knowing the ingredients and benefits as what is going into their own food for themselves."
Loving Pets' It's Purely Natural cat treats are available in chicken, beef lung, buffalo and shrimp, containing no additives, artificial preservatives or fillers, made with all-natural ingredients.
"Pet parents are becoming savvier when it comes to reading labels, and are looking for healthy, nutritious food and treats for their furry friend—making decisions they can't make for themselves," says Abbey.
Ratner and her husband Howard own Holistic Pet Cuisine Market in Boca Raton, Fla., where they only sell holistic pet products.
"Most cats love fish as a treat and we sell not only freeze-dried minnows, but any cat treat that is not laden with chemicals and preservatives sell very well," she says. The company's KittyCrisps—bite-sized, protein-rich treats—will be available in the fall.
CBD for Cats
CBD has become mainstream in both human and dog health as a supplement that can provide a variety of benefits, such as helping with weight loss, improving heart health and reducing inflammation. Manufacturers have begun to realize that CBD can be beneficial to cats as well, and have started creating feline-specific formulas.
"There are many CBD treats emerging on the market, but to-date, most are for dogs only," says Nick Massey, CEO of Green Coast Pets. "Cats deserve the same great chews formulated specifically for their unique needs, so at Green Coast Pet, we wanted to create the same solution offering for dogs very early on in the growth of our company."
The Pasadena, Calif.-based company offers a whitefish flavor of its hemp soft chews, specifically created for the needs of cats. The chews are cold-extruded, meaning the active ingredients are in their raw format, and not degraded by being subjected to heat.
"Cats can be very picky, so you want to look at the flavor profile and the strength of that flavor," says Massey. "Our goal was to offer a strong fish flavor, as a lot of cats really enjoy fish."
Petaluma, Calif.-based Treatibles soft chews contain 1.5 mg of hemp oil in each chew, as well as a blend of catnip leaf powder, turmeric root, papaya and pineapple stem.
"Treatibles chews for cats feature organic broad spectrum hemp oil with naturally-occurring CBD," says Jodi Ziskin, director of communications for Treatibles. "These functional chews provide calm, balance and ease, and can benefit cats exhibiting anxiety, discomfort, mobility issues, loss of appetite, digestive tract issues and more."
Bonding Time
According to the Human Animal Bond Research Institute, pets improve heart health, alleviate depression and increase well being, meaning it's important to promote the human-animal bond.
"Cats—like children and dogs—are responsive to rewards," says Ziskin. "Pet parents can help reinforce good behaviors by offering chews or treats to their cats. Cats can also be trained to do tricks this way, like giving high fives! Every positive interaction between people and their cats helps strengthen the emotional bond."
Glenn Novotny, CEO of Emerald Pets, also believes in the importance of treats contributing to the bond between cat and owner.
"Introducing delicious treats to your cat helps to get their attention when you really want them to interact with you," says Novotny. "Treats create that special bonding time with your cat, while also giving you the opportunity to give them a healthful treat, like Emerald Pet Feline Dental Treats."
The Walnut Creek, Calif.-based company offers a variety of functional treats for felines, including dental treats, digestive health, hairball control and urinary tract control. Being that the company's dental treats have a large following, it decided to add a bulk size option for customers.
"For our Hairball and Urinary Tract treats, we use natural ingredients with known properties to address the needs of the cat," says Novotny. "For instance, in our hairball treats, we include papain from papaya and bromelain from pineapple, which both have natural enzymes to help breakdown hairballs."
The newest addition to the company's line of cat treats is Wholly Fish!, a chicken-free feline treat. It offers a standard ingredient version in tuna and salmon, as well as a digestive health version of each that includes turmeric and ginger root to aid in digestion.
Retail Relations
When it comes to selling cat treats in stores, retailers have a variety of options on where to locate the merchandise and how to promote the products, but they must be strategic about their decisions.
"We recommend placing cat treats front and center, as well as increase incremental sales by placing treats at the cash registers, on end-cap displays or near behavioral training/solution products," says Abbey.
Ziskin believes there's value in cross-marketing products.
"Treatibles products are functional and best marketed in the supplements section," says Ziskin. "Because Treatibles can address many issues, it may be beneficial to store them with joint-, calming- and digestion-focused supplements."
Another great sales tactic merchandisers suggest is giving cat owners free samples to see how the products work without the monetary commitment.
"Handing out free sample packs is a great and effective marketing idea for cat owners to try new things that they may not know to seek out," says Abbey. "Once cat parents see how their cats love freeze-dried meat treats, they are sure to return and buy more."
Massey notes that when it comes to new and emerging categories, like CBD, listening to retailer feedback is one of the most beneficial things for a merchandiser.
"We welcome this incredible feedback from our retail partners so we can focus on education, being a true partner and also offering education and expertise to their staff and to their customers, so this emerging category can continue to grow in a regulated and productive way," says Massey.
As the cat treats category continues to grow, even more cross-functional treat opportunities are going to open up.
"The future of cat treats needs to be more focused on a cat's gut health, such as a probiotic treat to provide them with good flora that is necessary for a healthy digestive tract and a healthy immune system," says Ratner. "Most cats throw up primarily due to the dry food they are being fed. Cats need probiotics, and the best way to feed probiotics is through a probiotics treat that they will eat!"  PB