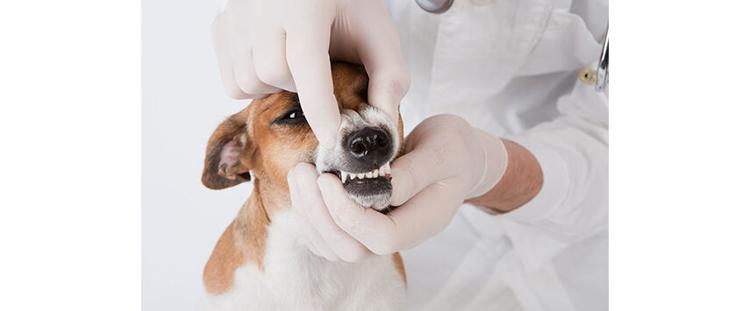 Every pet parent wants their animal to live a long, healthy life. That means more than just picking out a nutritious kibble, though. It's also about taking proactive steps to care for every part of their body—including their gums and teeth.
Pets have a reputation for having chronically bad breath. But, despite what the moniker "doggy breath" may lead you to believe, it doesn't actually have to be that way, thanks to the growing consumer awareness and new products around oral care.
"The dental category isn't a fad or trend," says James Brandley, marketing manager for TropiClean. "Maintaining a dental regimen with our pets is a necessity, not a novelty. Dental health can compromise your pet's overall health."
In fact, studies show that over 80 percent of dogs over the age of three have some form of periodontal disease. If left untreated, bacteria from these conditions can travel beyond the animal's mouth and impact their heart, liver and kidneys, he explains.
While dental diseases are preventable in pets, not enough owners are actively doing something about it.
"It's believed that only 6 percent of pet parents follow through consistently," says Debra Decker, director of marketing for Pet King Brands. "Oral health problems remain one of the top 10 most common reasons a pet is taken to the vet; and for cats, it ranks extremely high."
While these statistics may seem disheartening, they also present an opportunity for retailers to increase sales of oral care products and become consumers' go-to pet dental center.
"There are several factors contributing to the amazing growth of the dental care category, and retailers should get their fair share!" says Michael Stoeckle, president and CEO of Ark Naturals. "It is definitely worth bringing these items into your store because they tend to be a higher ring at the cash register and with great margin."
Stocking Up
Of course, the first step to creating a successful dental center is product selection. According to Stoeckle, it's crucial to offer complete dental care solutions for different types of pets.
"A good analogy is that in the human dental category, there is a toothpaste for every type of need: sensitive, whitening, cavity protection and so on," he says. "But the dental category is not limited to toothpaste. There is mouthwash, floss and more. The dental category is the same for our pets."
As more and more pet dental care options become available, retailers need to make sure they're offering the latest technologies in their dental centers. For instance, one of the biggest trends in the category are "brushless" products.
"There can be several reasons why oral care isn't part of [owners'] daily routines, but inconvenience and lack of pet acceptance can be some of the largest factors," says Decker. "In response to this trend, oral care that doesn't require brushing has outpaced demand for products that require brushing."
Manufacturers have also been expanding their oral care offerings to better suit the needs of pets at different life stages since dental needs change as animals age, says Julie Creed, vice president of sales and marketing for Pure and Natural Pet. While puppies may need soft bristled brushes for their sensitive gums, adult dogs need firmer brushes to fight against plaque and tartar buildup.
Making a Visual Impact
Although category awareness is on the rise, there are still many pet parents who aren't actively looking for dental solutions, which is why visibility is crucial.
Rather than simply hiding products away in a broad health section, create a specific dental section to better highlight the category, suggests Scott Reinhardt, vice president of sales and marketing for Swedencare USA.
"Ideally, pet dental products are located in a high traffic area of the store—in the dog/cat food areas," he adds. "This way, pet parents have access to the dental products without having to actively seek them out."
Don't limit your dental promotions to a single space, though; retailers should spread visual merchandising throughout the store for maximum impact.
"If a store has windows, create an eye-catching display and add imagery that focuses on a canine's teeth," advises Creed. "In store, promote your oral care area with signage and shelf talkers. Create endcaps in high traffic areas or outposts."
Another great spot to place dental products is near the register, especially sample sizes that customers can grab as an easy add-on, says Stoeckle.  
"Put the dispenser box up at the cash register where the pet parent can pick up a chew for a couple dollars and at the same time get an education from the cashier on the benefits of the product," he adds.
Bundling Up Sales
Retailers can boost sales by cross-promoting dental solutions with other pet categories. Healthy treats and foods, for example, are an ideal pairing for oral care products since they're both about promoting overall wellness, suggests Creed.
"We did a great cross promotion with our Organic Dental Solutions Dental Kits for one of our retail accounts," she says. "We partnered up with a healthy pet food brand as a bundle and touted 'healthy habits start young' and 'lean and clean.' Retailers can easily create their own bundles."
Another natural pairing for oral health products is supplements. Stoeckle says Ark Naturals has seen real success from stores who create "whole health" displays and cross-merchandise dental chew with hip and joint supplements.
"The active ingredients [in hip and joint supplements] support mobility but also work in the same way to strengthen ligaments in the jaw and tooth sockets—making it a natural pairing for any dental routine, and an easy basket build item," he explains.
Education Matters
The final—and arguably most important—element of building a successful dental center is an informed and engaging sales force.
"Developing the relationship with the pet owner enables the retailer to make helpful suggestions, build loyalty and establishes the retailer as a reputable resource," says Decker.
Coach team members to start conversations with customers about their pets' oral health with questions like, "How are you taking care of your pet's teeth?" or "Does your pet have bad breath?"
In addition to making expert recommendations, sales teams should also be prepared to address customers' concerns and questions, says Bradley. That means staying up to date on the latest oral health best practices and pet dental product ingredient lists. Although this kind of training is time intensive and resource consuming, it's a worthwhile investment—both for retailers' bottom lines and pets' health.
"This category provides significant retailer margins at a nice cash register ring," says Stoeckle. "It is one of the more important hygiene needs for dogs, and the underlying cost of not being diligent about an oral care regimen is significant. It truly is 'see me now or see me later at a much higher price.' It's a no brainer for the retailer and the consumer."  PB