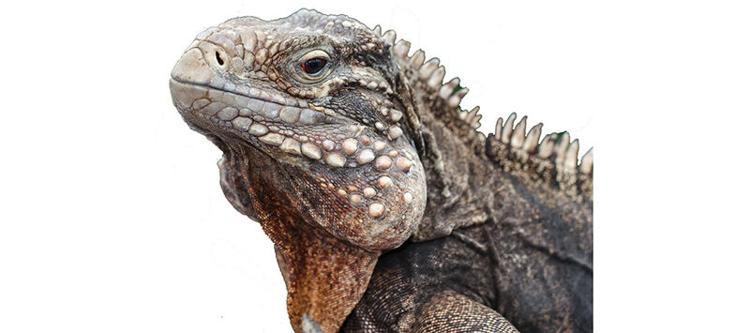 Whether you're in the market for a bearded dragon for your first grader, a stunning reptile to lend an exotic touch to a fashion magazine spread or simply a chance encounter with a famous Cuban iguana, look no further than Jungle Bob's Reptile World.
The Long Island, N.Y., store is now in its eleventh year in business, with locations in Selden and Oakdale. It is, in many ways, a natural culmination of a lifetime passion for storeowner Bob Smith, popularly known as Jungle Bob. In a departure from his previous career in the computer business, Smith decided to buy the store from its prior owner in 2008.
"Before I bought the store, I was always into reptiles and nature," Smith says. "I did a lot of traveling and found I was good in front of an audience doing presentations, even before the name Jungle Bob was coined."
Since then, the success of the store and the Jungle Bob persona has only grown. Educational hands-on lectures, presentations and school visits remain a big part of what the business does. Jungle Bob has done numerous television spots, including an episode of The Late Show with Stephen Colbert last year with the store's resident 20-year-old Cuban iguana, who also has a few movie credits to his name.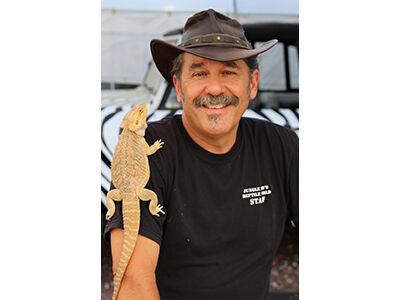 This show-and-tell approach parallels the Jungle Bob store philosophy, where the focus is on understanding and educating customers, rather than simply selling animals and food.
"It's more of a lifestyle store, we always have gift shop things, we've sold fossils, all kinds of educational toys," Smith says. "Anything that combines owning a pet with understanding nature is how we've done it."
While Smith himself has spent plenty of time traveling and seeking out truly exotic creatures in their natural habitats, he focuses on stocking his store with the more mainstream options that will make the best pets for the average customer. As a live animal retailer, Smith says that engaging customers to find the most suitable option for them is key, especially for a category of animals where expert guidance is usually much needed.
"We're really good at making sure we match the people with the pet," Smith says. For example, he tries to steer parents toward a pet that will stay an appropriate size and be manageable to care for if they're choosing one for a younger child.
"Every first grade class is gonna have one kid drag his mom and dad to the store," he says, noting that what the child or parent has in mind at first is often not the best choice. "That snake is going to grow to eight feet and eat your first grader."
"It's like I always tell kids in school presentations, do your homework," he adds. "They hate that."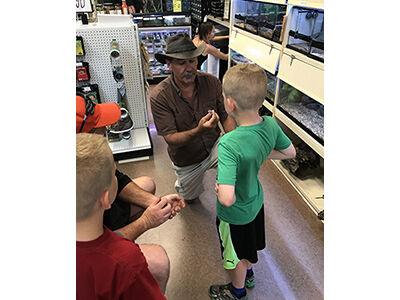 Smith believes this attention to the needs and desires of individual customers is one of the key factors that sets Jungle Bob's Reptile World apart from many of its big box competitors.
"They just sell anything to anybody, there's no care," he says. "We try to do it right, and that's been our claim to fame. I'd rather not sell you anything than sell you something that's going to turn bad."
Beyond providing superlative customer service, Smith has sought to differentiate his store and further cement its status as a unique destination by launching his own Jungle Bob brand. The store's line currently has 225 SKUs, with 40 more under consideration. Perhaps ironically, the line's launch was inspired by a customer who came to the store for expertise and advice, and then tried to return an item purchased at a big box store to Jungle Bob's, as Smith's store sold the same product.
"After they pick your brain, they go somewhere else and buy it, so we decided to start our own brand," Smith says. "It's another thing that has separated us from the pack. When I put my tag on it, no one else can sell it but me. That's the only way to lick that problem."
Just like for any pet specialty retailer, big-box stores and the low prices and speedy delivery of online retailers, present a constant challenge to compete with. However, Smith notes that the reptile business faces an added obstacle as government regulation of what animals can be legally kept as pets and which have to be registered increases.
"If I sat down and wrote down all the challenges I'd probably quit," Smith says.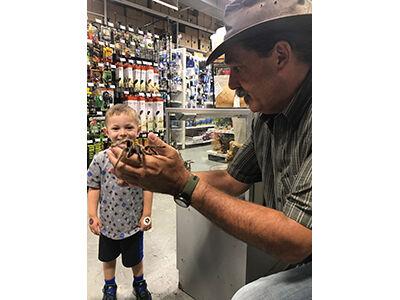 But despite the difficulties, Smith finds joy in sharing his lifelong passion with others, especially introducing exotic animals to curious kids during school visits.
"There's always that kid in the back who's staring bug-eyed, who you're really connecting with, and I try to get them involved," Smith says. "I can pick them out a mile away after 25 years. I love when the kids pay attention, little kids, four and five year olds who just want to talk about the animals. Some of them are just so sharp."
In general, Smith aspires to bring the unique fascination reptiles offer to a wider audience. While different than the companionship offered by other pets, Smith believes a reptile, especially one kept in a well-constructed terrarium or vivarium, can add beauty to a home in other ways.
"For example, there's an item now called a paludarium," he says. "The bottom is water and the top has land with maybe a snake, and then fish or salamanders down in the water. With that, you've got a whole Amazon rainforest scene in your house."
Smith especially sees opportunity in what he calls "cubicle animals," small, easy to care for creatures that people are often fascinated by, but may not know how simple they are to keep, especially compared to the complications of setups like saltwater fish tanks.
"When people see these things they go, 'Oh my god I can have that?'" he says. "I tell them they can, they're actually pretty easy to take care of."
Currently, Smith is looking into the potential to open a store in New York City. While the distance from his current locations certainly presents an obstacle, he says the city would be a perfect location for a unique destination store like his that offers something not easily found anywhere else nearby. A store in the midst of the biggest city in the country would allow Smith to share his lifelong passion with a much larger audience.
"People who know us love [us], but there are so many people out there who don't know they need what we have," Smith says. "They don't know these things exist. We just have to tell people outside the pet world that it exists."
While Smith cites his organized, accountable style for keeping his business running smoothly, he also notes the importance of trying new things. For retailers looking to take their business to the next level or find a way to overcome their competition, Smith says creativity is ultimately the answer.
"I see a lot of people struggling, complaining that things are changing, talking about 'back in the day,'" Smith says. "If you don't have the motivation to try new things and offer great service, you're probably not going to survive in this market."
"I would tell everybody else put a smile on your face, greet the customers, give them something they don't expect," he says. "When I pull a snake out and put it around someone's neck, they don't forget it." PB