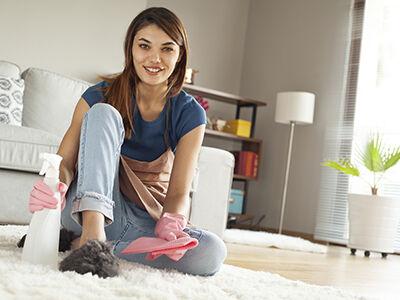 For all of the life-enriching benefits we receive from our furry friends, there is undoubtedly a downside to pet ownership—a stinky, messy downside. That's right, pets may be an unlimited source of unconditional love, but they are also an unlimited source of a variety of puddles, stains, odors and sometimes piles of unidentifiable substances that can activate the gag reflex of even the most unsqueamish owner.
It is within these puddles, piles and pungence that savvy retailers see opportunity, though, because helping shoppers swiftly and effectively deal with the downside of pet ownership is a prime area in which pet stores can position themselves as a valuable resource.
"Knowing that pet stains go hand-in-hand with pet parenthood, pet specialty retailers are seen as experts on how to remove unwanted stains and odors," says Ted Morgan, director of marketing for Vancouver, Wash.-based Biokleen. "Offering advice and having readily-available solutions is critical to maintain their position of leadership."
According to Bill Lindsey, vice president of marketing for Star brite, that combination of product selection with reliable advice is key for pet stores that want to succeed in a category that has traditionally been dominated by grocery and mass retailers. "Pet stores should be able to explain why consumers should consider alternatives to bleach and other common household cleaners," he says.
Based in Ft. Lauderdale, Fla., Star brite offers two such alternatives specifically formulated for cleaning up after pets. The company's Pet Odor & Stain Remover is a spray-on product that eliminates urine and fecal odor while removing organic stains. Its Performacide Disinfectant is an EPA-registered, ClO2-based product that kills odor-causing bacteria and provides the added benefit of being effective against parvovirus, canine influenza and feline calcivirus.
While Pete Stirling, president and COO of Irvine, Calif.-based Skout's Honor, agrees that being able to properly advise customers on how to safely handle pet-related messes is the best way to stand out from grocery and mass retail competitors, he also stresses that it is essential for pet stores to make sure they are offering a selection of products that simply cannot be found in these other outlets.
"The customer comes to the specialty retailer to educate themselves on the best products and learn from someone who has dedicated themselves to properly vetting the selection on offer," he explains. "That value proposition is critically undermined if the customer can find the same products at the local 'everything under-one-roof' retailer."
With this in mind, Skout's Honor offers the pet specialty retailers a broad range of cleaning products for dealing with a variety of stain and odor problems—from mild to severe. "We have urine-specific solutions, cat-specific solutions (to deal with feline pheromones, spray stains and litter boxes), skunk odor remover for animals who get skunked, outdoor stain and odor solutions—and we recently even launched a food-grade, plant-derived Toy & Bowl cleaner that offers an effective (but safer) solution for cleaning pets' toys, water and food bowls," says Stirling.
Offering specific solutions to common pet-related messes is an approach that Skout's Honor believes will serve pet stores well. "Pet parents come into their pet specialty retailer looking for solutions to specific problems," Stirling explains. "The most popular problems are usually urine-specific, closely followed by multi-purpose and odor-specific solutions. However, we are starting to see increased demand for even more specific uses—everything from carpet to laundry and outdoor area solutions. The more specific you can be, the better."
Still Stirling is quick to caution that there is such a thing as too many options in the stain and odor aisle. "It is also important not to overload the shelf with unnecessary options, such as different fragrances," he says. "We have intentionally avoided that type of line extension and focused on answering our customer's questions and concerns on the shelf."
Safe & Effective
When it comes to making sure that cleaning products are safe for use in a pet's environment, many industry experts say that consumers will—first and foremost—look for products that are marketed as "natural." According to Jamie Thomas, national sales manager for Nilodor, Inc., this not only ensures the well being of the pet, but also addresses consumers' increasing demand for products that are ecofriendly.
"With the current global environmental status, more and more consumers are taking initiative to educate themselves on the importance of green chemistry and the impact that the products they are buying have on the world around them," she says. "Customers are turning more and more to third-party certifications such as Green Seal or focusing in on buzzwords like biodegradable or eco-benign on product labels."
Bolivar, Ohio-based Nilodor utilizes naturally based ingredients in all of its products as an alternative to less environmentally friendly materials. The top-selling product in the company's Natural Touch line, for example, is Urine Odor & Stain Eliminator—an advanced biological formula that uses a three-part system to attack both urine stain and odors. Beneficial bacteria create free enzymes then break down the urine and attack stains.
"What sets us apart from all other biologicals is the third and final part of the system…Odor Neutralization," says Thomas. "Our propriety odor neutralizer uses an essential oil blend to change the molecular structure of the odor, eliminating it rather than just masking it. It also removes pheromone odors that are left, preventing pets from returning to the location."
Of course, in order to inspire repeat business, it is vital that pet retailers make sure the cleanup products that they offer are not only safe, but also effective. "When families decide to adopt or rescue a new pet, they're confronted with concerns about the health and safety of the household environment," explains Morgan. "However, if the products do not work, it creates frustration. Having a solution that's both effective and plant-based like Biokleen Bac-Out Stain & Odor Remover lets consumers know that stain removal and pet health are being considered by their neighborhood store."
Biokleen Bac-Out Stain & Odor Remover is made of a unique and synergistic blend of plant-based live enzyme-producing cultures, citrus extracts and plant-based surfactants that work at the molecular level to remove the toughest pet stains. The Biokleen Bac-Out line also includes Fresh Fabric Refresher and Multi-Surface Floor Cleaner and pairs with Biokleen Carpet & Rug Shampoo.
Noting that it is critical to work with suppliers that offer "a complete line that addresses stains and odors for a wide variety of surfaces and fabric types," Morgan encourages retailers to look for brands that consumers trust.
The value of stocking the stain and odor section with trusted brands is certainly not lost on Fetch...for Pets. That is why the company markets a variety of pet cleanup products with branding that shoppers have come to rely on in other messy aspects of life.
"Consumers want to be able to trust that the product they buy is from a company that has a history of developing similar goods in the human space that they've known to work for years," says Kristy Yvars, licensing director for Fetch...for Pets. "It's a safe bet compared to some of the newer brands in the space."
Headquartered in New York, Fetch...for Pets offers Shout! Stain & Odor products that utilize three different cleaning technologies: enzymatic, which releases microorganisms that eat away at stains; oxy, which uses oxygenated bubbles to reach stains and odors embedded deep into carpets; and a Pro Strength formula that separates oil and water stains.
"Shout by S.C. Johnson is well-known brand in the human laundry category, and its unique stain fighting solutions translate well into pet stain and odor," says Yvars.
Promoting the Category
While building the right knowledgebase and product selection are important steps in becoming a valued resource to shoppers dealing with pet-related messes, it will all be naught if pet stores do not promote the features that set them apart from grocery and mass retail competitors.  With that said, many industry experts encourage pet specialty retailers take an aggressive approach to marketing in this category.
"Promotions go a long way with the customer in this space," says Yvars. "Everyone wants a better value, whether it's more for less or a $2 coupon."
Thomas agrees, suggesting that pet stores should be sure to focus on their unique product selection in any promotional efforts. "Promoting stain and odor [products] that are not a national brand will ensure your customer will return for repeat visits.," she says. "Also, choosing to private brand a stain and odor remover will increase sales and secure future visits."  PB