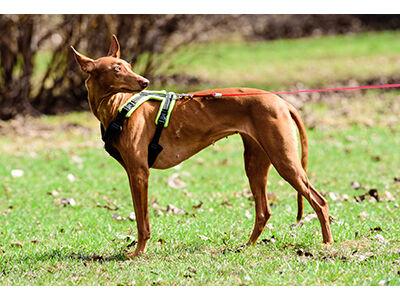 If it seems as if practically everything is Instagramable, you are not far off. In fact, given what people are posting on social media these days, it seems as if everything is fair game, in some cases unfortunately so. But for pet specialty retailers, this fixation on visual documentation is only good news, since there are so many categories that really are worth snapping, helping to shine attention on their stores and bring people in.
Of course, pet apparel springs to mind—who can resist a dog dressed up as a Ninja Turtle or wearing a fleece coat and booties? Toys offer another opportunity for photo fun. Then there is the dog collars, leashes and harnesses category, where social media is exerting a substantial influence on retailers and manufacturers alike.
"Social media, such as Facebook, Twitter and Instagram, has been a huge platform," says Sara Schrekenhofer, advertising manager/graphic designer for Leather Brothers, Inc. "So many people look on social media for new products, daily deals, etc. It's been a great opportunity for instant advertising and a great tool to market any new products."
Headquartered in Conway, Ark., Leather Brothers offers an array of pet products under the OmniPet brand, such as the LUXE leather collars. Made of supple leather and incorporating nickel-plated hardware, the collars come in a variety of sizes and widths and in eight colors, such as Violet, Jade and Goldenrod. Nylon and leather leads are also available.
Schrekenhofer explains that when it comes to their pets, people are very exacting, wanting to know as much about a product as possible before they purchase. Social media allows pet owners to see the products in use, which goes a long way towards helping them winnow down their choices and set the stage for a sale.
Fashion, Function, Safety
Social media can also get pet owners thinking about things they hadn't previously considered, such as all the fun, adventurous and exciting activities they can do with their canine companions, says Bryant Baxter, marketing and sales coordinator for EzyDog in Sandpoint, Idaho. The company offers a line of active-dog gear designed for rugged outdoor lifestyles, such as the Drive Harness, a crash-tested safety-certified solution that makes vehicle travel safer for dogs. The harness has a padded EVA chest plate, webbing constructed from genuine seatbelt webbing and other features. EzyDog also has a new denim range called "The Friday Collective." The line gives some of its most popular collars, leashes and harnesses a fashion-forward look without compromising safety and durability.
"We're seeing increased attentiveness to quality and a demand for niche products to make life and adventure with dogs easier," says Baxter. "People are becoming more aware there are specific leashes, collars and harnesses for various types of dogs and activities."
Social media demands new fodder, almost on a minute-by-minute basis, inspiring manufacturers and tasking them with developing "fresh styles and stories," says Donna Bodell, vice president of Up Country Inc.
"We have a large following on social media where we consistently spotlight seasonal fashions," she says. "With pets accompanying their owners to more places, fashionable accessories are a must. Our typical end consumer has an active lifestyle that includes their dogs in almost everything. Fashion is the fun part, but it always comes back to safety."
The East Providence, R.I.-based company's best known products are the decorative ribbon collars, says Bodell. The collars feature high-tensile strength nylon, solid brass hardware and an extra-strong buckle. A new offering for 2019 is the Peacock, a design available in Up Country's collars, leashes and harnesses. Another consumer favorite is the Green Market line of collars, made from eco-friendly bamboo.
The pet owner trend of integrating their dogs' lifestyles more fully into their own represents a "significant paradigm shift," says Ed Berger, CEO of Groomers Helper. Located in Margate City, N.J., the company makes the Groomers Helper Safety & Positioning System as well as other products for the professional grooming industry, such as control leads, tethers and more. The company's No-Choke Control Lead won't constrict the dog's throat when used around the neck and can also be used over a shoulder and underneath one leg to control both "Trach and Brachycephalic breeds," says Berger.
"In our humble opinion, this trend [has been] a huge, positive turning point in the industry," he says. "Pet parents now spend more, are more safety conscious and absolutely take their pets with them more when they travel, whether across town or away on vacation. Just look at all the new facilities at major airports across the nation designed to accommodate pets inside the terminals. New environments require different collar and leash combinations."
Unleashing Sales
Because of pet owners' concerns over safety, pet specialty retailers should be certain to stress this aspect when discussing products with their customers, says Berger, adding that the No-Choke product is best introduced and demonstrated through the service area in those stores offering grooming.
Customer engagement, discussion and—where possible—demonstration, is good advice when it comes to any of the items in this category, since all have their unique features and benefits. Plus, doing so ensures a better outcome for both pet and owner.
Consider the Freedom No-Pull Harness from 2 Hounds Design. Incorporating a velvet-lined chest strap to help prevent rubbing, as well as a patented martingale loop on the back of the harness designed to gently tighten when the dog pulls, the harness also includes stainless steel hardware, nylon webbing and has been pull-tested up to 3,800 lbs. Located in Indian Trail, N.C., the company manufactures custom-designed collars and leashes in addition to that harness, says owner Alisha Navarro.
"As with any product, the Freedom Harness sells best when retailers spend time with the customer, highlighting some of its key features," Navarro explains. "Customers do sometimes need help in deciding which size to purchase, so retailers should ask for the dog's girth measurements."
Other questions to help steer customers to the best options include the size and age of the dog, says Bodell. Also inquire about behavior and objectives, she adds. For example, a dog that lunges after every squirrel crossing its path may be better off with a martingale collar or a harness to help prevent a neck injury. If an owner needs more control over
their dog, inquire about the leash length they are currently using; perhaps a shorter or retractable leash is a good option. Those taking their dogs along on explorations or training them may prefer a longer leash.
"We've seen an increase in pet owners looking for specialty items to help with training, such as martingales and harnesses," Bodell says.
As for retailing this category, be unique, creative and think outside the box, Schrekenhofer advises. Place the products in a highly visible area; offer a substantial assortment of colors, patterns and sizes; keep the store clean; and use signage effectively.
"If a product is made in the USA for example, marketing and having proper signage displayed for your customers to easily see plays an important role in a successful sale," Schrekenhofer says. "Made in the USA is a big selling point right now."
Don't underestimate social media and its impact on this category's sales and store profits. Pet specialty retailers should regularly post snaps of their shelves, products, customers and their dogs wearing their new leashes, collars and harnesses, and do their best to create a colorful, photo-worthy environment that feeds on pet owners' selfie-taking obsession. They should also think about incentivizing customers to post on their own social media accounts. For example, share a photo on Instagram, tag the retailer and get a free treat from the Instagram treat menu.
Locating leashes, collars and harnesses in other areas of the store, such as travel or the puppy section, can also boost sales, says Baxter. And don't overlook consumables. Prominently displaying them in this area can capture the attention of those only entering the store to purchase foods or treats.
Stay well-stocked, says Navarro, particularly during the fourth quarter when demand skyrockets (they also see a "second surge" as the warmer weather months of March, April and May approach, she adds). Bodell has noticed the same seasonal activity and advises pet specialty retailers to take full advantage.
"Encourage your customers to buy more with a fresh selection for each season," Bodell advises. "Create a display with seasonal or holiday-themed products to decorate and to spark interest. Whether it is a birthday party, trick or treating, holiday get-togethers or swimming in the pool, pet owners love having the perfect 'outfit' for the occasion." PB