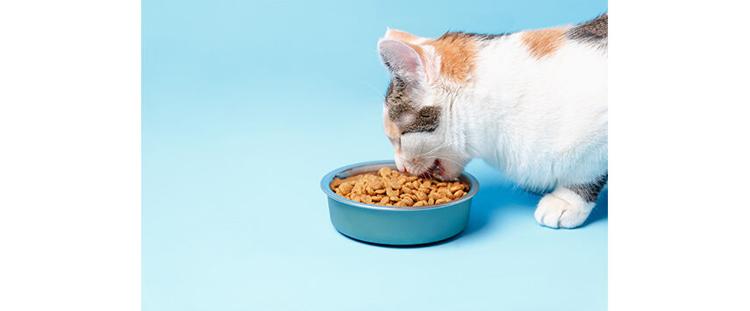 As cat owner can tell you, felines are famously finicky eaters—a characteristic that can drive their humans to sheer madness. While this insanity can temporarily result in increased sales as cat owners desperately try out one food after the next, it quickly gets expensive and dangerous. Consumers will often start gravitating toward cheaper formulas that may not be as nutritionally beneficial as the well-balanced, pricier diets.
The good news is that cat food has been garnering more attention these days as pet owners continue to realize that felines require the same standard of wellness and care as their canine counterparts. As a result, cat food sales have been steadily rising over the years, propelled by educated consumers seeking out higher-quality diets that offer more mealtime variety.
"This can be attributed in part to the fact that cats are generally lower maintenance than dogs, and thrive even in downsized, urban environments, where millennials tend to be," explains Patrick McGarry, general manager of Gott Pet Products. "It keeps growing by a few percentage points every year and shows no signs of slowing down."
McGarry says many cat owners are concerned about pet health and are looking for diets that can address the more common feline issues, such as hair balls, digestion, kidney function, weight management, urinary health and skin irritations. Allergies can present another concern, hence the interest in novel proteins and/or limited-ingredient diets.
This leads to cat owners seeking food that is customized to their pets' needs, particularly those with older cats.
Heather Acuff, product development manager for Austin, Texas-based Nulo, believes the trend toward customizing diets and taking in the pet's changing needs will continue. 
She acknowledges that the hardest part of providing cats with a balanced, nutritious diet is actually getting them to eat it. Unlike dogs, who'll chow down on almost anything, cats need to be tempted.
"We see this as an opportunity to embrace the particularity of the feline palate by providing an assortment of customizable options that not only nourish them, but will add a variety of tastes, textures and aromas to their mealtime experience," she explains.
Cats are also known as "notoriously bad drinkers," says Lindsay Meyers, product development and veterinary channel manager for Fairfield, Calif.-based Primal Pet Foods. To account for this, Meyers explains that offerings such as the company's raw goat milk and frozen bone broth can, "encourage more liquid consumption while providing additional benefits, like probiotics or collagen." 
This much-needed moisture can also be found in canned foods, adds Bryan Nieman, brand director for Mequon, Wisc.-based Fromm Family Foods. He mentions that the company finds many cat owners seeking out wet food for this purpose, recommending that retailers carry a good variety of both wet and dry foods and educate cat owners about ensuring adequate hydration.
Purrrfecting Sales
As cat owners have started paying more attention to quality, price is becoming less of an issue—sort of. It's up to retailers to help consumers realize that they have to spend a little more money to get a better quality food. In other words, it's all about the cost versus the benefits.
"For years, cats were primarily fed dry, inexpensive diets and when canned did become available, grocery brands dominated the sales," says Jeff Toy, vice president of sales for Long Beach, Calif.-based Redbarn Pet Products. "Given this history, feline shoppers remain quite price-driven. But a food that offers more than the status quo can win them over."
When it comes to merchandising, Meyers says creating a specific feline section within the store is important, as is including a dedicated freezer, if space permits.
"It's not likely a cat owner will move into the dog section to look for frozen cat food, unless they're specifically directed to do so," she explains. "You're doing them and yourself a disservice by not offering fresh and frozen foods they cannot get online or at grocery."
Pet specialty retailers should also make sure to incorporate feline-specific signage, shelf-talkers and educational materials, Meyers adds, as well as engage cat owners in conversation and ask targeted questions to help them find the best fit for their pet. She suggest inquiring about what they're currently feeding, the percent moisture content—which can segue into a discussion about the importance of hydration—and what (if any) fresh foods are being added. 
Other questions to ask include the age, sex and breed of the cat, says McGarry, as well as finding out if the cat has any allergies, food sensitivities or digestive issues. 
"Ask if there have been any recent changes in lifestyle that may have affected the cat's behavior or appetite, such as the arrival of a newborn or the adoption of a pet," he suggests. "Armed with this information, a retailer can provide some knowledgeable shopping advice."
Toy recommends inquiring about protein and flavor preferences, needed or desired health benefits (such as if the cat drinks enough water during the day), if the animal has a preference around grain or grain-free diets and if the cat suffers from any recurring illnesses.
From there, Toy advises to use their answers to guide them to the premium cat food option on the shelf that's best suited to their needs.
Options are important, since all cats are not the same, reminds Acuff. Every cat or kitten is different and may have unique needs that pet specialty retailers should uncover. This also requires retailers to have thorough knowledge of the nutritional attributes of the food they offer in order to make a satisfying recommendation. 
"To do this, a broad understanding of the ingredients making up the pet foods and the functional properties they each bring to the table will allow retailers to master the art of solution-selling and help shoppers make confident purchasing decisions in-store," Acuff says.  PB