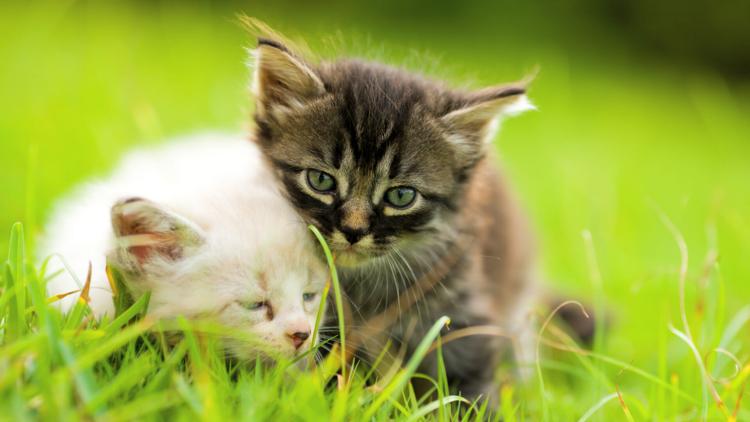 Over the last decade, the effects of climate change have caused pet parents to re-examine their buying habits for everything from food and supplements to toys and treats. Now, cat owners are adding litter to that list as more natural alternatives emerge.
Litters today can do more than clean up after our cats; they can also help keep the planet cleaner thanks to new, more sustainable materials. After all, disposing of your cat's litter doesn't have to be a wasteful experience.
"I think interest [in natural products] is driven by the want to do better for ourselves, our pets and our planet," says Nicole Domcik, key account manager for Targeted Pet Care. "Natural litters offer the best of all three: we're doing better in our homes by keeping them cleaner and fresher, doing better for our pets by offering products that aren't harmful and we're doing better for the planet by reusing materials or keeping them out of landfills."
While the category may have once been considered niche, it's growing with plenty of opportunities for retailers to, "set them[selves] apart from grocery offerings and the typical user experience," says Josh Wiesenfeld, CEO of Boxiecat.
Plus, many owners are willing to pay a premium price for healthier products for their pets, adds Jean Broders, senior brand manager for Kent Pet Group, citing a recent Packaged Facts report.
"Millennials, especially, are looking for those products, and they want full transparency from the brands they choose to help them feel confident in the decisions they are making," explains Broders.
Natural Litter Picks
In the world of retail, though, the word "natural" is tricky—it isn't regulated and therefore can have a wide range of definitions.
"In the litter context, it tends to refer to materials other than clay that are sourced from a renewable resource," explains Wiesenfeld. "They are biodegradable and can be lighter in weight than traditional litter. However, clay is also a natural material, so the natural term also applies to clay litters without chemical processing."
With all of the natural litter choices on the market are combined with the relative newness of the category, finding the right products is overwhelming for both retailers and customers. To help cover a few bases, Domcik recommends stocking products that feature three of the most common natural litter materials: paper, wheat and pine.   
"Those three are the most commonly used and fit almost everyone's needs," she explains. "Now, there are some other great alternatives out there, but if you want to break into the market, those are the three we would recommend as the 'starter pack,' so to speak."
Of course, just because pet parents want something more sustainable than traditional clay litters doesn't mean they're willing to sacrifice function. They still want litters that absorb odors, minimize tracking and make clean up easy, so it's imperative that retailers also prioritize efficacy when deciding which brands to stock by reading reviews or, better yet, try the product for themselves.
Another key consideration is what the brand itself represents, how it conveys that message to customers and what it can bring to a partnership.
"[Look for] brands that offer a strong sustainability story and messaging to the consumer on packaging," advises Leslie Ellis, consumer communications and promotion marketing manager for Healthy Pet.
She suggests asking questions such as, does the company provide support with marketing, like signage or educational materials? How does the brand communicate with customers? Do they offer coupons or a loyalty program? What is their social media presence like? Does the brand have a charity or do-nation program?
An Eco Education
In addition to educating themselves about the latest trends and best products, retailers also have the added challenge of passing that knowledge onto customers.
"It is so important that retailers are properly educated on how natural products are different because they do not always act the same as a traditional clay litter," says Domcik. "When a consumer is looking for a new product in litters, they need to understand the pros and cons of every choice they have."
For example, natural litters made from wheat, like Targeted Pet Care's sWheat Scoop, may be especially effective at trapping odors while others, like plant-based Boxiecat Air, are clumping power houses.
One easy way retailers can help customers navigate these options is by simply asking questions and listening—really listening—to their answers.
"Your consumer isn't changing litters because they feel like it—something isn't working," says Domcik. "Listen to what their concerns are, what they really want out of a new litter, and I guarantee you'll find the right choice for them."
When talking with customers, sales team members may also find it helpful to ask cat owners to rank their wants, needs and expectations from a natural litter, explains Wiesenfeld.
"It helps to prioritize the features of litter that are most important for the customer," he says. "Is the weight of the litter a big factor? Ability to clump? Odor control? Tracking? Cats' preferences for texture? There is a product to fit the order of priorities."
While signage and packaging can go a long way in educating customers about the advantages of natural litters, there's nothing like seeing it for yourself, which is why Domcik recommends creating displays where customers interact with different natural litter samples and see how they perform with water.
"Litter isn't a glamourous topic, but it's a necessity, so you've got to make sure you're talking openly about it with your customers," she adds.
If in-person demonstrations aren't possible, Ellis suggests utilizing the internet and social media to take a more virtual approach.
"Utilizing video to show the performance of a natural litter product can also help educate and provide consumer confidence," continues Ellis. "We have invested heavily in producing high quality education videos this past year that we are happy to provide to retailers."
As awareness of the category continues to increase, consumers may not require as much hands-on help from retailers. However, it's important to instill these practices now so that your staff and customers are able to stay up to date as the category expands and innovates.
"The natural category holds a lot of potential; I believe we'll continue to see it on the rise in the post-COVID era, as people are spending more time with their pets at home, which means more attention to the litter box," says Domcik. "People are quickly realizing that what they've been using might not be the best option, and there are a lot more options than the same old cat litter your parents used."  PB