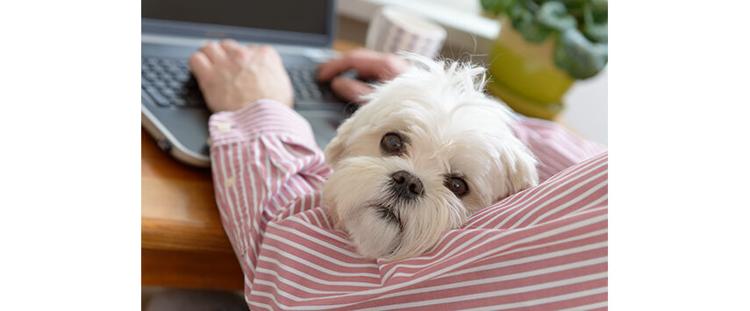 Using software to help run your grooming business can be extremely helpful in so many ways. Yet, there are still a number of salons that don't take advantage of this valuable resource—it's a shame.
I must admit, I just started using software for my day-to-day management of client's information, appointments and employees not that long ago. I tried to adopt a very popular system several years back, but I was too busy working a second job to follow through, and my employees were not computer savvy and felt it was too challenging.
If you are finally ready to take the plunge and start using salon management software for your business, what you don't want to do is go with the first software that you find or simply go off a recommendation. It would be upsetting to find out the system isn't what you really needed. This technology requires a big commitment—not just financially, but also in the time it will take to input all of the information needed to run your business.
Good software should be functional. If any component does not perform its intended function smoothly, it's useless. After all, the value of this salon management technology is in how can simplify and support your business needs.
Ideally, you should compare several different companies to see which one fits your needs best. With that in mind, here are several questions you should ask yourself when evaluating a potential salon management system:
1. Does the software provider offer specific features you need?
Some salon management software offers a lot of features that seem important, but really only adds more work at the end of the day. Other systems may not offer the specific features you need to properly run your business.
If the features are implemented in a way that's too confusing, you'll get extremely frustrated. There probably isn't a single system that's going to meet your needs perfectly, but there are enough choices that you should get very close. Make a list of the features you absolutely can't be without.
According to 123Pet Software's Andrew Beckwith, there are several features that his company has found to be very popular with groomers, including:
• All-in-one systems that combine online booking, payroll and credit card processing;
• Two-way texting;
• Text reminders;
• Mobile apps; and
• Easy-to-use marketing capabilities.
Groomsoft's Shawn Africk says that one of the most popular features his company offers is the ability to send personalized messages to your clients.
"Groomsoft teamed up with Pet Perennials to send gift-wrapped sympathy gifts along with a handwritten cards to a groomer's valued customers at the click of a button," he explains. "It's such a great feature in that it shows your valued customers how much you care. It also saves you time when picking out a card, thinking about what to write and going to the post office to mail. It just makes your life so much easier during these hard times, and it costs less than sending flowers."
2. Is there a contract?
Before buying software, make sure to ask about the types of contracts involved. Some companies won't have a software contract, but they will make you sign a support contract. This means if you aren't happy with your software, or if you need to close your salon, you will be required to continue paying your monthly support fees until the end of the contract.
3. Are there fees for tech and hardware support?
Each software company has very different support policies. Make sure you understand all the policies. Some may charge a monthly or annual fee right out of the gate, while others may offer you a free start-up period before charging you. Be careful, though, as some companies may not offer support at all—and if you are like me, you need support!
If a software provider does not support its products, you may have to go through a third party. Of course, you can count on that coming with an extra fee.
Also, look to see if any support agreements/fees cover multiple devices. Some companies have pricing for each additional device added to the plan. Getting help when you need it is important.
There are so many different moving parts that need to work with the software, such as a printer/scanner, barcode scanners, your computer, etc. It is crucial for a smooth operation. Make sure you know what to expect from your software company before buying.
4. Will it cost to upgrade?
Some software companies will charge you to upgrade to the newest version. This is normally seen with software that is downloaded or installed on your computer. Installed software may not upgrade with new features or bug fixes for six months, whereas software that is available on the web often immediately updates to the most recent version.
5. How is your information secured and backed up?
If your computer crashes, you want to be sure your information is backed up in another location. Whether using web-based or installed software, make sure you understand how, where and how often, as well as if there is an additional fee.
You also want to make sure any sensitive information about your business and your clients is stored securely. For example, Groomsoft backs up data hourly and encrypts it so anyone outside the organization cannot read it. In addition, the information is backed up in multiple locations, so data is protected in the event of a system crash.
6. Do you need credit card processing? What are the rates?
When software integrates credit card processing, it makes the point of sale easier and less time consuming. Whether your salon management software handles it or a separate credit card machine is required, make sure you compare rates and services of different credit card processing companies.
7. Does your software and processing company offer evening and weekend support hours?
In reality, not every issue you have will happen from 9:00 a.m. to 5:00 p.m. Monday through Friday. Ask prospective software providers if they offer night and weekend technical support, and if there are additional fees for after-hours support.
I like having both email and phone support, because email support alone may not get you the answers you need quick enough. I know that when I need help, I typically need it now. Be sure to inquire about the normal response time for customer support.
8. Is the software able to be used at different locations?
Some companies will say their software supports several locations, but you need to look at what is really provided. Can the store owner see the schedule for one location from another? Can you make appointments from one location to another? Having total transparency is important when you have multiple locations.
The software I am using can be accessed from each employee's smart phone, so we know what to expect each day and can make an appointment on the run. The best part is that it is included with the monthly fee.
9. Are you charged per terminal, per user or per location?
If you aren't the only employee working for your business, you'll want to know what it will cost to add people or terminals. Some software companies charge per terminal, while others charge by the number of shop locations, users or employees.
10. How much does the hardware cost?
Think about operating systems and the computer you will need to run the business. Hardware can be one of the biggest expenses in your shop. You don't necessarily want to buy hardware from the company that you have picked for your software. Many times, you can get a better price by buying your equipment separately. However, make sure your hardware is supported.
11. What do other customers say about the software?
I love looking at customer ratings and reviews. Most people ask for recommendations, but did you ever think to ask why customers have chosen to leave a company? Talk to other businesses that are using the software. Follow the software providers on social media and get the big picture.
12. What types of education are provided?
There is always a learning curve when adopting new software, so make sure you know what type of training is offered by the provider. Will the training be provided for everyone in your business? Is there a fee? Is the training live? Is the training pre-recorded and always available?
According to Beckwith, 123Pet Software not only has a help center, it also offers monthly training sessions to make sure groomers get the most out of their software and are successful when using it.
"Service is so important," he says. "We listen to our customers, which helps us continue to evolve and improve our software. The more successful the groomers are, the more successful we are."  PB
Chris Pawlosky is a Certified Master Groomer, professional handler, breeder, grooming show judge and successful pet store and grooming shop owner (The Pet Connection) since 1985. For 20 years, she served as national training manager for Oster Professional Products, where she developed new initiative educational material to educate at schools and conventions all over the world. Pawlosky is currently working with Judy Hudson to produce the Grooming Professors—a service through which the two industry veterans share their many years of grooming, competing, dog show conditioning and handling with groomers across the country via Facebook and through an interactive website where visitors can access webcasts and videos about everything grooming related.