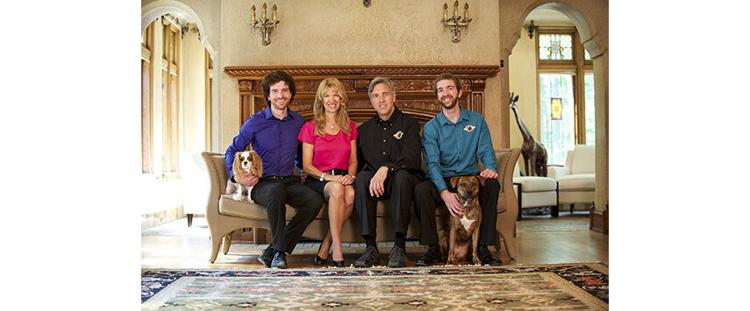 It's rare enough to find a truly family-owned and -operated company in today's pet food industry, much less one with roots that go back five generations and more than a century and a half in fact, that might seem downright impossible if it weren't for Fromm Family Foods—a company that can trace its origins all the way back to two immigrant families that left Germany in the mid-1800s in search of opportunity in the American Midwest.
Those families—the Fromms and the Niemans—were linked through marriage shortly after settling in Southeastern Wisconsin (near Milwaukee) in 1852, eventually spreading out to the northwest to take advantage of the Homestead Act passed 10 years later.
"The Niemans utilized the Homestead Act that was passed by Abraham Lincoln to pioneer farms for their kids," says Bryan Neiman, a fifth -generation family member who serves as brand director for Fromm Family Foods. "[Back then], you could pretty much go claim these enormous parcels of land, and all you really needed to do to gain ownership is live on the land for five years and pay a small processing fee. That's how we ended up in Northcentral Wisconsin, where the Fromm brothers started what would become Fromm Family Pet Food."
That seed for one of the industry's premier pet food companies was planted in 1904, when the Fromm brothers—still just boys—formed the company and created a business plan to breed silver foxes on their farm in Hamburg, Wis., a small town about 200 miles northwest of Milwaukee. That boyhood aspiration became a reality about 10 years later when the mother of the four brothers—now men—used her 160-acre farm as collateral for a loan to purchase the three silver foxes that would serve as their first pure bred breeding stock.
In 1921, another marriage between the two families brought the silver fox business down to southeastern Wisconsin, where the Nieman family had become a cornerstone of two towns—Cedarburg and Mequon. "My great-great grandfather [John Nieman] opened the first bank and cannery in Cedarburg in 1908, and then the first bank and cannery in Mequon in 1910," says Nieman.
After the marriage, the connection between the Fromm and Nieman families deepened even further when John F. Nieman made a significant investment in the silver fox business, which led to the creation of the Fromm Bros., Nieman & Co. Shortly thereafter, the newly formed organization created its own food manufacturing plant in Mequon to ensure the health and vitality of the foxes it was breeding—an enterprise that would eventually give rise to the redevelopment of a complete and balanced dry dog food in the 1940s.
In 1949, with the help of biochemist, nutritionist, and animal researcher Dr. Willard Roberts, Fromm Complete Dog Meal was launched using the tagline, "Fifty thousand foxes can't be wrong!"—and a pet food brand was born. Over the subsequent decades, the Fromm pet food brand grew and diversified, introducing its first lifestyle-specific recipes in the 1970s and incorporating natural preservatives in its formulas in the 1980s. But the real watershed moment in the development of the modern Fromm Family Pet Foods brand came when current owner Tom Nieman took the reins of the family business.
"We had a significant amount of shareholders when my dad took over the company with my uncle in 1985," says Nieman. "It took my dad until the year 2000 to consolidate ownership, and that's when the company really took off like a rocket. Part of it was because my dad could make decisions [unilaterally], and part of it was positioning the right products at a pivotal time in the market. Since then my dad has built our company into a top player in the independent segment—it's pretty stunning."
Now Bryan Nieman and his brother Dan stand poised to further the legacy that their father—in fact, their whole family, going back generations—has built. But while Fromm Family Foods has become a big, successful business, Bryan and Dan, like Niemans and Fromms that came before, understand that the community that made it all possible is the most important thing at the end of the day.
"Community has always been a common thread in our family business," says Nieman. "It is pervasive in our company. I mean, we really feel like our employees are our family—we know their kids, we know their pets. It's not about the almighty dollar; it's about impacting communities, living a life that you're proud of and building something that will far outlive our time here on Earth."
The legacy that the Niemans and Fromms have created across generations is one that is valued not only by family members, but also by the communities that were integral to the realization of their American dream. This was made particularly apparent in the summer of 2019, when the Cedarburg History Museum introduced an exhibit dedicated to their story.
Personally curated by Bryan Nieman, the exhibit featured a full timeline of the Nieman-Fromm family's experience, including their earliest days as Wisconsin settlers and connections through marriage, to their emergence as entrepreneurs and community pillars—all accompanied by beautifully restored historical photos dating back to the family's earliest days in Cedarburg.
"I was honored to receive the invitation by the Cedarburg History Museum to tell our multi-generational family business story," said Nieman. "We're very lucky to live in a community that values its history so deeply and takes the time to showcase and preserve that history. The reception to the exhibit has been heartwarming. As result of the exhibit I've been able to meet past employees who worked for my great grandfather and learn how he positively impacted their lives forever. It's a very proud feeling."
A Celebration of Community
While the Nieman-Fromm family's connection with its Southeastern Wisconsin community goes back more than 150 years, it is, by no means, a thing of the past. According to Nieman, this connection remains vital to the present and future of his family—and Fromm Family Foods. With this in mind, the company is always looking for opportunities to celebrate and give back to its community. One such opportunity came into focus in 2014, when Fromm Family Foods launched its Fromm Petfest.
The one day celebration of pets, which is held each year at the Henry Maier Festival Grounds in Milwaukee, is a perfect reflection of the value that the family behind Fromm Family Foods places in their community and our furry friends. The event, which is free to attend, features a wide variety of activities that pets and their owners can take part in together, as well as entertaining main-stage shows, contests and demonstrations, and booths housing local vendors and animal rescues.
"For us, it is a big way to give back to our community," says Nieman. "Our business has grown here substantially—the Midwest is our core market—and it's something that I think our community needed. I grew up going to various festivals here, whether it was Irishfest, Germanfest or Summerfest—but we always had to leave our pets at home. I grew up with a dog and cat, and the summer was a great time to go out and explore, but our pets were usually stuck inside. Petfest welcomes people and pets and this is a super and unique way to utilize a great public park which historically had been reserved just for people."
Apparently, the surrounding community agrees with Nieman, as attendance at Fromm Petfest has grown about 20 percent in each of the six years it has been held, reaching a high-water mark of more than 12,000 people accompanied by nearly 5,000 pets. Also growing each year is the number of local businesses that participate in the festival, including independent pet retailers—a fact that, given the nature of his family's business, Nieman finds particularly gratifying.
"Our focus at Fromm is neighborhood pet stores and they continue to be incredible partners and supporters of their own communities.," he says. "With Petfest we strive to highlight local businesses in an effort to increase awareness of the great products and services they offer. So, any of our neighborhood pet retailers that want to exhibit are welcome, as are other kinds of local pet-related businesses and pet related non-profit organizations."
At the end of the day, while Fromm Petfest represents a significant commitment for Fromm Family Foods, the company sees the event as worthy investment in helping its brand, its retailer partners and—most importantly—its local community of pet parents.
"Our overall goal is a positive user experience. We want it to be inclusive, we want everyone to have a great time, and we want it to be safe," says Nieman. "But from a business perspective, I guess a goal of ours is to keep people familiar with Fromm.
"Our brand is well known here, but there's still a good segment of the population that just doesn't shop at neighborhood pet stores. This event gives us an opportunity to hopefully inspire people to visit their neighborhood pet store, which drives dollars back into their local community."  PB