The growth within the eco-friendly pet products segment over the last several years has elevated this corner of the market into the mainstream. No longer embraced only by a particular consumer or available solely at niche retail outlets, eco-friendly products are now made by companies that are reaching beyond their manufacturing processes to institute environmentally conscientious practices throughout every department.
Responding to the initial ecological concerns of pet parents who wanted toys manufactured with safe components that weren't threatening to the environment, manufacturers stepped up with innovative approaches to product design and composition. However, once these solutions were introduced, consumers became concerned with issues such as waste during production. For many companies that were built around sustainable manufacturing practices, responding to these concerns wasn't a great challenge, as they already had the necessary processes in place. For example, Planet Dog developed additional eco-friendly goods by using the excess Orbee-Tuff material it uses in many of its product designs, says Elizabeth Fagan, the company's director of marketing.
"In all of our standard manufacturing, there is excess material or run off. What we do is capture and repurpose it into what we refer to as 'regrind,' tiny pellets of once-molded Orbee that is eventually re-melted and molded into new toys," she says. "Our RecycleTOY line is made of 100 percent regrind. It is literally a combination regrind from all our products re-melted and remolded."
Another veteran of the sustainable pet-products segment, Cat Claws, Inc., has remained diligent in providing certified organic catnip while prioritizing the reuse of paper in the production of its scratchers. 
"Our parents were also huge advocates of recycling," reveals vice president Ginger Bussey. "We have always used a recycled paper for our scratchers and produce them to be completely recyclable. Our plant and office are filled with recycle bins; we don't put a single piece of paper in the trash if it can be recycled."
While in-house recycling initiatives are admirable, pet parents are also concerned about the impact of products once a pet has rendered them unusable. Certain companies have responded to this by designing their finished products to be recyclable, contributing to the reuse initiative well after the manufacturer and retailer have made their profits.
"With the corrugate scratcher, you just put it in the recycle bin when the cat has worn it down, as it is 100 percent recyclable," says Bussey. "The corrugate scratcher won't end up in a landfill like a carpeted or sisal scratcher."
This commitment to sustainability past the point of sale allows retailers to fully trust that manufacturers are not only selling eco-friendly pet toys, they are ensuring their goods can be responsibly disposed of, or repurposed to create additional items.
When designing a product, eco-conscious toy makers often visualize how one project can translate into another. Such resourcefulness translates not only into producing the original item, but also designing multiple solutions based upon that initial idea. This method of innovation is explained best by Natalie Hennessy, senior public relations and marketing manager at P.L.A.Y. (Pet Lifestyle and You), who reveals the link between the company's pet beds and its plush-toy designs.
"Our line of ECO P.L.A.Y. bones was actually our first plush-toy collection…we thought that upcycling leftover fabric from our Lounge Beds was a good eco-friendly way of reducing waste," Hennessy says. "By using the same handmade craftsmanship, premium ingredients and meticulous multi-stitching that can be found in our Lounge Beds, we were able to create a toy that looked great and was durable."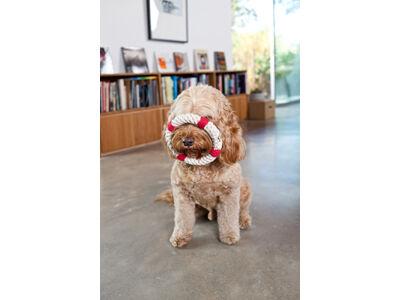 Lower Costs to the Planet
Looking beyond their finished products, many eco-friendly manufacturers are examining a variety of methods of promoting a message of environmental consideration. Often, this dedication to sustainable practices extends into a company's relationships with suppliers, distributors and retailers, with the goal of building connections that satisfy the demand from conscientious consumers and introduce other pet parents to these eco-friendly products.
Describing his own company's dedication to green production processes, Spencer Williams, owner and president of West Paw Design, explains how the brand embraces environmentally friendly methods from start to finish.
"West Paw has demonstrated that innovation, a strong culture and utilization of lean manufacturing principles can create success for stakeholders while reducing environmental impacts," he says. "We make the conscious decision to work with suppliers who have the same ethos regarding smart environmental practices...We also try to use U.S. manufacturing partners/suppliers to reduce transportation emissions."
Consumers who purchase pet products sometimes find that these sustainably produced items are sold in excessive, unnecessary packaging. This obviously directly contradicts the mission of sustainability. However, there are many companies in the eco-friendly toy category that have addressed this mixed message head-on.
"All of our products are designed to be shelved with minimal packaging, not only to be easily displayed, but also reduce the amount of packaging waste," says Tina Nguyen, founder of Jax & Bones. "The truth is, we live in a world where safety and the environment often play second chair to profit. Although industries are becoming more environmentally conscious, there is a lot of room for improvement."
While retailers will quickly recognize the shift in obvious product features, such as decreased packaging, they might not notice all the benefits from working with eco-friendly manufacturers. Some of these toy makers find that their greatest successes are cultivated through the consistency of maintaining price points without reducing quality.
"We have not raised our price for the past 10 years. Instead, we have reduced packaging and other unnecessary components without compromising quality or size of the toy," explains Simply Fido managing partner Samuel Hahn. "Our customer appreciates our effort to keep the same quality since the beginning...we also work with several rescue organizations and we send out our toys when dogs are adopted to their forever homes and their first real toy is organic and safe to play with."
Eco-Minded Efforts in the Community
Though not all consumers are environmentally aware, many are at least concerned about the quality of products that their pets use. Citing the importance of a pet store as the cornerstone for building a local, closely knit pet community, Nguyen discusses how the relationships between consumers and staff are integral to the growth of the eco-friendly pet-toy segment.
"It's the 'any friend of my dog is a friend of mine' adage," she explains. "Therefore, when retailers stock products from companies like ours—who are both invested in and committed to design and production where the health of your dog and our planet is a priority—it reinforces that extended familial bond."
Retailers who invest in partnerships with manufacturers that think outside the pet toy box will become invaluable resources to pet parents in the community. By taking an active role in providing feedback from conscientious consumers to manufacturers, retailers will help shape solutions that reduce negative environmental impact while producing quality, eco-friendly pet toys.  PB