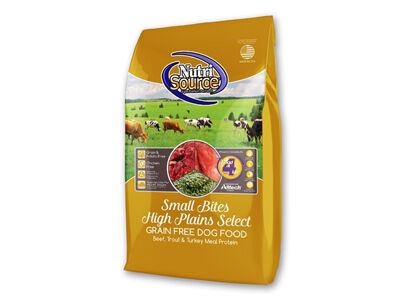 Tuffy's Pet Foods' NutriSource Grain Free Small Bites High Plains Select features real beef and trout. This food does not contain chicken, potatoes or peas. It has NutriSource's Good 4 Life system, which supports immune function, promotes intestinal health and improves fecal odor.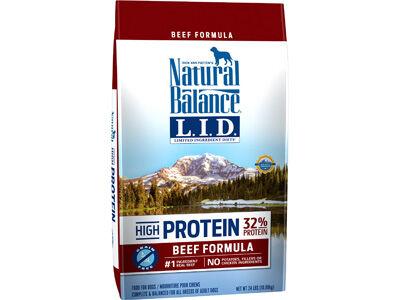 Natural Balance's L.I.D. Limited Ingredient Diets High Protein Formulas contain 32 percent protein. They do not include grain, potato fillers or chicken ingredients. Each single-source diet has real beef, lamb or turkey as the No. 1 ingredient. The formulas help sustain energy, support healthy digestion and maintain healthy skin and coat.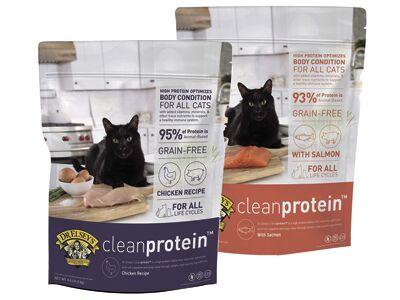 Inspired by the protein levels found in natural prey, Dr. Elsey's cleanprotein is a high protein kibble that naturally optimizes a cat's appetite and body mass through simple, high-quality ingredients. High levels of protein help curb a cat's appetite to maintain a healthy weight. Protein is metabolized slower than other nutrients, so the result is an appetite that is satisfied longer.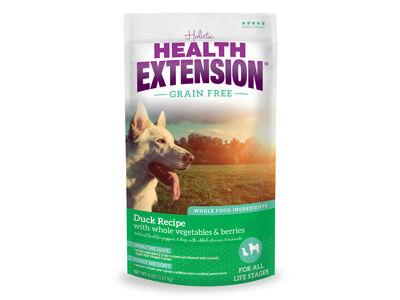 Health Extension's new Grain Free Dog Recipes use organic and naturally raised livestock. Each recipe contains high levels of fresh animal proteins that are grass fed, free range and wild caught. Other added ingredients boost immunity and include coconut oil, turmeric and bovine colostrum. The following varieties are available: Buffalo & Whitefish, Chicken & Turkey, Venison, Duck, Buffalo & Whitefish Little Bites, and Salmon.
Nulo's Freeze-Dried Raw diets for dogs are an easy-to-serve alternative form of raw food that delivers high-quality nutrition. Every recipe is made with up to 83 percent meat, organs and bone. Five varieties are available: Turkey Recipe with Cranberries, Salmon and Turkey Recipe with Strawberries, Lamb Recipe with Raspberries, Duck Recipe with Pears and Beef Recipe with Apples.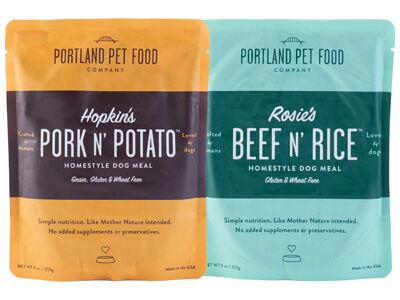 Portland Pet Food Company's easy-to-use pouch meals have limited ingredients and are formulated to include natural sources of proteins, vitamins and minerals. The food is all-natural, human-grade and made and sourced in the USA. Each 9-oz. pouch is also microwavable to allow pets to eat a warm dinner. Five percent of every purchase goes to animal organizations.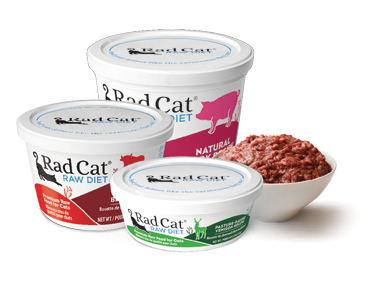 The Rad Cat Raw Diet from Radagast Pet Food, Inc. is made from single protein sources and does not contain synthetic vitamin supplements. All products are bone- and vegetable-free and are made with free-range and organic ingredients. All varieties come in three stackable, easy  scoop-and-serve sizes.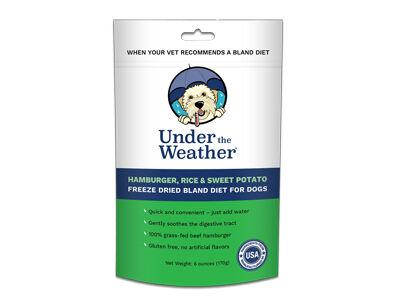 Under the Weather has introduced a Hamburger, Rice & Sweet Potato recipe, a new addition to its bland diet line, which soothes the stomach and promotes healthy digestion. All ingredients are raised or grown in the U.S.A. It does not contain meat byproducts, gluten, artificial flavors, dyes or chemicals. The freeze-dried ingredients keep the products shelf stable for up to two years.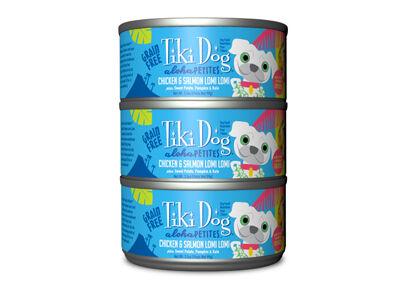 Tiki Dog Aloha Petites from Tiki Pets is a range of wet whole foods and baked kibbles that are formulated for small dogs. Meat- or poultry-first diets made from fish, chicken, lamb and pork are fresh-baked into kibbles specially suited to the size and shape of a smaller mouth. Nutrient-dense organ meat, like chicken liver, adds taste and texture for superior palatability. The line also contains nutrient-dense superfoods like coconut, kale and sweet potato.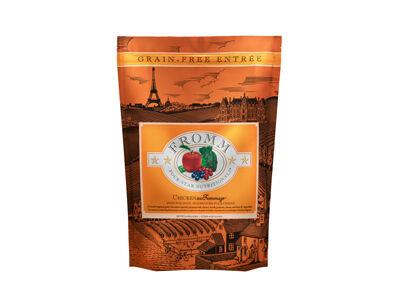 Fromm's Four-Star Nutritionals Chicken au Frommage for dogs is specially prepared in small batches to ensure quality, taste and digestibility. Chicken au Frommage is crafted with chicken, cheese, lentils, peas, eggs and sweet potatoes. This grain-free entrée joins a robust menu of grain-free and grain-inclusive Four-Star Nutritional recipes.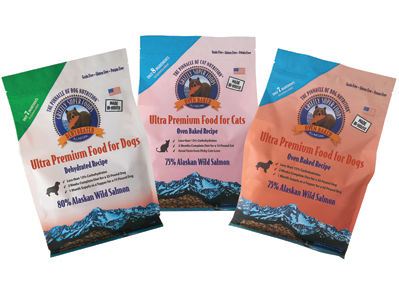 Grizzly Super Foods from Grizzly Pet Products has wild Alaskan salmon as the first and main ingredient, followed by organic coconut meal for fiber and prebiotic support, sprouted organic quinoa for natural vitamins and wild salmon oil for omega-3. They do not contain fillers in the form of grains, glutens, potatoes, peas or legumes, synthetic ingredients or artificial flavorings. Varieties for dogs and cats are available.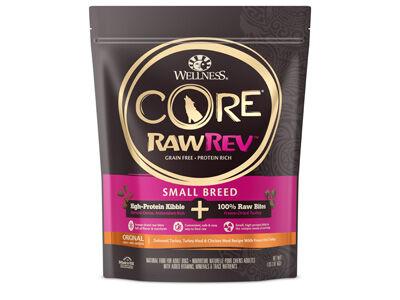 Wellness CORE RawRev combines high protein grain-free kibble with 100 percent pure, raw freeze-dried bites. The recipes provide protein, natural enzymes and full flavor. CORE RawRev is available in Original, Wild Game and Small Breed Recipes.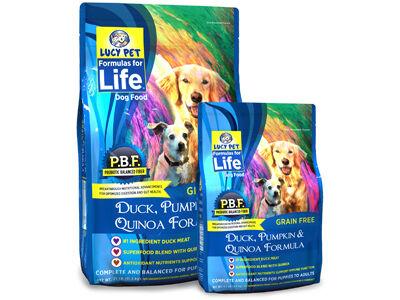 Lucy Pet Products' Lucy Pet Formulas for Life Dog and Cat Foods contain P.B.F. Prebiotic Balanced Fiber for gut health. P.B.F. works through the digestive system to deliver prebiotic fibers and nourish billions of gut bacteria. Lucy Pet Formulas for Life focus on improving gut health to help strengthen pets' immune systems.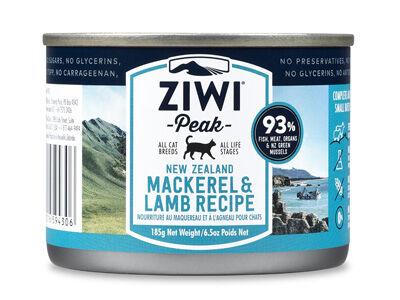 Ziwi Peak Mackerel and Lamb from Ziwi USA is available in both air-dried and canned diets. The recipe contains a nutritious combination of wild-caught, sustainable New Zealand Blue Mackerel and free-range, grass-fed lamb sourced from the country's ethically managed local farms.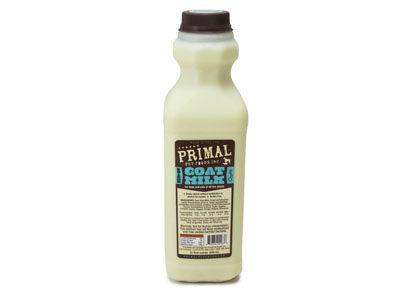 Primal Pet Foods' Raw Goat Milk contains vitamins, minerals, electrolytes, trace elements, living enzymes, protein and healthy digestible fats. The milk is versatile and easy to serve as it can be fed on its own, poured over kibble and canned food, or used to rehydrate freeze-dried diets.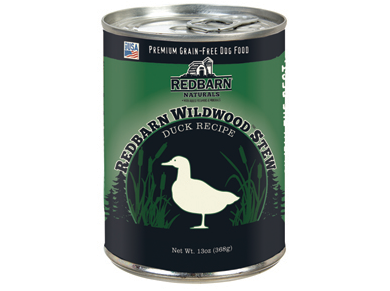 Redbarn Wildwoods Canned Food features novel proteins like duck. The stews are free from common canine allergens like soy and corn. Every recipe is grain-free and features natural ingredients and added superfoods. Recipes include support for weight control, healthy teeth and bones, and joint health. Each can has 16 ingredients or less, plus added vitamins and minerals. They are made in the USA.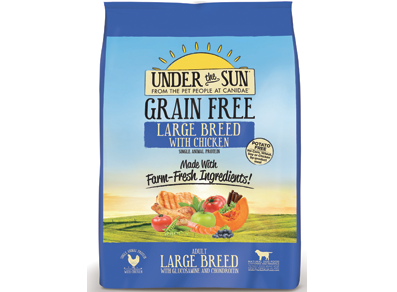 CANIDAE Under The Sun pet food is made with farm-fresh fruits and vegetables as well as single animal protein sources. The recipes are formulated with easy digestion in mind. Under the Sun's improved recipes across all wet and dry formulas for cats and dogs now exclude potatoes and pork, and feature a variety of protein options like chicken, lamb or whitefish. They do not contain corn, wheat, soy or chicken byproduct meal.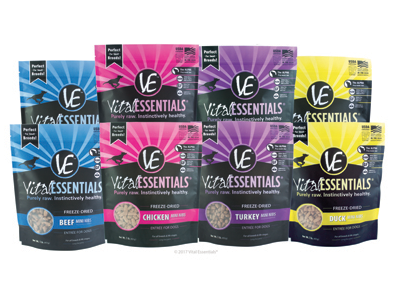 Vital Essentials Freeze-Dried Entrees are based on the Alpha Prey-Model Diet. An exclusive freeze-drying process retains all the active nutritional elements in this food while allowing it to be safely and conveniently stored without refrigeration. Sourced, made and packaged in the USA, the entrees contain a blend of fresh, wholesome beef, bone and organ meats, and do not contain grains, glutens or fillers. They are available in Mini Nibs and Patties.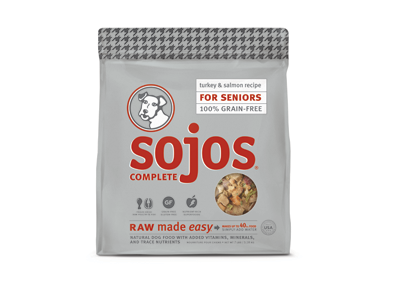 Sojos' Complete for Seniors is a raw, shelf-stable food specially blended for the whole body health and vitality of mature dogs. Freeze-dried raw turkey and salmon, select superfoods and targeted vitamins and minerals all combine to help maintain healthy bodies and bright minds.