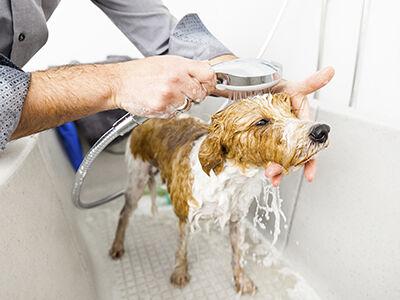 People spend billions each year on pet care, and grooming is a large part of that. Demand for mobile grooming, in particular, continues to increase, often seemingly regardless of external economic factors. In addition to job security and good income, there are a number of reasons that many groomers choose to go mobile. Many cite the personalized service that they are able to give their clients and the improvement in the pets' experience due to the quieter more intimate environment that a mobile unit provides, as well as the one-on-one experience since mobile stylists usually work on only one pet at a time. Others enjoy the quiet and solitude, while many agree that the flexibility for their schedule is an important factor. But there's a downside to everything, and mobile grooming doesn't come without its challenges.
Jane Cagney has owned TLC Mobile Pet Grooming in Mendham, N.J., since 2007. One of her biggest challenges has been scheduling, but in her case it's because she's completely booked.
"I was turning people away and still saw a need in the area," says Cagney. "My waiting list is all referrals from existing clients and I still couldn't fit any in.ˮ
So, she bought a second van. TLC grooms all breeds, as well as cats, and since it's very physical work, she hired a second groomer and had them help her while she ensured that the way the grooms turned out and customer service provided were as similar as possible. They sometimes still work together, since two people can dry, brush, comb and scissor at the same time, but often both vans are on the road.
She does caution anyone looking at the same solution that "with two groomers, prices have to be able to support that. If you don't charge enough you won't be able to sustain yourself, or the insurance—liability, vehicle and workman's compensation."
Right now, business is good and her only other challenge is returning calls from prospects who, despite the message saying she's fully booked and isn't taking on new clients, persist in leaving messages looking for appointments.
Cheryl Maibusch, owner of The Cat Groomer of Spofford, N.H., says equipment failure is her biggest hiccup, with the generator as one of the biggest challenges if it fails. She does like Wag'n Tails vans as they have a lot of redundancy built in, but you do come to depend on that generator. Having plug in as an option can save you, even though you may not have as much electricity available as you'd like, but there are places that you simply can't plug in.
Her solution on the occasions that it has happened was to have alternate spots where she could plug in—a daycare/groomer that didn't do cats, a local humane society that she had a relationship with or a previous grooming employer—and asked her customers to come a relatively short distance to her. Alternatively, she'd pick the animals up and drive to the closest location where she could plug in.
Her other biggest issue is routing; spending too much time driving around can ruin a potentially lucrative day. The biggest help for this was as calls came in she would base the schedule for the day in one area only. She also tries to make sure to stay in a 20 miles radius from her base. If customers called from outside that area, she'd offer one of her plug in locations as a compromise.
The Woof Wagon, with two vans, serves north central Massachusetts and New Hampshire's Monadnock region. Megan Suokko, owner, has been grooming for 14 years and in the animal care field for 22 years. As her vehicles serve more rural areas, her No. 1 challenge is routing.
In the summer, The Woof Wagon is usually booked out seven weeks ahead—the rest of the year it's four weeks—but client and employee vacations can interfere with scheduling. Suokko's business serves about 15 towns, as it is a fairly rural area, so in order to accommodate customers' needs some excess driving is inevitable. While some groomers successfully use routing apps, such as Mogo Mapping, RoadWarrior or others, these are intended for freight deliveries and may not have the flexibility needed for rural or even suburban areas. Once an appointment is booked on a particular day, she tries to keep the rest of the day's appointments in that town or nearby, but that isn't always possible.
Woof Wagon added an additional fee for evenings and weekends to minimize the workdays and their length. Mobile groomers tend to focus their efforts on higher income areas, but she believes that since she's driving through towns to get to those areas, why not do other dogs in those towns too and maximize time?
"People are worried about the anxiety their dogs may have about grooming in a salon that they will find a way to afford it," says Suokko.
While equipment failure is a big concern, another challenge Suokko feels mobile groomers face is that of physical demand. They don't realize the toll they are taking on their body hopping in and out of the van several times a day, climbing stairs with a dog or assisting one up the stairs.
"My feet may hurt after a long day in a salon, but my knees hurt after a day of mobile work," adds Suokko. "Mobile groomers get rest periods driving, as opposed to a salon, but they may not be taking account of the different ways their body is moving compared to a salon."
Mobile groomers may need to pay attention to health, wellness and self care more than the grooming industry as a whole.
Emmy Christopher, owner of Aussie Pet Mobile in Portland, Maine, knew from the beginning that she wanted multiple vans. Many mobile groomers have the same idea—that multiple vans would allow them to do more of the management tasks and spend less time in the field. She now has three vans and does a lot of special needs pets, customers with specific needs and "tons of cats."
However, her biggest challenge is finding qualified, reliable groomers. That's a refrain you hear from any grooming business owner, but mobiles are in a unique position since they cannot regularly supervise their staff as easily as in a salon. So, mobile salons must find groomers that are trustworthy and a truly good fit for their business model. Emmy is always looking for groomers that are non-judgmental as they do some of the once-a-year clientele locally and, of course, qualified stylists that are good at animal handling. They also need to have an outgoing personality and be sales oriented.
In Home Grooming
One often forgotten niche in mobile grooming is the house call, which is also booming. Chris Anthony thought house calls would be a great way to save for a mobile grooming van, but after a short time after she started Have Shears Will Travel, in Hillside, N.J., she realized that she no longer wanted a van because she loved the personal aspect of what she was doing.
"Customers love seeing what's going on. They feel that they have more control and they ask questions," says Anthony. "Seeing is better than explaining. If I'm doing a matted shavedown I can call them over mid-groom as the coat is coming off pelted and it's got more impact than even showing them the pelt afterwards."
The challenges are a bit different for house call mobile groomers. Anthony's initial challenges included paring down the amount of equipment until it was all portable, and getting used to having a limited amount of shampoos to choose from. The biggest challenge now is finding or creating a space to bathe—especially bigger dogs—and having to be a bit McGyver-like in figuring out how to bathe and rinse. She's washed a large dog in a shower stall with a towel over the drain to enable her to use her Bathing Beauty and used a Tupperware rinse cycle on a small one when no hose and sprayer was available.
Cleanup can be challenging as well, but she loves what she's doing and her clients love being able to see what's going on with their pets. Anthony recommends Laura Hearn's book Practical Guide to House Call Grooming as a great reference for back up if a mobile van breaks down.
Ellen Ehrlich, business consultant and author of The Successful Pet Groomer and Go Mobile And Succeed thinks mobile grooming's biggest challenge is "getting customers to understand that they have to work to your schedule."
"In 2006, when I started grooming mobile, customers thought they'd just call and I'd come," says Ehrlich. "When they'd call for an appointment I'd end up interviewing them —the dog's size, frequency of grooming, etc.—to see if they were a good fit." If they weren't, she didn't take them on.
Maintenance Point of View
So, what do the experts—the folks that actually refit those vehicles and trailers for groomers to use—think about the equipment failure, routing and scheduling issues that most mobile groomers cite as their biggest challenges?
Curtis Hanvey, founder and design engineer of Hanvey Engineering and Design, has tried to create an essentially maintenance-free truck, but says technology has taken us as far as we can go on that.
"So, I designed the truck so the client can do the vast majority of the needed maintenance by themselves, and minimize what they have to do for maintenance in the first place," says Hanvey. "It's why we use inverters for power—generators are high maintenance. They are used on RVs a couple of times a year, ten hours a day is a lot to ask from them."
Besides keeping the design efficient, Hanvey is a realist. "If you are making money, you'll have to put some effort into maintenance," he says. He points out that while replacing a piece of grooming equipment in a van for $500 or $1000 is not like a personal outlay of that amount of money, on a personal level it's a pretty big purchase.
"Most mobiles make $1,000 in two days," says Hanvey. "Figure out how many days of grooming it will cost you to replace something, and think of it as a business expense—that takes the stress out of it. Replacing items is a normal part of business."
He also suggests putting money away for maintenance and replacement of worn items. Some groomers use tips for going to grooming shows, why not take a set amount each month and put it away for maintenance expenses? Figure out how many dogs you'd need to groom to cover most big issues, and squirrel that away each month until you have what you need.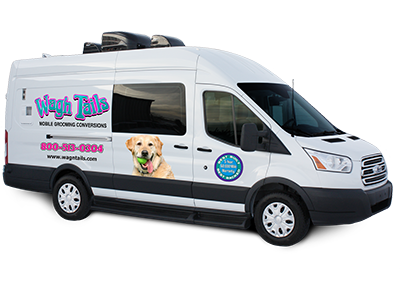 Wag'n Tails Mobile Conversions builds redundancy into their major systems to ensure the business keeps running smoothly.  If the generator should have an issue, their vans can be plugged in.  If the owner runs out of propane, they can heat water with electricity. If the air conditioner stops, the chassis air can be used.  Water pumps can be easily swapped out—there are two onboard—and many groomers keep a spare.
"Maintenance is the key to minimizing equipment failures," says John Stockman, national sales manager. "Simple maintenance can keep the van trouble-free, but it needs to be performed per our guidelines. Air conditioner coils need to be cleaned of pet hair regularly.  Generators need to have routine oil, oil filter and air filter changes.  The bathing system filter needs to be cleaned daily."
Each new owner is taught how to perform these simple tasks in the three or four hour orientation when they get their van. And they have full time customer care available.
"While maintenance will go a long way to prevent equipment issues, mechanical things will fail from time to time, and we provide expert advice and assistance with repairs to the best of our ability," adds Stockman.
As far as routing and scheduling issues Stockman says "efficiency is the goal and there are a couple of ways to get there." Simply put, mobile groomers should group clients in a geographic area on a specific day of the week. There is a balance between accommodating your clients and keeping your route tight. He recommends doing this from the start.
"If you accept every appointment that calls in the beginning, you'll be zigging and zagging all over the place," says Stockman. As you add new clients, put them into your schedule on the days of the week you will be in their geographic section.
Another great tip from Wag'n Tails is to make it easier on yourself with one of the mobile grooming applications like Navigroom. It works for the startup and to tighten up existing routes because it maps all your clients—and has other excellent tools.
Make sure your attention is on doing your maintenance to prevent equipment failure, keeping a nest egg in case disaster does strike and following some of these great ideas for efficiency in scheduling, and you'll make sure you get your fair share of the money people spend on their precious pets. PB
Carol Visser has been involved in the pet industry since 1982 in various capacities, including grooming in and owning a busy suburban shop, working as a product expert for PetEdge, teaching seminars and training dogs. She certified as a Master Groomer with NDGAA in 1990 and as a Certified Pet Dog Trainer in 2007, and she continues to enjoy learning about dogs and grooming at her small salon in rural Maine.