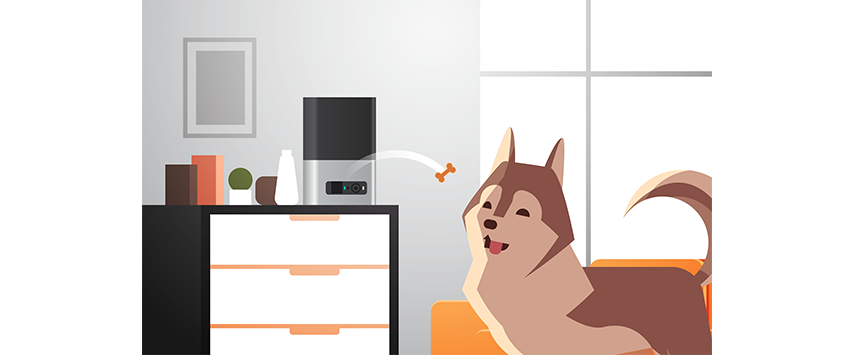 Long gone are the days of technology being the mystical, vaguely intimidating inspiration behind science fiction stories. While some of those seemingly far-fetched concepts have come to fruition (I'm looking at you, robot workforce), almost all technological innovations have brought practicality and innovation to run-of-the-mill items. Simply put, convenience and ease are leading the way. With almost everything being a voice command or a few swipes of a screen away, it's only natural that technology has made itself at home in the pet industry.
Technology itself is a multifaceted and complex term. When incorporated into pet products, it encompasses everything from Uber-esque travel apps for cats and canine-specific television channels to automatic water fountains and feeders. No matter what end of the spectrum a product falls on, all ideas stem from the same place: the desire to make lives of both pets and owners easier.
"The No. 1 benefit for pet owners is freedom and piece of mind," says Tony DeSavia, director of marketing and creative for Ideal Pet Products. "It frees the pet parent from daily pet care tasks, allowing more one-on-one time between [them] and [their] furry family member."
As new ideas seem to be rolling out left and right, the appeal of alleviating some of the day-to-day responsibilities of pet care can easily be mislabeled as the driving force behind this category. For Stacy Silk, senior brand manager for BISSELL Homecare, it's actually twofold.
"One significant reason for the growth spurt in this category is that millennials and Gen Xers tend to embrace new technology more readily than older pet owners," she explains. "Another reason for the rise in pet tech is that pets are more a part of the family than ever before. Everything that people want for themselves, they also want for their pets, so they are willing to splurge on luxuries."
Furthering this are the strides that have been made in developing and improving technology over time.
"In just 10 years, we've seen the emergence of the internet of things, voice-enabled technologies, wearables, etc," says Kevin Dalby, associate marketing manager for PetSafe. "With pet parents adopting these technologies in their everyday lives, it only makes sense that they'd adopt them for solutions to pet problems, as well."
Selling Made Simple
It's no secret that almost all purchasing decisions usually boil to down to one thing: price. You'd think that moving products from a category that tends to be on the pricier side would be challenging, but this may not be the case.
"Tech always starts out as a cost issue, but as the market grows, the obvious advantages begin to offset the cost differences," explains DaSavia "Also, in time, growth allows costs to decrease… think handheld calculators, smart phones, computers and flat screen TV's."
It's in the same vein as people upgrading to new cell phones and laptops every year as operating systems improve and offer all sorts of new shortcuts. Retailers can harness that idea and adapt it into the pet industry by highlighting that the developments in pet technology can turn those "annoying, tedious chores" into quality time, explains Silk.
Debbie Hamill, CMO of iFetch, expands on that idea, pointing out that pet owners will find that pet technology products are a "worthwhile investment." Retailers should emphasize that high-tech products provide safety, remote feeding and watering, monitoring services and even exercise. Highlighting these facts will provide relief from the guilt and anxiety pet owners experience when they're away from their pets for extended periods of time throughout the day.
When it comes to display, retailers can't rely on the originality to sell itself on its own. DaSavia advises to, "treat tech as it should be treated... new, innovative and exciting!"
A way to tap into that innovation is to give the technology a chance to show itself off and give pet owners an idea of how it works.
"If it's reasonably easy to accomplish, [retailers] can stage live product demonstrations in a store window or main aisle during peak shopping times," suggests Silk.
Hamill explains that live interaction is pertinent to the sales of these products because it allows customers to witness first-hand the excitement and usefulness these products provide for their pets.
Of course, not every pet store has the extra floor space to provide the space for a live product demonstration, so retailers have to get creative. Silk suggests showcasing an "innovation of the month" in a dedicated endcap to elevate customer interest in a particular product.
Those specifically-targeted endcaps have the option to be organized by giving a company's full product line the spotlight or grouped together by the needs they serve. For example, automatic feeders can be grouped together for something along the lines of "Feeding February."
When it's not possible to offer live demonstrations, Hamill suggests investing in a dedicated TV screen that showcases both animals and pet parents using these products.
"Watching other dogs interact with the… toys is important for potential customers to see, especially since the price of [these] products is more of an investment than a plush toy or chew toy," says Hamill.
Showcasing and displaying this innovation is a challenging balancing act: you want to show the uses of the product, but you also don't want to rely on that alone to sell the product. Consumers need to understand how certain technologies can increase their lives for the better.
"The novelty of a lot of these technologies is wearing off, so it's not good enough to expect technology itself to carry a product design," says Kevin Dalby, associate marketing manager of PetSafe. "Ultimately, that innovation needs to fill a need, and the 'tech' simply serves as a method to meet that need."
As, "people are getting savvier about how they include technology into their lives," continues Dalby, retailers need to get creative in both attractively displaying these products in their stores while still providing some sort of example of how the product would function in a home environment.
With all this talk of how to technology, don't forget to utilize the king of innovation itself: the internet.
"Social media can play a key role here, as important input from like-minded pet owners has certainly impacted this category," says Silk. "Highlighting product reviews—whether on social media or in e-newsletters—can be a key driver to retail."
No matter what display route retailers want to go down, they need to utilize marketing techniques that will push costumers away from the "lazy dog owner" stigma that surrounds pet tech, says Hamill. After all, technology is so ingrained in our everyday lives that incorporating it into pet products is just a natural next step.
"Technology has become ubiquitous in our society," she explains. "Think of the pet store 10 years ago, and the kinds of toys and health products available versus the pet store today. It's natural that products using technology and connecting to devices for tracking and monitoring would become important to the pet industry."  PB