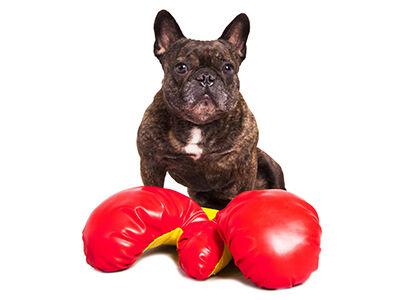 It is the question that's on the mind of every brick-and-mortar pet specialty retailer today: How am I going to grow—or even defend—my business in the face of a rising tide of internet sales?
Pet store owners and operators across the country have lost more than a few nights' sleep contemplating the apparent erosion of their channel's market share to online retailers, with Chewy and Amazon serving as particularly potent boogeymen during the darkest hours.
Unfortunately, the fear is well founded. Market research indicates that brick-and-mortar pet retailers are expected to lose about two to three points of market share over the next three to four years, while the online outlets gain five to six points during the same period. Scary stuff, indeed.
Still, the migration of pet product shoppers from traditional pet stores to internet outlets like Chewy and Amazon does not have to be a forgone conclusion. Brick-and-mortar retailers, armed with the right perspective and approach, are more than capable of defending—and even growing—their customer base in the age of e-commerce. But accomplishing this will require taking several key steps to evolve the way in which pet stores engage customers, both in-store and online.
Step 1: Accept that pet owners want to shop online.
Like it or not, the internet will undoubtedly continue to have a profound impact on the way consumers shop for just about everything, including pet products. With this in mind, instead of railing against the migration of shoppers into the digital space, pet retailers must go after these customers where they are looking for pet products—online.
"To ignore the online shopping trend would be akin to taxi drivers thinking ride-share apps are not to be taken seriously," says Michael Landa, CEO and founder of Nulo Pet Food. "Consumer buying habits driven by material psychographic shifts towards convenience, accessibility and competitive pricing continue to gain ground in nearly every aspect of our daily lives."
Landa explains that while current research still shows brick-and-mortar pet specialty chains are capturing more dollar share in the food and treats category than e-commerce (23 percent vs. 17 percent, according to a 2018 report from Packaged Facts), the respective growth rates are what retailers find concerning.
"In fact, by 2023, [some estimates say] that those percentages will flip to 26 percent e-commerce and 21 percent brick-and-mortar," he says. "While the overall dollar size will likely not decrease for B&M, most of the industry growth will be captured online. Brick-and-mortar retailers who proactively respond now will better position themselves for gaining their disproportionate share of the available market growth going forward."
Pattie Boden, owner of The Animal Connection in Charlottesville, Va., has gotten a firsthand look at how the internet is changing customers' shopping habits in her pet store, particularly among millennials.
"[They] will come into our store for trial sizes—that first four- or 13-lb. size of food to make sure their dog likes it—and then they have the larger size delivered to their apartment or small residence from online sales," she says. "They're willing to come to us for the knowledge, consultation, plenty of free samples and customer service, but when it comes to regular monthly purchases, we have to provide extra benefits to get them to come into our store to make that purchase instead of online because we really can't compete with the low pricing of online sales combined with free delivery."
Still, according to Bere Giannini, a former independent pet specialty retailer and current CEO of eTailPet, a company that focuses on facilitating online sales for pet stores, there is plenty of room for both brick-and-mortar retailers to succeed despite the rapid growth of online sales.
"It is critical that pet retailers today understand and accept the fact that their loyal customers are also shopping online. Only 16 percent of independent pet store shoppers shop exclusively in this channel [Packaged Facts: U.S. Pet Market Focus: Pet Specialty Channel and Internet Shoppers June 2019]."
To Lars Wulff, co-CEO of Mud Bay, a pet store chain that operates 58 locations in the Pacific Northwest, the bottom line is that brick-and-mortar retailers must accept that online shopping provides benefits that many consumers find attractive and then leverage the benefits that they can provide as a traditional pet store operation.
"The anger and resentment that some pet retailers feel about customers gravitating toward online shopping is not your friend," he explains. "The reality is, customer needs and wants are what they are, and we need to look at how we can be the best option for fulfilling them."
Step 2: Relearn how to engage your target customer.
Once brick-and-mortar retailers accept that consumers are increasingly turning to the internet to shop the pet care category, it becomes clear that pet stores must be prepared to reach their target customer base online. Unfortunately, many pet store owners and operators are not putting in enough effort to effectively extend their brand into the digital space. As a result, they are conceding business to other outlets, including online retailers. 
"Many retailers still lack an online, localized presence—and I'm not referring to selling products online, but simply increasing their stores' visibility on the internet," says Landa. "The opportunity to 'engage' online and 'execute' locally with in-store and/or community events allows them to maintain a high-touch, trusted relationship with customers and to keep them coming back."
Spencer Williams, owner and president of eco-friendly toy and bed manufacturer West Paw, agrees that retailers should embrace the digital world, suggesting that those who don't feel comfortable managing their stores' web presence themselves look into hiring someone who is savvy with social media and understands the business' goals.
"It is vital nowadays to make sure your store's website is optimized so that your SEO is on-point with what you sell and the services you offer," he explains. "Some simple things to do are to use keywords (e.g., dog food, cat food, pet supplies, pet store, grooming services) to ensure customers know what you offer. Also, be sure your store has accurate and up-to-date information regarding your location, store hours, etc., so the search engines that crawl your site can find you and serve up your store to people who are looking for you digitally."
Utilizing social media is another important element to extending a pet retailer's brand online, says Lindsay Meyers, product development and veterinary channel manager for raw pet food manufacturer Primal Pet Foods.
"Most customers are online, so talk to your local audience online using your social channels. Make a name for yourself online and be heard with relevant information and topics that make you relevant as a pet authority," she suggests, noting that Primal Pet Foods offers retailers a variety of digital social media tools. "We provide a library of social media image tiles tied to our national promotional calendar, as well as relevant blog content like our DCM info series, and even some fun seasonal shares. For example, our recent seasonal share for PupKin Spice Lattes #PSL, enabled stores to share fun and relevant content that ultimately drives consumers to them for frozen items that cannot be purchased online."
Of course, offering an e-commerce component can be another important element of traditional retailers' efforts to expand their customer reach online—an element that Giannini fully endorses.
"Today's consumer prefers buy-online, pick up in-store," she says. "This creates an enormous opportunity for independent pet retailer by allowing them to show off their strengths—customer service and product portfolio. They can offer raw frozen food online. They can offer 'farm-to-table' products to customers who are willing to pay for them but do not prefer to shop in-store."
Still, pet store owners and operators should not contemplate getting into e-commerce until they have a sound plan in place to do so effectively.
"Just rushing online is not enough," says Al Pontillo, Mud Bay's chief merchandising officer, noting that adding an e-commerce element without providing enough differentiation from other online outlets is bound to get retailers nowhere. "You have to make sure you have a unique offering."
Step 3: Partner with brands that support you.
Much like they have traditionally avoided competing directly with the big-boxes by focusing on brands that are not sold in those outlets, independent pet retailers should seek out vendor partners that have a sensible channel strategy that focuses on offering exclusive brands or sub-brands for pet stores. Whether it involves major differences in product formulation and design, or simply changes in branding and packaging, vendors that take this approach provide traditional pet retailers with an opportunity to differentiate themselves from online merchandisers.
"By partnering with brands that support local retail, you're setting your store up for success," says Meyers, noting that Primal Pet Foods offers a variety of resources to drive sales in brick-and-mortar pet stores, including annual national promotions, a superior loyalty program, in-store marketing materials, in-store demos and associate training.
Not surprisingly, these are exactly the types of resources that Boden looks for when selecting vendor partners.
"We seek products that provide sampling and loyalty programs, come into the store to provide training for our staff and customer events, and are generous with giveaways for in-store events," she says. "We are especially loyal to companies that give a little extra to the brick-and-mortar than they do to the online sales—for instance, offering a 'buy 10 get one free' to the independents, versus 'buy 12 get one free' to online retailers."
As a result, The Animal Connection carries a mix of products that popular online and products that make the store unique.
"Selling lesser-known products that work gives us an edge and creates customer confidence when they see results," Boden says. "Selling the more popular items get them initially in the door but give us the opportunity to sell something that may be more beneficial to their pet and gain their loyalty when they see how well they work."
Landa sees this ability to drive customer traffic as a key element of a successful partnership between brands and their brick-and-mortar retailers.
"It's not enough for brands to simply focus on winning in-store via distributor and retailer promotions, because that leads to what many refer to as, 'moving air around the balloon,'" he says. "In other words, while good for the brand, this strategy is not necessarily benefitting the retailer who, in order to grow, needs new customers in the door. Our marketing and ambassador partnerships, event strategy and level of spend on consumer marketing are unparalleled in the industry. We would encourage retailers to ask brands what specific traffic-driving consumer spending they are investing in to help grow their brick-and-mortar business."
While driving customer traffic and helping with in-store merchandising and marketing are important, the most critical element of a healthy retailer-vendor relationship revolves around pricing. Brick-and-mortar retailers simply will not—and cannot—work with vendors that allow online outlets to practice predatory pricing.
"We have strong customer confidence in the level of service we provide, but we also have to have their confidence in our pricing—that is big," says Wulff.   
Understanding this dynamic, Landa encourages brick-and-mortar retailers to work with vendor partners that keep tight control over their online retail pricing with "both MAP and iMAP structures that prevent competitive price shopping, which is detrimental to both the retailer and the brand itself."
"With price parity, brick-and-mortar retailers have the opportunity to mitigate defection, especially when paired with home delivery and in-store pick up options to provide the convenience factor," he says. "That's when personalized, local service and thoughtful product assortments could more easily tip the scales for them."
Step 4: Sell with services.
While online retailers have gotten very good at providing shoppers with attractive pricing and convenient delivery, one thing they cannot do is offer services such as grooming and training or even self-wash stations. Carving out some space in a pet store for these types of offerings will increase foot traffic and touch-points for your staff to engage and sell to customers.
"A critical differentiator for independent pet stores is non-healthcare related services, such as grooming, self-wash and dog training (preferably puppy training classes)," says Landa. "Indeed, as the convenience play has made online shopping more attractive, services and in-store experiences are what have the ability to make pet specialty stores really stand out."
Given the role that services can play in driving success for brick-and-mortar pet stores, it is no surprise that Giannini says she has seen an up-tick in grooming services, and especially in self-wash stations and nail trims.
Count The Animal Connection as one retailer for which these types of services have provided a decided benefit. "We have become much stronger in our full grooming, wash-and-go bath service, and self-service dog wash areas," says Boden. "We provided these three levels of service to attract all levels of shoppers. It's so successful, I may consider doubling the areas dedicated to these services and streamline our food products to tried-and-true best sellers."
Still, Giannini cautions that adding services is usually no simple task. "Services may require special permits," she says. "They may require special plumbing. Before you go too far down a path, make sure the landlord supports the initiative and make sure you can staff it. Training your staff to deliver a great experience will be paramount."
Agreeing that the addition of services in a pet store setting is not as easy as it might seem, Landa suggests that retailers choose their service offerings wisely.
"As someone who founded and ran one of the nation's largest at-home pet sitting and dog walking services for nearly a decade, I would recommend that retailers avoid considering high logistics-driven businesses with complex scheduling and customer servicing requirements—like pet sitting and overnight boarding," he says. "While certainly a service add-on, I would contend that either of these types of services have the ability to be a massive distraction to the retailer's core business, not to mention the potential liability risks associated with these incredibly high-touch businesses."
For those retailers who simply can't or do not want to add high-touch services like grooming or daycare, there are still plenty of ways to drive sales by looking beyond the shelf.
"If you can, offer your customers same-day delivery service," says Williams, noting that this convenience will attract and retain customers. "Local stores can learn from food delivery companies who offer subscriptions and think of ways to bring products straight to their customer's doors."
Whatever service a brick-and-mortar retailer decides to offer to drive customer traffic and loyalty, there's just one overriding principle that must be considered. As Wulff puts it when explaining Mud Bay's approach to developing services, "It has to be about creating value." PB