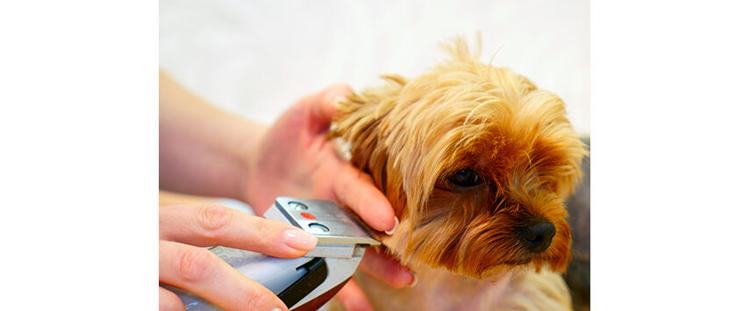 Who remembers the old Oster A2 clipper, the original workhorse of the industry? For 40 years, it was the only choice, and it was a good one—a universal motor type that would clip through anything. I used to take it from the shop to the barn to clip my horses and back again with no problems. What about that once a year, whether it needs it or not Old English Sheepdog? Nothing better than having a pelt in a half hour.
Still, it wasn't perfect: the blades screwed on and off, it was loud, slow, frequently left clipper tracks and felt as though it weighed a ton. Groomers complained, and as a response, Oster brought out the A5 clipper. Although it was a tad lighter and a bit more quiet, the readily detachable blades were what really sold it to groomers.
Then, Andis stepped up to the plate with their AG clippers in one or two speeds. With the magnetic rotary motor type, they were much quieter, although they didn't have the plain-out "muscle" of Oster's A2 or A5. They weighed quite a bit less, a real boon for groomer hands.
As groomers looked for clippers that would work faster and leave less tracking, speeds continued to increase. The convenience of cordless began to be recognized and manufacturers responded again, making many clippers in both corded and cordless form.
The next big shift in clipper usage was the increasing popularity of trimmers: smaller, lightweight tools, many of which could be used either corded or cordless, giving groomers a choice and removing concerns about a trimmer running out of charge at a crucial time.
Never powerful enough to push through dirty coats, trimmers gained real popularity as groomers turned to bathing and drying before clipping. This made it possible by employing snap-on combs to use these handy and comfortable smaller models on the majority of grooming clients. (A big shout out to Wahl for manufacturing what I believe was one of the first, if not the first, reliable cordless trimmers of this type—the Arco SE).
As the ever-growing wants and needs of groomers continue to influence manufacturers, the industry's now at a point where there's an abundance of options. It can take a great deal of time just to evaluate all the clippers and trimmers, so to make the lives of groomers easier, I decided to seek the advice of experts and pass it on.
All of the issues mentioned above—weight, ease of use, results provided on various coats, size, corded/cordless, length of battery time—are important to take into account, but they aren't completely comprehensive.
While all groomers have their favorite tools, most of that preference is predicated upon their clientele, the type of grooming that's done in their salon and whether or not that salon is mobile.
Jen Schoenstadt, certified master groomer, owns Home Sweet Home Grooming, a mobile salon based in Waltham, Mass. Schoenstadt, who's been grooming since 2006, says her most-used clipper is Aesculap's Fav5, an A5 compatible cordless that's also available in corded or in a cord/cordless hybrid.
Despite space being at a premium for house call grooming, she also carries Aesculap's Akkurata, an adjustable blade clipper that goes from 7, 10 and 30 lengths and takes the readily available Wahl Bravura combs as well as its own.
Changing the blade length of the Akkurata "is so easy and a time saver," says Schoenstadt. Her biggest recommendation for selecting clippers is to look at maintenance, explaining that Akkurata recommends sending its clippers in yearly for routine upkeep, though she admits she hasn't sent hers in in four years—she hasn't needed to.
"When it comes to poor performance, I have found that it is usually the blade drive that is the culprit," she continues. "It takes the most wear and tear as it wears down, which will happen at different rates for different brands, but will happen to ALL of them eventually. The blade will not cut efficiently and will drag through coats."
Chelsea Compton, marketing communications coordinator for Wahl Clipper Corporation, explains that to properly maintain the blades, "it is recommended to clean and oil [them] after each use. There are spray lubricants that can be used as a temporary fix, but should never replace regular cleaning. Little particles, such as dirt or sand from hair, can get stuck in between the stationary blade and cutting blade. If not cleaned out properly, it will dull a blade quicker."
Size (and Type, and Space) Matters
How many clippers should a groomer have for a typical grooming day? While that number varies, most would agree that a standard size, detachable blade clipper should be on hand, along with a smaller trimmer of lighter weight and easier versatility, as well as a trimmer for the face, feet and sanitary areas.
"Since [those] areas tend to be sensitive, it is important to have a lightweight and quiet trimmer," Compton explains. "The Wahl Bravura is light, quiet and offers a 5-in-1 blade, which means you can switch the cutting blade to fit your length needs without having to stop and change out your blade."
Of course, you can always add the Bravura snap-on combs and get pretty much any length you want, right up to full grooms on many small- and medium-sized dogs. The Bravura can be used either corded or cordless.
Another factor to take into account is personal preference. It doesn't matter how good a clipper is—if it isn't comfortable for YOU, it isn't the right one. Contoured clipper bodies are great, if the contour fits your hand. Some clippers are heavier toward the head or the back, and you may prefer one over the other even though they may technically weigh the same.
Lately, I've been hearing a lot about Heiniger, so I checked in with Pascal Kopp, the company's marketing manager, for additional insight.
"A clipper has to be powerful, quiet, ergonomic, lightweight, small, battery-operated with a long runtime and a short charging time, robust and durable," he says. "Naturally, the design is very important. All these measurements influence the purchase decision."
Nicole Kallish, manager of education—animal for the Andis Company, explains that, "lots of people equate ergonomic as light weight. Looking for an ergonomic clipper doesn't mean you need to find the lightest tool on the market; instead you want to find a clipper that is balanced and shaped well to fit your hand… don't always go for the cheapest option, check all features of the clipper and know exactly what you are looking for before you buy."
Kopp agrees that it's a mistake to go with the least expensive option, and cites novice groomers as an example.
"Beginners won't invest a lot at the beginning," he explains. "They're purchasing cheap machines, [and] after some weeks, they're not satisfied at all or the machine is even already defective. After the bad experience, they invest more. Usually, the groomers are very satisfied with the product and the quality; from this moment, they are very loyal to the higher-quality and also the brand."
As a groomer myself, I've often wondered why people choose the least expensive option. This is a piece of equipment that we'll have in our hands for a large part of the work day, and the results on the pet as well as how they affect our hands—from vibration to weight to every other factor—can have a significant impact on the quality of our work, as well as our longevity in the industry. If a clipper costs $120, and let's say you throw it out after a year, that's $10 a month for a vital, constantly-used tool. Even a $300 clipper after a year will represent an investment per month of only $25—and most last longer than that.
Ultimately, when selecting a clipper, it's important to remember that:
•  Speed is always a consideration, but power can't be overlooked. Thick coats or coats that must be clipped while dirty require a clipper with some muscle to it.
•  Your daily needs will determine which types of clippers/trimmers you should purchase, and how many.
•  The type of clippers you need will vary. Cats need a quieter clipper with less vibration, cordless trimmers and smaller sizes. Big, thick coats need a powerful motor with a lot of torque, while soft coats do well with higher speed clippers.
•  You should purchase a clipper/trimmer based on how much time per day you can realistically allocate toward routine maintenance.
•  Ergonomics can make or break a clipper. Some people's hands can't handle vibration, while others are fine with it.
•  Attending trade shows will allow you to test multiple tools and see how they feel in your hands.
•  If you use a clipper vacuum system, find a manufacturer that makes an attachment to fit the clipper of your dreams.
•  Corded versus cordless is a huge decision. It used to be that cordless clippers were heavier because of the battery portion, but they have become much lighter. The cord on plug-in clippers can also have a bit of "drag" on your hand.
Whatever your needs, ask clipper/trimmer manufacturers which of their products would be best suited for you, then go to a show and handle the clipper to see if you think you'd like it. Keep all these factors in mind, make your choice and enjoy it.  PB
Carol Visser has been involved in the pet industry since 1982 in various capacities, including grooming in and owning a busy suburban shop, working as a product expert for PetEdge, teaching seminars and training dogs. She certified as a Master Groomer with NDGAA in 1990 and as a Certified Pet Dog Trainer in 2007, and she continues to enjoy learning about dogs and grooming at her small salon in rural Maine.