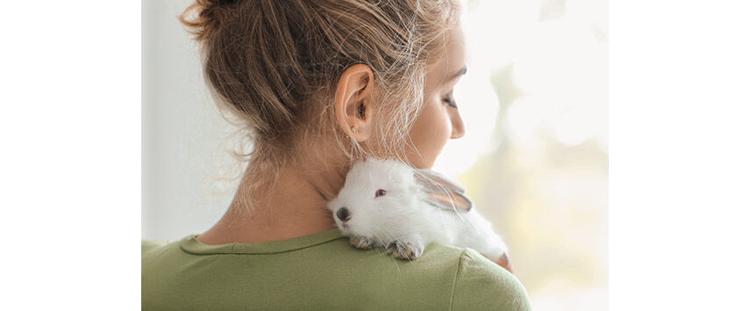 By now, retailers are fully aware that millennials are the prime demographic in the pet industry. According to the most recent National Pet Owners Survey from the American Pet Products Association, this generation spends the most on their pets in comparison to other age groups. However, with many millennials renting apartments rather than living in large homes, they are gravitating toward smaller pets, such rabbits.
This is because rabbits and other small animals are easier pets than cats or dogs. They don't require as much living space—making them perfect for apartments—and they come at a lower cost, explains Amanda Altman, marketing coordinator for Marshall Pet Products.
Keeping this trend in mind, retailers should know what makes a great living space for rabbits and understand the essentials they need. The most important one? An appropriate hutch.
"Our new Enriched Life rabbit habitats are innovatively designed to provide a safe and enriching environment," says Lucas Stock, communications manager for Oxbow Animal Health. 
Established more than 30 years ago, Oxbow specializes in producing premium nutrition and care solutions for small animals. The Omaha, Neb.-based company offers different sizes of its Enriched Life habitat. The large version is designed for dwarf rabbits and guinea pigs, while the extra-large habitat can accommodate bigger rabbit breeds. They all support the natural behaviors of small pets. 
"Our rabbit habitats include an extra-large play yard that doubles the habitat space," says Stock. "To support hiding and exploring instincts, our habitats include a combination platform, ramp and hideout."
With this extra play space, these habitats offer a safe, secluded area where small pets can rest and relax away from environmental stressors. The Enriched Life habitats also include a convenient, built-in hay manger that provides 360-degree feeding for small pets. Featuring a sturdy steel construction, they even come with a water bottle and food dish.
Stock says that retailers can effectively market hutches by having an assembled one in their store.
"This provides an additional opportunity to display and model the placement of other essentials that pet parents should include in the habitat, such as enriching chews and play centers," he says.
Retailers can also give their customers greater convenience by selling them a floor model they won't have to put together at home.
In addition to offering ideal habitats, retailers should be prepared to give their customers care tips and additional product recommendations. 
"A habitat alone does not provide enough space for rabbits to be happy and healthy, so an attached exercise pen is a must," says Stock. "Better yet, we encourage all rabbit owners to provide as much time as possible outside of the habitat throughout the day."
Oxbow has a new line of Enriched Life natural chews, play centers, habitats and care items. The chews and play centers support small animals' instinctual behaviors and are constructed with 100 percent pet-safe materials, including untreated wood, natural fibers, hay and vegetable-based colors.
"These items make the perfect addition to a rabbit's habitat and should be offered daily and rotated regularly to provide essential opportunities for mental and physical enrichment," says Stock. 
Like Oxbow, Marshall Pet Products also provides essential items for rabbits—the manufacturer's largest category of sales is in small pet toys and nutrition.
Headquartered in Wolcott, N.Y., the company offers the Peter's Nature brand, which is specifically designed for rabbits and small animals. It uses natural materials, like woven grass, and clean ingredients, such as dried papaya. The line includes a natural wooden chew toy speared through a chunk of dried apple, which conditions a rabbit's teeth while providing them with a tasty snack. Marshall Pet also offers beds, mats and caves made from woven grass that small animals can relax in. 
Altman explains that she's seen an increase in customer interest in the company's small animal products and that rabbits are often an ideal choice for those interested in caring for small pets. 
"They are a relatively easy pet to have and are attractive to families that are trying to teach young children the responsibility and commitment that comes with owning and caring for a pet," she says.
In order to take advantage of customers' increasing interest in small pets, Altman advises retailers to showcase both live animals and their accompanying products in a petter. 
"Putting rabbits in petters is smart because it allows for the customer to touch and connect with the animal, making it harder for them to walk away," she says.
Altman adds that when customers see pets using and enjoying specific products in the store's petter or cage displays, they will be more willing to buy them for their own animal companions. 
But with all of these innovative small pet essentials, retailers should not forget to provide even the most basic of care tips to their customers.
"Rabbits can become dehydrated if not provided enough water," says Sonia Wertz, sales manager for Lixit. "Rabbits also like to chew, and you should provide good chew toys so they don't devour the cage or accessories."
Located in Napa, Calif., Lixit has been manufacturing water bottles for rabbits for over 50 years. The company's product offerings include Critter Gnaw Dents for chewing; the Reversible Base Feeder & Fountain, which can be used for dry food or water; and the Critter Brites Bottle Deluxe, a translucent neon water bottle that comes in a variety of fun colors. 
"With your rabbit hutch, you need to include a water bottle and no-tip bowl," says Wertz. "Generally, most pet parents want to go with a minimum of a 32 oz. water bottle for rabbits."
Even in displaying hutches or cages that don't contain live animals, retailers should take the opportunity to include a water bottle both to highlight an additional product and identify its importance to small animal care.
By being knowledgeable about rabbit essentials and showcasing a comprehensive and diverse selection of products, retailers can take advantage of the appeal these small pets have for millennials.
"Rabbits are quiet and cuddly," says Wertz. "They can be litter box trained, just like a cat, and make great apartment pets."  PB