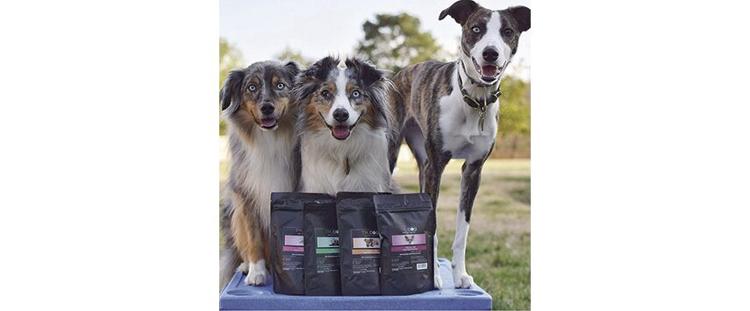 After watching her once vibrant Great Dane, Truman, grow sick and pass away at a young age from a terminal illness, Lori R. Taylor initially blamed herself. She began to question where she went wrong and what she could have done differently, and she wanted answers.
As she wondered whether or not Truman's passing could have been prevented, Taylor found herself beginning her journey into the pet food industry. Throughout her research, she became more and more frustrated with the lack of healthy, nutritious options on the pet food market.
Taylor felt that beyond the big brands' attractive packaging designs that featured enticing pictures of meat and vegetables, the food itself was cooked at high temperatures and made from scraps deemed unfit for human consumption. All the necessary nutrients were lost during the highly-processed, mass production cycles, depriving dogs of the all-natural products that could help them live longer, happier lives.
So, she made it her mission to reshape the way pet parents thought about the food they're feeding their four-legged friends. Sure, bigger brands might come at a lower price tag, but the cost—a pet's health and well being—is much higher.
Ready to make a change and provide dogs with proper, clean nutrition in a brand that pet parents could trust, Taylor founded TruDog, named in honor of Truman. She wanted consumers to know that their dogs could live longer and healthier lives through natural, clean food products designed the way Mother Nature intended.
"Our mission isn't about selling more product, it's about developing products that make a long-term impact on your best friend's health," explains Anthony Santarsiero, COO of Oldsmar, Fla.-based TruDog. "We make sure we're living up to the company's mission by focusing on who the real customers are."
Of course, the company's real customers are pet owners themselves, so TruDog strives to make sure that consumers are fully aware of the dangers that the come with feeding dogs mass-produced food.
"The more pet parents we can reach and educate on the high costs associated with feeding highly-processed kibble that lacks the essential nutrients, the more we live up to our company's mission," continues Santarsiero. "It is at the forefront of everything we do."
Clean Consumables
To live up to its mission of providing nutritious food for pets, the company keeps its recipes as clean as possible, steering clear of artificial ingredients and flavoring. The food offers "pure, digestible protein," provided by premium-grade, human cuts of U.S.-sourced meat. There's also no wheat, corn, grains, sugar, fillers, chemicals, by-products, refined carbohydrates or added salt.
TruDog's core food products include Boost Me, Fortify Me, Rawgo, and Feed Me.
Boost Me is a freeze-dried, raw topper made with Midwest-raised and -sourced cuts of beef meat, organs, bones and blood, designed for pet parents who are new to the raw diet approach and want to dip their toes in without spending a fortune.
Once consumers are hooked on Boost Me, they can upgrade to Fortify Me. It's made with the same quality beef as Boost Me, but with the addition of fruit and veggies.
Rawgo is dehydrated raw food positioned as a mid-range option between the two toppers and the premium, freeze-dried raw food, Feed Me.
"Freeze-drying is a delicate process that preserves the structure and nutritional integrity of fresh, whole food," says Santarsiero. "Only water is removed, preserving the characteristics and natural nutrition of fresh real food. The best part is it doesn't have to be refrigerated and it travels easily."
The company's reach goes beyond just healthy and wholesome food and treats. TruDog's expanded into supplements and grooming supplies.
However, these high-quality products weren't created overnight. Rather, they came with "a lot of scientific research, quality assurance, passion and sleepless nights," says Santarsiero.
A Step Above
Although TruDog isn't alone in the ever-expanding field of all-natural, nutritious pet food options, the company isn't sweating the competition.
"The beauty of the TruDog Nutrition System is that it is interchangeable, depending on an individual dog's tastes and health needs versus the one-size-fits-all, cookie-cutter approach used by other competitors, who shift all of their margins to marketing and product packaging," says Santarsiero.
He explains that TruDog focuses on the quality of its products, what's in them and how they can fit into the company's Nutrition System, unlike larger brands that tend to cut corners to stay on top of trends.
"In our opinion, that's a short-lived strategy," he says. "In a world of fast food and squeezing out as much margin as possible, we take the opposite approach and focus on being the healthiest and most convenient option for your fur family. Most competitors think singularly about how to solve a problem, so you're going to get a greater value when buying a TruDog product."
A major part of TruDog's success comes from its humble origins as a family-owned and –operated company, which has given it the ability to relate to the customer on a more personal level.
"We understand the value of trust and building relationships with our customers, and continue to keep that as a key differentiator over the competition," continues Santarsiero. "We've thought through, listened and have been diligent about what our customer's wants and needs are, because we are them."
Staying true to its customer-centric approach, TruDog offers the Love Club, a rewards program. Members of the program receive perks such as dog food delivered right to their door and the ability to select repeat delivery.
The rewards program also offers a points incentive. Love Club members earn 12 points for every dollar they spend online or over the phone, and receive a $5 online gift code for every 500 points earned.
Other membership benefits include exclusive text and email offers, special bonus point offers, free shipping on orders over $47 and VIP access to a TruDog Happiness Concierge.
In order to ensure it doesn't lose touch with its customers, TruDog welcomes all comments, compliments or criticism.
"Our customer's feedback is at the forefront of everything we do," Santarsiero says. "It's what keeps us up at night and what drives us to improve on in the future. Whether it's a customer who is dissatisfied with a poor experience they've received or is happy with our products, we want to be equally responsive."
Ultimately, the company cites its superior work ethic as the secret to its success.
"TruDog has remained successful because we've never rested on our laurels when looking at researching and developing new product offerings or even considering new verticals within the pet industry and reinvesting in human capital," says Santarsiero. "We may not have the resources or knowledge of a big brand dog food company, but with determination and work ethic, we know we are punching above our weight class."  PB