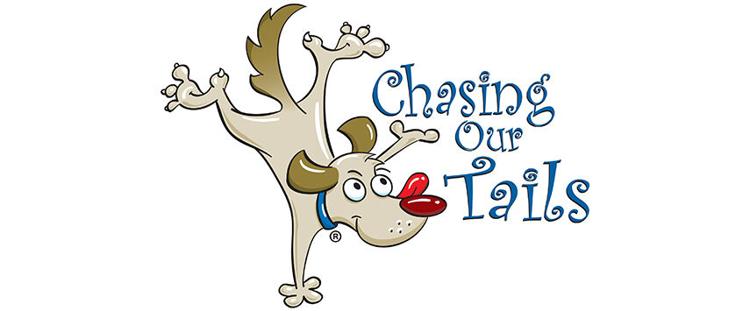 Tell us about Chasing Our Tails. How/when did the company get started? What drew you to the pet business? What types of products do you offer? Chasing Our Tails (COT) was established in December of 2009. The company had a very unique start; it came from a family history of commercial baking, attending French Culinary school, the desire to be in the consumables arena and—most importantly—a love of pets! I began my career in the pet industry about 30 years ago, while still attending The University of Florida. When COT was born a decade ago, it was a very natural choice to go back to where I started.  We manufacture U.S.-made, U.S.-sourced dehydrated treats, freeze-dried treats, smoked bones, antler chews and odorless bully sticks.
What makes Chasing Our Tails chews and treats stand out in very crowded product category? The treat and chew category encompasses a massive variety of subcategories. It may seem crowded, but that could possibly be an effect of it being "anything that isn't a complete diet."
COT excels in the single-ingredient, preservative-free treat and chew subcategory. Our whole-muscle, easily identifiable proteins and farm fresh vegetables are easily relatable to the pet parent. Today's pet parents are discerning consumers; they seek out the best quality products for their family. The pet's place in the family has evolved, so the need for quality and transparency in their food and treats has become more important, as well.
The term "natural" leaves a lot of room for interpretation. What does it mean to Chasing Our Tails? What kind of assurances can you offer to retailers and their customers that your product fit the strictest definition of "natural?" Chasing Our Tails owns and operates our own facilities, and we are the only privately owned farm-to-pet-bowl manufacturer we know of in the pet industry. We use protein that is derived from USDA-inspected production lines. We utilize the offal from food that is produced for human consumption in our pet treats. We do not use the terminology "human-grade"—it is not allowed by many state Departments of Agriculture because it is considered misleading. We take pride in the quality USDA-inspected proteins that are utilized in our finished products.
What are some of the most popular products offered by Chasing Our Tails? What makes these items a hit with retail buyers and pet owners? Our most popular products are:
• 100% Odorless U.S- Made, U.S.-Sourced Bully Sticks that are never stretched when they are drying. They are heavy and a long-lasting chew. And, most importantly, they do not smell and create an undesirable experience for the pet's family.
• U.S.-Made, U.S.-Sourced Naturally Hardwood Smoked Bones that are never cooked, so they do not splinter. The marrow is fully intact, so it has natural goodness that dogs love!
• U.S.-Made, U.S.-Sourced Turkey Twists, which are hand-twisted tendons that provide a great treat for dogs of all sizes and breeds. Turkey is a great protein for a lot of dogs and very popular as a food flavor profile. It's an easy go to for any pup!
What are the newest products introduced by Chasing Our Tails? What are the key selling points of these products? The popularity of novel proteins is on the rise. Pet parents are seeking novel proteins and limited ingredients to more easily navigate dietary needs. We have recently launched a single-ingredient whole muscle bison line of treats and chews, and single-ingredient whole muscle duck products will be our next launch. We are excited to provide these new options to pet parents.
Other than providing wholesome, healthy products, how does Chasing Our Tails help retailers drive sales in the treats and chews category? What types of sales and marketing support does the company offer? We feel it's important that we educate the retail partners on the quality of the product. We provide educational information, and we also take time to work directly with retailers to communicate the Chasing Our Tails difference. The more a retailer knows our story, the easier they can use conversational cross-selling to provide treat options that support food selections. When we educate our retailers, we make the point of telling them to pair their food with a corresponding protein treat or chew. Training and access to knowledge from our team is key to the success of a new product launch. 
What does the future hold for Chasing Our Tails? Do you currently have any new products in development? The future is bright for Chasing Our Tails! We own and operate our own facilities, and we are the only privately-owned farm-to-pet-bowl manufacturer we know of in the pet industry. These separate facilities include a commercial farm, USDA slaughter facilities, a mobile USDA slaughter facility to go direct to farms and schools, a USDA meat processing facility, and FDA-registered dog treat manufacturing in two states.
Being a single-ingredient line, you have to start with the best raw materials to have the best end product. Having these facilities gives us complete vertical integration, transparency, traceability and quality that is unparalleled in the pet industry. We are always innovating towards future products. We are very excited to say that we are developing an amazing rawhide alternative.
We have started more than just the farm-to-pet-bowl revolution; we have started a community reinvestment revolution as well. As a company and family, we believe that the key to the American dream is home ownership. We have begun a program to provide low- to no-cost housing to our team. We have purchased several homes with financing by Red Rock Bank in Minn., which shares our vision of community reinvestment. Once our employee has been employed for five years and has proven ability to care for the home, we will work to transfer ownership of the home directly to the employee and receive down payment support. PB