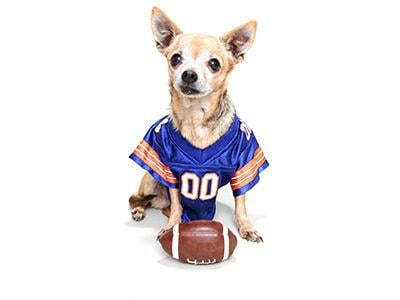 Licensed products are in a niche of their own—not quite able to be classified under the lifestyle category, but not exactly cut and dry pet supplies, either. Unlike consumables or toys, which are pretty consistent across all areas of the country, choosing what licensed products to carry is a bit more challenging.
As one of the more hit-or-miss categories in the pet industry, it can be difficult to gauge what brand of licensed products consumers will relate to. Retailers need to have a firm understanding of their area's interests as well as a handle on the latest pop culture phenomenons in order to figure out what will get shoppers to open up their wallets. Though it can be tricky to figure out which characters and teams will resonate with shoppers, it's a profitable venture that's worth the work.
Sally Adams Trufant, who co-owns Mobile, Ala.-based B&B Pet Stop with her siblings Bill and Mary, explains that licensed products allow customers to know immediately what they represent and, if they're a fan of that particular team/agency/form of media, they're willing to pay a little more. She continues that Walt Disney-licensed products are typically popular items, in addition to sports teams.
The Trends
As manufacturers continue to grow their licensed product categories, they are mindful of current trends and how they fit with product development—after all, licensed products are an extension of human interests. When a company launches a pet care line in conjunction with a beloved brand. PetRageous Designs saw this success firsthand through its Eddie Bauer pet products and line of Grumpy Cat pet dining products and scratchers.
"In many cases, the pet owners can relate to the license," says Gretchen George, president of Petrageous Designs. "With the Eddie Bauer license, the feel of the human line is outdoors, living the adventure, and we created a dog line to be an extension of their human products. Great fit, high-quality material, comfort and ease of care parallel to the human brand. Grumpy Cat is so funny; customers love the slapstick humor of it and how it relates to their own cat. We worked with some of their best graphics and classic quotes to make it meaningful."
And let's not forget one of the biggest licensing money makers—sports teams. Trufant explains that as an Alabama-based store, the area's fanhood of the University of Alabama drives sales, as items with the university's insignia are typically the store's biggest sellers.
"Alabama football fans are fierce and don't seem to mind paying extra for official, licensed collars," she says. "We also carry other football teams and they sell, but not nearly as well as the University of Alabama."
Kristen Spangenberg, manager of Bone Appetite in Chestnut Hill, Pa., agrees, citing her company's location deep in the Philadelphia sports territory as a major factor in her licensed products success.
"Our newest licensed products are Eagles jerseys for dogs and Flyers bandanas," she continues. "Our Eagles jerseys sell the best. I think they are popular because people associate good memories with licensed names, especially sports teams. They want their dog to support their favorite team, too, so the whole family can be decked out in gear."
Eileen Braha, marketing manager of Fetch4pets, adds that another trend in the licensed category is a focus on the pet's overall health and well being, and making the pet comfortable in the owner's home (likely due to the fact that so many pet owners are spending more time at home than ever).
"Pet parents care more about what they use on their dog or cat than ever before," she explains. "Customers are looking for clean and natural ingredients when choosing products for themselves and their pets. We are also seeing a lot of hemp being used across categories—from grooming to treats. Charcoal is a big trend in the dental space."
Making the Products
When it comes to the actual creation of the products themselves, though, manufacturers say they work side-by-side with their licensing clients to ensure products are up to everyone's standards.
"We work very closely with our licensors in every step of the process to ensure that the licensor's brand is represented in the best way possible," says Braha. "This includes everything from strategy to product development to production and launch at retail. While we are the experts in manufacturing, we have a strong partnership with each of our licensors—they know their brands best."
The other piece of that creation puzzle is for the manufacturer who's producing the licensed products to have the ability and the eye to do the licensor's product justice and accurately represent their brand in retail stores nationwide.
"We have a capacity for design, and a tremendous amount of experience in the pet product space," says George. "Our fashion-forward thinking and attention to functionality allows our licensed partners to envision their brand within the concepts we are developing. We collaborate on how to effectively implement their brand identity into these concepts from materials and colors to patterns and designs. It is a team effort to bring these products to market."
When displaying these items in store, there are a few methods retailers can rely on. Experts agree that grouping items is a surefire way to make sales, as "it's better to put them all in one section together so people can see everything from their favorite brand," says Spangenberg.
That's not to say that's the only display option that sees results—Trufant arranges the products throughout her store, on end-caps and places team jerseys and other branded products near items that complement the licensed product.
"We've found that merchandising non-licensed items with the right team colors near the licensed products is a good strategy," she says. "For example, we probably sell more black-and-white houndstooth dog collars than other stores due to the connection to Bear Bryant, former coach at the University of Alabama. We merchandise the licensed items on endcaps in heavily trafficked areas where we can keep a better eye on them."
No matter how retailers opt to display these products, one thing's for sure: brands that hit home with customers will sell themselves. PB