Laurie Wilson had a long and winding career path before she landed in the pet industry. For much of her working life, she was a project manager and logistics person for her family's company, a training, team-building and organizational development center for businesses. Then, at age 50, she decided to make a change and left her position to go back to school for a business degree. Culinary school followed, and Wilson began looking for a business to buy. In 2005, she became the proud owner of Teca Tu, a small, single-store pet specialty business in Santa Fe, N.M. 
"I was looking around for a business to purchase, and Teca Tu was up for sale. We all loved dogs, so we took the leap to go into retail," says Wilson, who has been a resident of Santa Fe for more than 30 years and whose family includes two Bernese Mountain dogs and a small white rescue dog.
Like Wilson, Teca Tu grew into its position in pet specialty retail over time. The business wasn't a brick-and-mortar retailer to begin with—the original owner started out designing and making vests and coats for dogs out of her home. This business model eventually evolved into a full-line store carrying apparel, accessories, toys, gifts for pet owners, and gourmet food and treats, with the original vests and coats continuing to serve as the store's signature offering. Between Wilson and the previous owners, the store has been in business for 23 years.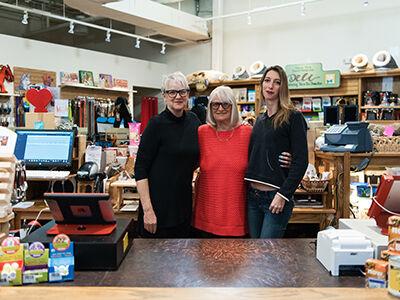 Local Flavor
Upon walking into Teca Tu, it's clear that Wilson's thoughtful approach to store design helped the business win the 2018 Retailer Excellence Award for Best Single-Store Retailer at Global Pet Expo. The store, which has "A Paws-worthy Emporium & Deli" as its tagline, features a warm ambience with accents throughout its decor that reflect the store's southwestern home. Wilson and her team strive for an immaculate, organized appearance at all times.
"When a customer enters the store, I want them to unconsciously absorb the cleanliness and uniqueness of our store," she says. "We try very hard to keep the store spotless, well-laid-out and merchandised interestingly and thoughtfully."
Wilson's goal is to create an emporium/country store feel, with lots of pine accents integrated into displays, rustic wood floors and a completely different look than one would find in any big-box store.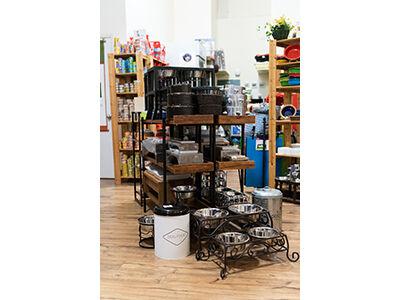 "We want the customer and their pets to feel comfortable and welcomed," she says. 
The deli section of the store entices canine customers in with a variety of locally-made treats, such as "boneitos" treats in multiple flavors and petit fours in shapes inspired by regional cuisine, like tacos and chili peppers. The store's other product categories, especially apparel, also have a distinctly southwestern vibe.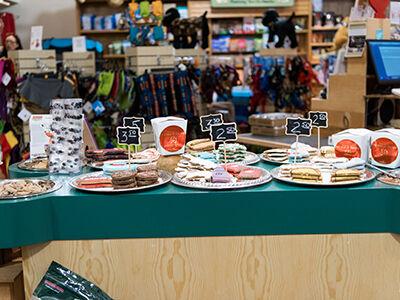 "We have our own line of Santa Fe-related items—Doggie Vestido coats and vests that are made out of Chief Joseph Indian blankets," Wilson says.
Teca Tu also supports other local artisans, carrying southwestern-themed items like chili pepper dog and cat toys, locally grown catnip, cookbooks and cards. Dog Tarot and Dog Wisdom cards made by local authors round out the store's unique product selection. Outside of local-focused items, Wilson and her team also attend Global Pet Expo and SuperZoo to seek out new and exciting products in the industry.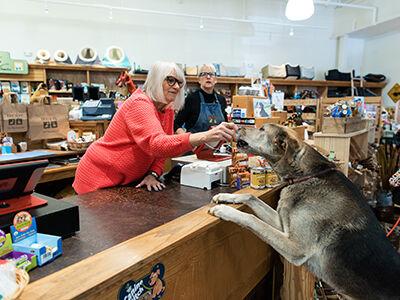 The Greater Good
While the store is primarily focused on being the best possible retailer and does not offer services at this point, community service and partnerships play a key role in its mission and identity. There are dog adoptions in front of or inside the store every weekend, hosting groups like the Santa Fe Humane Shelter, Greyhound Adoption League, Enchanted Chihuahua, Small Dog Rescue of Santa Fe and more.
"We are committed and passionate about working with New Mexican animal charities and see this work as our highest purpose," Wilson says.
The store's core identity revolves around this idea of service to and love for animals, right down to its name. Teca Tu was a stray picked up on the side of the road near the town of Tecolote by the founder of the store, Diane Burchard. She became the business' namesake and was a permanent feature in the store for her whole life.
Inside the store, there is a "Community Pet Services" bulletin board that provides a forum for customers to post anything animal-related to share with the community. Additionally, Assistance Dogs of the West frequently brings its dogs to the store and uses it as a training area for the future service dogs, and the store hosts monthly sessions with an animal communicator who offers to talk with customers' pets, both living and those that have passed on. There is also a big basket outside the store where customers can contribute to  New Mexico's Street Homeless Animal Project.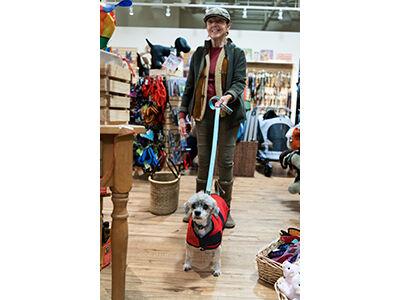 "We also donate to many organizations within our community when they ask us for a raffle or an auction item," Wilson says. "I don't think we have turned down a single request."
Perhaps ironically for a single-store brick-and-mortar retailer, Wilson referenced a quote from Jeff Bezos, founder of Amazon, in discussing her store's customer service. Bezos has said, "We see our customers as invited guests to a party, and we are the hosts. It's our job every day to make every important aspect of the customer experience a little bit better." Wilson and her team embrace this philosophy, and Wilson notes that the customers truly are what make being a pet specialty retailer so rewarding.
"It is so much fun to interact with our customers and their pets," she says. "People are generally happy when they are with their pets or talking about them."
Like most small business owners, Wilson sometimes feels the pressure of competition from online retailers, but she chooses to outperform them on experience rather than price.
"I worry a bit about the big internet companies, but there is no way I can compete with them," she says. "We just try to do the best we can to offer superlative customer service, which the internet cannot offer. We try to have our store be an exciting shopping experience for our customers."
The store also has a strong web presence, with much of its inventory on its website and available for online ordering, as well as an active Facebook page with frequent updates on new products and in-store events.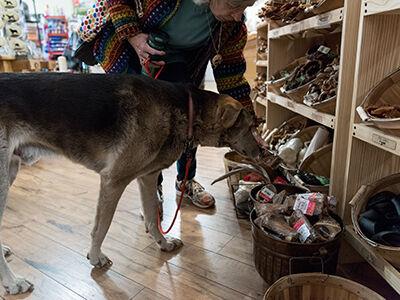 Although she has considered taking the leap to open more locations, Wilson says the right opportunity hasn't quite worked out yet. Whether they stay a single-store operation or eventually expand, she is always looking for new ways to grow and improve her business while maintaining its current successes. In addition to the Retailer of the Year award from Pet Business, the store has also recently been named a Best of Santa Fe Top Pet Boutique and #1 Pet Store in New Mexico by other local media outlets, clearly demonstrating that the store has found the keys to success.
"I want to keep doing what we are doing, but always with an eye on how we can make things better for our customers," Wilson says.  PB