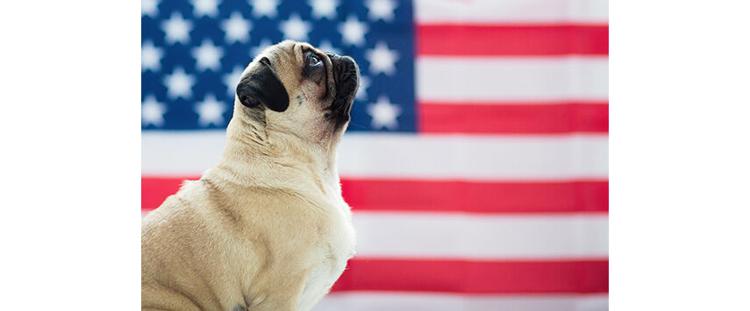 While there may be constant innovation within the pet industry, there's one trend that can be counted on: pet parents are still flocking to products manufactured in the U.S.
"Consumers seem to feel good about buying products that are made in the U.S.," says Kenna Sloan, director of business services at What a Great Dog! Training Center (WAGD). "Some seek out these products, while others just notice it after picking it up and it sometimes will sway their decision to purchase."
Keeping these buying patterns in mind, retailers like WAGD are making a point to effectively market American-made products. Based in Texas, WAGD has two locations in the Dallas-Fort Worth area, and each one has a training facility that offers behavior and agility classes, as well as a pet store.
In developing WAGD's retail selection, Sloan says it's highly beneficial for the store to carry a lot of treats, chews and food that are American-made, since customers actively seek them out. She cited West Paw, Planet Dog, Benebone, Nature's Logic, Bravo, Earth Animal and Mendota as being some of the brands she likes that offer products manufactured in the U.S.
Like WAGD, Riverfront Pets is a multi-service retailer that has a similar enthusiasm for products made in the U.S. In addition to selling pet supplies, the Wilmington, Del.-based retailer offers grooming, training and walking services.
"Our customers consistently tell us that supporting local and family-owned/operated businesses is important to them," says Laura Gangloff, owner of Riverfront Pets. "Not only does that bring them into our shop in the first place, it makes it more likely that they will buy a pet food from a company that manufactures in the U.S."
For dog and cat food, Gangloff says customers are drawn to American-made products from brands like Fromm Family Pet Foods, Weruva and Stella & Chewy's. For toys, Riverfront Pets most commonly sells items from Starmark and West Paw. The store also does a lot of business in Mika & Sammy treats, which are produced in nearby Philadelphia.
"The brands of pet food we decided to offer our customers were carefully selected," Gangloff says. "We can sell them because we believe in them."
Both Riverfront Pets and WAGD put in special effort to market their American-made merchandise because of the interest they spark in customers.
"We market made in the U.S. products directly on our social media platforms and create links for all of our products on our website to the manufacturers' websites," Gangloff says.
WAGD takes the time to develop in-store displays to highlight its selections of American-made products. The store's Made in USA section is marked with prominent signage to make finding it quick.
"Featuring these items and pointing out that it's USA-made can really help move those products—especially if the customer is already in the market for a product in that category," Sloan says.
She adds that the WAGD team loves how most American-made products proudly state that they are "Made in USA" on their packaging. This label not only makes it easier for retailers to merchandise these products together, but also for customers to identify them, too.
Riverfront Pets utilizes the strong, in-person relationship it has with its customers to market products made in U.S., according to Gangloff. When pet parents are considering transitioning to a new food and ask for advice, Riverfront Pets' staff always highlights options made in the U.S.
"As we carry relatively few brands of dog and cat food, we also rely heavily on samples and in-store customer education," Gangloff adds.
WAGD uses a similar tactic of using employee knowledge to promote American-made products to customers.
"If a client comes looking specifically for items made in the USA, we make sure all staff know the brands and products to point to," Sloan says. "Otherwise, the signage and retail packaging help sell itself."
In marketing a made in the U.S. product, Gangloff explains that retailers should keep in mind the reasons they chose to carry the item in the first place. What was it about the product that spoke to them?
"Pet owners love to know why we carry the pet food available in our store and how our toys and treats keep pets heathy, happy, safe and active," Gangloff says. "It is up to us as retailers to effectively communicate the solutions."
She explains that interest in products made in the U.S. has grown because people care more about what they are putting in their bodies and those of their pets, as well as the origins of the products they use in their homes.
"I would say that our humans care more about the source and quality of their pets' supplies and services than they do for their own," Sloan says of WAGD's customers.
With American-made products perceived as safer, healthier and more reliable for companion animals, it's no surprise that pet parents have continued to gravitate towards them. The popularity of this trend is all the more reason why retailers should put careful thought into marketing products that boast the label Made in USA.  PB