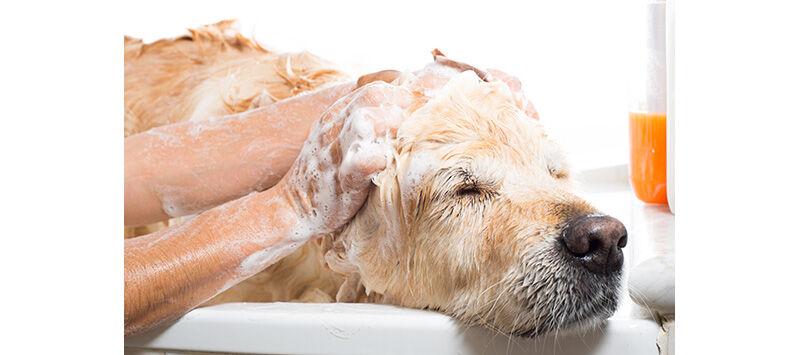 Over the last couple of decades, consumers have been asking for natural products and manufacturers have responded by providing them and accenting the more natural aspects of existing products. Retailers play an important role in helping customers decide which grooming products to buy, putting them in the perfect position to help educate pet owners about those products, as well as recommend the best product to provide the right solution for their pet.
While pet owners often ask for natural or all natural products out of a desire to protect and care for their pets, they often are really looking for products that, while effective, are safer and healthier for their pet.
"In today's time-sensitive environment, where consumers want snackable information delivered to them quickly, it can be daunting to communicate a product's ingredients and benefits," says Tony de Vos, president of Cardinal Pet Care based in Azusa, Calif.
All natural does not equate with safer or healthier, just as chemicals do not directly mean dangerous. This can seem confusing because consumers have been conditioned to believe that the word chemical is bad, and therefore products containing chemicals must also be bad. However, much of this is due to marketing, rather than based in reality.
It takes a lot longer to explain to pet parents that chemicals are not necessarily harmful. A chemical, by definition, is any substance consisting of matter; it can be any pure substance or any mixture—this includes any liquid, solid or gas. Chemicals occur naturally and can be made artificially. By this definition, even a substance as common as water is a chemical.
Alternatively, just because something is natural does not make it safe. For example, arsenic is found naturally in rock, soil, water and air, yet is a known poison.
"In some cases, natural ingredients are not ideal," says de Vos. "For instance, shampoos need to be preserved to keep discoloration and separation from occurring, and ingredients listed as natural preservatives are usually not as effective."
Often, companies will use ingredients with compounds derived from plants mixed with synthesized compounds. One example is Bio-Groom's flea products. Bio-Groom was one of the first to promote the natural aspect of grooming products, back in 1971.
"An individual asked my grandfather if he could formulate a flea and tick shampoo that would not leave the coat and skin damaged after use," says Justin Pohl, vice president and third generation of the founding family of the Longview, Texas-based company. "He took the request seriously and formulated Bio-Groom's first product a flea and tick shampoo. What made this product stand out was the base formulation that used ingredients naturally sourced from the coconut, but what actually kills the fleas is the Pyrethrin—nature's own insecticide from the chrysanthemum flower, which is grown in Kenya and Australia. This product is proven to kill fleas on contact."
Pyrethrins break down under sunlight, so in order to have a flea and tick spray that has enough residual effect to repel, another ingredient must be present. In the case of Bio-Groom's Repel-35, permethrin, a synthetic pyrethroid, is used.
"Permethrin is proven to be a safe and effective way to achieve the desired results," says Pohl. "Pet owners should ask themselves what they are looking to achieve in a shampoo from deep cleaning to hypo-allergenic. A true hypo-allergic shampoo cannot have perfumes and dyes in the product, which would be up to the manufacturer to be transparent on the product's label."
This is the most important area that will help the consumer make up their mind of what product to purchase. "For instance, Bio Groom started putting all the ingredients on our label in the form INCI (International Nomenclature of Cosmetic Ingredients), which allows customers to research the ingredients," adds Pohl.
"There is no need to be cautious of all ingredients with hard-to-pronounce names," says Debbie Guardian, founder and president of Opie & Dixie. "Some products simply use INCI names. For example, Vitellaria paradoxa and Butyrospermum parkii are commonly known as shea butter, and melaleuca alternifolia is just tea tree."
The San Francisco-based company creates a number of balms and shampoos for grooming, and uses as many organic ingredients as possible. Opie & Dixie is proud of the fact that its products are not only natural, but most ingredients are USDA Certified Organic. It also uses cruelty-free ingredients, earning them the Leaping Bunny seal of approval. The company's website explains that they also use eco-friendly packaging.
Since not everyone is a chemist and understands what each ingredient is for and what it does, retailers need to be selective in what manufacturers they work with. It comes back to what it has always been: select a manufacturer that can be trusted and helps pet owners choose the product that best solves their problem, whether it is dirty dogs, knots and tangles, dry skin, odor, static hair or other issues. Consumers may rely on quick marketing snippets and beautiful packaging to make purchase decisions, but retailers are in a better position to get to know manufacturers and the values they hold.
TropiClean was another early contender in providing pet owners the natural solutions they sought.
"The desire for natural products continues to be a driving trend within the industry," says James Brandly, associate trade marketing manager for Cosmos Corporation, parent company of TropiClean, based in Wentzville, Mo. "Pet parents are seeking products and brands they can trust that are safe and effective. We understand that finding the best solution can be overwhelming, and that's why we work closely with our retail partners to educate pet parents on our products. TropiClean strives to create quality products made with naturally-derived ingredients that enhance the well being of our pets."
de Vos has suggestions for the best way for pet owners to ensure that the grooming products they use are as safe, healthy and as natural as possible.
"They should know their own pet and stay attuned to how the grooming products they're using are affecting the condition of their dog or cat's skin, coat and overall health," he says. "Just like with human products, not all pets will respond the same way to the same shampoo or conditioner."
Sometimes tried-and-true products aren't even the best option, as every pet is different. Pet parents should use common sense, and if something looks or smells off, throw it out and consult their veterinarian.
"Pet parents should also do their homework and research the companies and people behind the products," says de Vos. "You are more likely to get a safe, healthy product if it's made by a company that follows environmentally responsible practices and uses Good Manufacturing Practices as outlined by the [Food and Drug Administration]."
Cardinal Pet Care is a founding member of the Pet Sustainability Coalition, and an eco-friendly company. The shampoos and liquid grooming products in all its lines—Gold Medal Pets, EcoBath Manuka Honey, Pet Botanics and Crazy Dog—are made at the family-owned, solar-powered facility in southern California. The company's commitment to being a green workplace is reflected in everything from the energy sensors that automatically turn out the lights when people vacate a room, to the electric car charger installed for employees.
If retailers get to know who manufacturers are as a company, they will have a better chance of enhancing pets' lives and their own profits through educating their clients about what a company's beliefs are.  PB