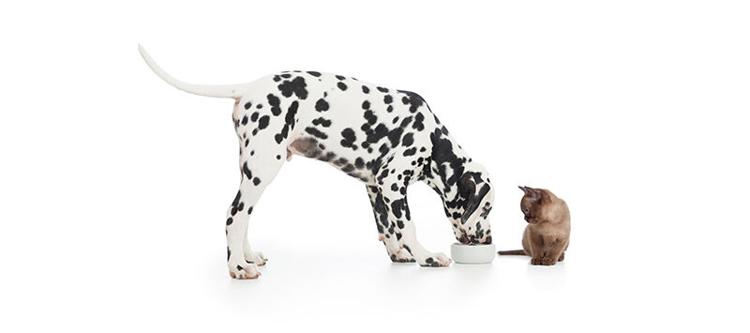 Natural offerings in the pet industry have become ubiquitous, as consumer product choices for domesticated animals continue to mirror their own preferences for quality. Today's pet parents are demanding to know how brands define the word "natural."
While manufacturers must list all of their ingredients on a label when selling pet food, there are no clearly defined standards for formulas that are referred to as natural. So, many consumers are becoming more educated on how to ensure the food products they choose for pets will meet their personal natural-food guidelines.
At KLN Family Brands in Perham, Minn., national sales manager Dan Schmitz reveals manufacturers that create natural formulas are often referring to food that contains neither genetically modified organism (GMO) ingredients, nor less desirable components such as meat or bone meal.
"One will occasionally see a natural claim just because a food includes some select fruits and vegetables, but [the food] still contains ingredients that have been genetically modified and the 'natural' claim is not accurate," says Schmitz.
Due to greater consumer attention to natural food claims, Schmitz sees a shift regarding how manufacturers use the word natural in their branding.
"The way manufacturers make all-natural claims appears to be changing," he explains. "There has been speculation that making these '100-percent natural' or 'all-natural' claims could result in lawsuits, so I do feel manufacturers are taking this into consideration when making these claims."   
By ensuring manufacturers create products that deliver on their natural claims, consumers will continue to shape trends in this segment. When manufacturers trust retail partners to sell their natural food, they are relying on store associates to tell their wholesome-food branding story through a transparent discussion with customers.
"We address these issues by further educating our retail partners...in turn, we count on our retail partners to help guide new customers to our brand to meet solutions for pets," explains Brian Butler, national accounts manager at Grandma Lucy's, located in Rancho Santa Margarita, Calif.
An Educational Edge
The clear message is that pet parents want to know how pets will benefit from the natural formulas manufacturers are promoting. According to Kathryn Buffington, Austin, Texas-based Nulo Pet Food's partner marketing and education manager, consumers view an ingredient list as an indicator regarding the quality of natural food products.
"Consumers are willing to spend more on products with recognizable whole-food ingredients and those that come with more robust quality labels, such as natural, non-GMO and human-grade, because this implies the food has been handled and processed as little as possible and will be the greatest nutritional value for their pet," she says.
With many different options available—from raw and grain-free products to organics and limited-ingredient formulas—knowledgeable consumers are able to make the smartest decisions to meet the specific needs of their pets, but certain concerns remain for all pet parents.
"They want it to meet their personal health objective for their dog or cat," says Susan Goldstein, who owns Westport, Conn.-based Earth Animal pet products with her veterinarian husband, Dr. Bob. "From a nutritional point of view, if the food meets the animal's individual nutritional needs, then quality of life will be assured, and what goes along with that is increased longevity."
Pet parents are not only concerned about the nutrition of their animals, but also how ingredients are sourced. For some consumers, buying natural food to keep pets healthier could mean purchasing goods manufactured through sustainable methods that rely on humane treatment of farm animals from which meat is sourced.
"From a health perspective, if the animal has been treated with respect, lived a decent life and has had quality of life, it results in a healthier protein source," says Goldstein.
This idea that quality of life experienced by farm animals will result in a higher-grade food leads into the conversation regarding meat processing. Once manufacturers receive their animal proteins to make their food, they must ensure shipments are handled—and processed—with care.
"The quality of a pet food relies on the quality of the raw materials going into it," explains Buffington. "When ingredients go through harsh thermal or chemical processing, or spend extended time in warehousing and storage, flavors deteriorate and they begin to lose nutritional value long before reaching a pet's bowl."
In addition to humanely sourced meat-based natural formulas, the demand for plant-based formulas is growing. Making pet food using plant-based ingredients creates challenges with comprehensive nutrition for dogs and cats, but the Goldsteins recognize the importance of these products to meet consumer demand.
"Plant-based formulas will be beneficial for animals and the planet," reveals Dr. Bob Goldstein. "We can use plant-based instead of polluting the planet with the process of raising farm animals."
The demand for natural pet food has evolved from a fringe trend of the past to one of the most important considerations for many pet parents. Now that consumers demand transparency, which has created a more informed customer, many shoppers are extremely conscientious regarding the impact their purchasing decisions have on their own health and their pets' well being.
"A responsible pet-food manufacturer should listen to their customers," says Schmitz. "Humanization of pets continues to be strong. As a responsible manufacturer, we need to cater to these folks." PB