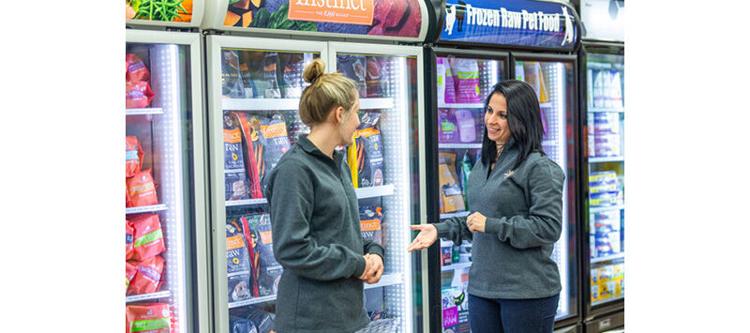 Like many pet retailers, NorthPoint Pets and Company was born out of love for one very special animal.
When founder Nicci Decrisantis's young pitbull, Taser, began experiencing severe gastrointestinal problems, she found that, "conventional nutrition and medicine were not working, and there had to be something else." Luckily, with extensive research and a bit of time, Decrisantis managed to create customized diet that worked, and Taser made a full recovery.
However, what sets Decrisantis's story apart is her unique background, which has given her a different perspective from other retailers. Prior to joining the pet industry, Decrisantis studied human medicine and nutrition and spent years conducting research for pharmaceutical companies.
After her experience with Taser, she decided to switch her focus to animals and opened NorthPoint Pets and Company in 2014 in Cheshire, Conn. Since then, the store has gone on to win multiple industry awards and serves as a prime example of the importance of education in the success of pet retailers today.
Serving a Purpose
From the beginning, Decrisantis wanted the store to be more than a supplier of food and toys; she wanted it to be a resource center for pet owners. That way, pet parents like her would have a place to find reputable, well-researched information about their pet's care, feeding and well being.
"Everything we do here from product selection to individualized recommendations is based [on] science—in one way, shape or form," she explains. "My team and I work carefully to provide an environment where people can ask questions and be encouraged to do their own research to determine what is best for their pet."
This commitment to fact-based pet care means that NorthPoint isn't the type of company to jump on every industry fad—no matter how popular or lucrative.
"We're pretty outspoken—and some may say politically incorrect," Decrisantis adds. "We're known for calling out trends or products that may not be in the best interest of our pets."
A key part of NorthPoint's educational mission is its nutritional counseling. This service goes beyond the traditional, quick in-aisle exchanges and allows customers to meet one-on-one with a member of the NorthPoint staff, including Decrisantis herself, who has become an internationally recognized expert in pet nutrition.
This service, along with NorthPoint's authentic approach to sales, has helped the store build a solid reputation and inspired unmatched loyalty in the local pet community.
"We're honest, almost to a fault. Our team never takes advantage of upsells or lets a customer buy something they don't need," says Decrisantis when describing the company's brand. "[Our customers] trust us—and many veterinarians in the area trust us for this reason. Because of our experience and education, we've been fortunate to develop relationships with these veterinarians that allow us both to serve our clients better."
In addition to providing expert recommendations, NorthPoint also offers a wide variety of high-quality products to support every aspect of pets' well being, from nutritional foods to stimulating toys and treats.
"However, what we're known for regionally is our raw offering, which is expansive with several double- and triple-door glass freezers, standup, chests and walk-in freezer space inside out 6,000 square-foot location," adds Decrisantis.
One demographic of the community that Decrisantis is personally proud to serve is the K9 training and law enforcement teams, since her father was a K9 police officer. Over the years, NorthPoint has become a go-to resource for working dogs and their handlers for nutrition counseling, both regionally and nationally. The company also supplies state-of-the-art training and safety equipment, such as GPS tracking devices to aid in search and rescue operations.
Another way the NorthPoint team engages with animal lovers is through social and live events.
"'Canines and Cocktails' has always been a hit where we've had numerous well-known and well-respected guests discuss everything from nutrition to CBD to canine DCM (dilated cardiomyopathy)," explains Decrisantis.
Overcoming Challenges
Of course, like any retailer, NorthPoint has faced its share of trials over the years with everything from staffing to day-to-day operations. One of the biggest lessons Decrisantis says she's learned is to stop focusing on what the competition is doing and instead play to her own strengths.
"If you're always trying to follow someone else, you're never going to get ahead," she says. "Instead my team and I focus on the individual in front of us at the time and make the best recommendations we can."
However, the recent crisis with the COVID-19 pandemic is unlike any challenge NorthPoint (or the rest of the pet industry) has ever had to deal with. Decrisantis says she and her staff are doing their best to continue to serve their customers with both education and supplies while also staying safe.
"I think that my experience in training in human medicine has allowed me to stay calm, analyze the facts and determine the best treatment for the condition at hand," she explains.
One strategy that's helped the NorthPoint team stay connected with their customers during this unprecedented emergency is outsourcing their marketing to an outside firm.
"We actually have done most of [our marketing] in-house until recently where we have hired an outside firm," explains Decrisantis. "They are helping to sift through some of our email lists and customer lists, as well as helping us pivot our communications through the COVID-19 crisis."
This move is a prime example of Decrisantis's No. 1 piece of advice for other retailers: don't try to do it all yourself. Running a business is complicated with lots of moving parts, even in the best of times, so don't be afraid to delegate.
"I think the art of delegation can be your biggest ally," she says. "Not only does it take stress off your plate, it helps your team feel more valued as they make contributions to the business culture and operations."
And after six years in the business and multiple industry awards, it's her team that Decrisantis attributes her success to and what's she proudest of.
"Honestly, I'm just humbled and proud of what my team has grown to and how well everyone works together to get the job done," she says.  PB