P.L.A.Y. is well-known in the industry as an innovator in using eco-friendly and socially responsible practices to create high-quality, functional pet products. Why is this approach important? The beliefs and practices that our company adopts say a lot about who we are and what values we stand behind as a brand. At P.L.A.Y., we believe that building high-quality, functional products that are environmentally and socially responsible is what our own pets deserve and what customers want available for their own furry friends. It may not be easy at times, and we have seen others take a more pragmatic approach to faster growth, but we are passionate about our core values and believe that this is part of the reason our customers love us.
Our approach is also important because it allows us to retain the best talents and keep team members passionate and motivated. Our turnover is low, which I think is a testament to everyone on the team believing that what we do makes a difference to both individual pet parents, as well as the society at large. For example, we occasionally receive feedback that our products are a little too pricey, or we face pricing pressures from larger customers. While some manufacturers may cut corners on product quality to win over businesses, we never do that. We understand we cannot be everything to everyone, and in holding true to our quality promise and values, we may sometimes miss opportunities, but we believe our conviction will pay off in the long run.
Giving back is a core value of our company and is ingrained in everything we do. We are motivated to apply this mentality to all aspects of our business through programs like our Warm Bellies Initiative, where we donate a bed to a shelter pet in need for every bed sold, and our animal-themed toy collections that benefit the International Fund for Animal Welfare (IFAW). It even reaches to other areas of supporting our own community, like working with a local San Francisco-based t-shirt company for our new branded shirts, providing employment opportunities for underprivileged youths.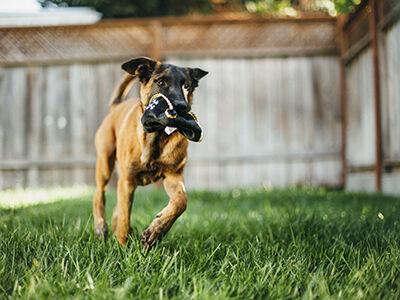 At this year's Global Pet Expo, P.L.A.Y. launched its Puppy Love and Mutt Hatter plush toy collections. What make these toy lines stand out in the marketplace? Our Mutt Hatter Toy Collection provides endless fun with its hidden squeaks and crinkles inside each whimsical hat-themed toy. It also serves two functions; first and foremost as a dog toy, but also as a camera-ready prop with its two built-in loops, turning our pet's favorite toy into the perfect photo-op. It's this dual functionality that sets them apart from other toys in the marketplace, making them special and interactive for both dogs and pet parents. Perhaps the best part is that we also take care of the merchandising for stores, so they don't have to worry about relaying the top selling points and features of our toys to their customers. For example, with our Mutt Hatter line, the toys are displayed in an old-fashioned hat box, which integrates easily onto any shelf or counter, creating a fun and elegant display.
Our new Puppy Love Collection is a sweet three-piece toy set that celebrates the unconditional love of the dog-human relationship. In line with our other collections, this set engages a dog's senses with its funny giggle-stick sounds coming from the Barking Bubbly, interactive rope for extra tugging fun with our Fur-ever Hearts Toy and squeaktastic flowers of the Rover's Roses Bouquet. It's the perfect holiday gift set for Valentine's Day and Mother's Day, since it replicates objects you would typically give to your loved ones, all while being equally enjoyable for pet parents, as it gives their dog the ability to profess their fur-ever love in the form of heartwarming presents.
Like all our plush toys, these collections are certified non-toxic and are constructed with double-layered fabrics and inverse stitching for added durability. They're stuffed with our eco-friendly PlanetFill material made from recycled plastic bottles, making them ideal for discerning pet parents that want a toy that's built to last, but also helps do good for Mother Earth.
P.L.A.Y. also recently expanded its Horizon Pillow Bed Collection. What are some of the new additions to the collection? When our Horizon Pillow Bed Collection launched last year, our customers raved about its interlocking woven fabric and beautiful hues so much that we decided to expand the collection. We looked at our current product lines and decided the fabric would be best suited for the classic lines of our popular Pet Teepees and Chill Pad designs, offering pets a safe space to curl up for naptime and giving their parents more colorways that are perfect for any room in their home.
Our Horizon Pet Teepees feature the same top quality and easy set-up as our Standard Pet Teepees constructed with four natural pine wood poles and an ergonomic, removable foam cushion for optimal comfort. Lightweight and designed for heavy paw traffic, our Chill Pads are great for home and travel. They're easy to move around the house and will add a look of natural beauty to any room, while giving your pet the ultimate crash pad. In line with other P.L.A.Y. bedding, our Pet Teepees and Chill Pads are 100 percent machine washable and dryer friendly, making them simple to care for and are both available in four nature-inspired colors that are purrfect for cats and small dogs.
Are there any other new products that P.L.A.Y. recently introduced? At SuperZoo this year, we were excited to debut a memory foam line. We have been hearing from our retailers that their customers are looking for more supportive beds for larger dogs. While our current standard and lounge bedding is ergonomic and filled with the perfect amount and density of high-loft PlanetFill filler to comfort, we know that some dogs may require more support to relieve the daily pressure and stress on their bodies. P.L.A.Y.'s new California Dreaming Memory Foam Beds cater to these needs. Available in three sizes, from medium to extra-large, these beds feature a center cushion made of 100 percent high-density memory foam covered with soft, yet durable microfiber fabric and surrounded by three cozy side bolsters generously filled with our eco-friendly PlanetFill stuffing. The center cushion is protected by a water-resistant liner and the bed cover is 100 percent washer/dryer friendly. This collection offers the same durable construction and stylish designs we're known for and will integrate seamlessly into any home decor.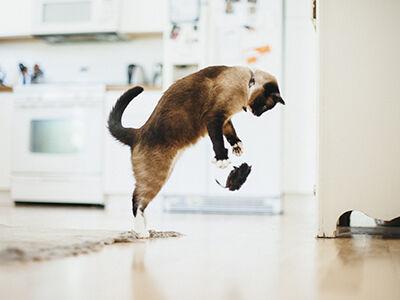 In addition to an enhanced bedding line, we introduced our first-ever cat plush toy collection, Feline Frenzy. While our cat scratchers and tunnels offer stylish and functional solutions for helping with a cat's mischievous nature, we knew we were missing a key component for playtime fun—toys! Now your feline friends can enjoy the same whimsical, beloved plush toys your dogs love so much. This new line features eight sets of quirky plush toys filled with USDA Organic Catnip. Featuring a range of engaging shapes and textures—from barbeque favorites to crawly critters—every cool cat will want to play with these tempting toys. In line with our other collections, these toys are certified non-toxic and are constructed with double-layered fabrics and inverse stitching for added durability. They're stuffed with our eco-friendly PlanetFill and are 100 percent washable with catnip removed.
Aside from providing a lineup of high-quality products, how does P.L.A.Y. help pet stores achieve success? At P.L.A.Y., we know that merchandising products is key for our retailers, so we create visual and informative point-of-sale displays for a majority of our products. We provide every customer with swatch books, signage, brochures and more to help our products market themselves to customers browsing in their shops. Most of our toy collections come in pre-packed merchandising sets. For example, our Safari Toy Collection arrives in a free POP display box designed as a safari excursion, which helps to display the toys easily on a shelf or check-out counter. In addition, we offer other merchandising display units for our award-winning Wobble Ball 2.0 and popular Scout & About Outdoor Collection that utilize effective signage to drive sales. Both the Wobble Ball 2.0 and Scout & About Outdoor Collection displays come with a starter kit of products all at an affordable price.
For retailers that may have questions about our products, we have a dedicated sales and customer service team standing by in San Francisco, so we are always a quick phone call away. If a retailer prefers, we are happy to provide product training to shop managers and associates so they can be educated and equipped with knowledge to sell our lines effectively. There is also a Retailer Resources portal available 24/7 that they can log into on our website for a comprehensive look at our collateral materials and access to high-resolution images and videos, as well as tips and tricks for easy merchandising. I am excited to share that we are currently working on a B2B online order portal for our retailer partners to hopefully make the ordering process easier when it comes time to order new products or replenish inventory.
We are also aware that more and more consumers are shopping using multiple channels, or they may do their research on the spot with mobile phones in their hands. Therefore, we believe retailers would benefit from carrying brands that have a strong digital presence and strategy so that it is easier to convert or cross-sell the line. A great deal of effort is put into ensuring pricing parity across our channels, which helps our independent retailers avoid unfair competition.
What does the future hold for P.L.A.Y.? We have many exciting plans in the pipeline and anticipate a strong growth for our brand in the years ahead. We are investing heavily in product R&D, as well as growing our team so we can provide better overall experience, whether you are a consumer or a retail partner. PB