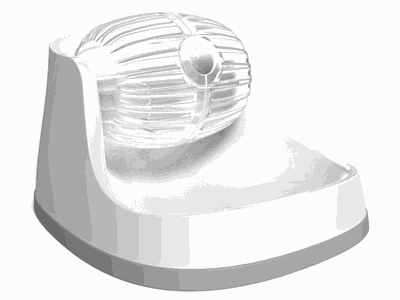 Petmate's Diggin' Diner 2 Cup is designed to slow a pet's intake of food. Its strategic opening allows dry food to fall out at a healthy pace while encouraging physical and mental stimulation. The Diner 2 Cup is made with food-safe materials and is easy to clean and assemble. Its non-skid base is meant to prevent sliding. The feeder holds up to 2 cups of food.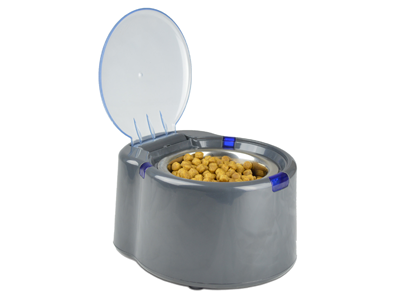 OurPets' SmartLink Feeder uses Bluetooth technology to detect when a pet wearing the SmartLink Tag is near, and it will only open for that tag. The bowl is designed to eliminate feeding confrontations between pets, protect diet-sensitive meals, prevent small children from getting into a pet's food and monitor a pet's feeding habits through the associated smartphone app. The SmartLink Feeder holds up to 1.5 cups of dry food in a removable, dishwasher-safe stainless steel bowl and is battery operated.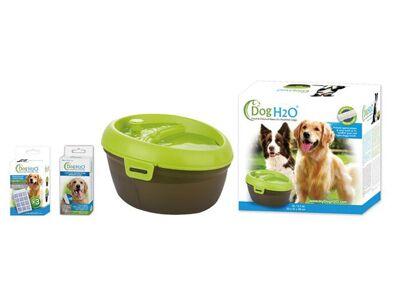 Dog H2O from AA Aquarium is a raised, large fountain drinking area with added daily oral hygiene for medium to large dogs. Its surface skimmer aerates water and ensures a clear drinking surface free from saliva and slime. Each Dog H2O comes with three blocks of Dental Care by Dog H2O that add dental ingredients to slowly dissolve in a dog's water. Dog H2O is dishwasher friendly, BPA free and also comes in cat variety—Cat H2O.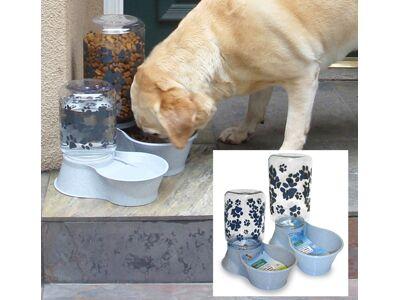 The Reversible Base Dog Feeder & Waterer from Lixit has an engraved reversible base that identifies which side is for food and which is for water. Patented with the phrase "Gravity Feed," the feeder's BPA-free jars have a paws pattern, and the bases are granite grey. They are available in 64-oz. and 128-oz. sizes, and the feeders and waterers are sold separately.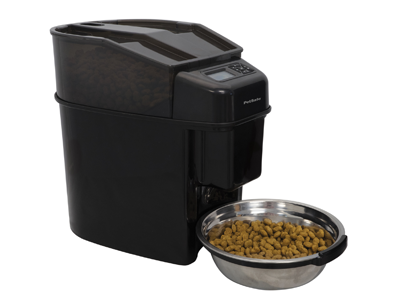 PetSafe's Healthy Pet Simply Feed 12-Meal Automatic Feeder is a portion-control feeder that lets pet owners customize a feeding schedule. It has an LCD screen with five-button navigation. Owners can schedule up to 12 meals a day with meal portions ranging from 1/8 cup to 4 cups at a time. The locking lid and dispenser keep pets from getting into the food. The removable stainless steel bowl is dishwasher safe, and the feeder is made from BPA-free plastic. It features feeding modes like slow feed mode, immediate feed mode and pause feed mode.