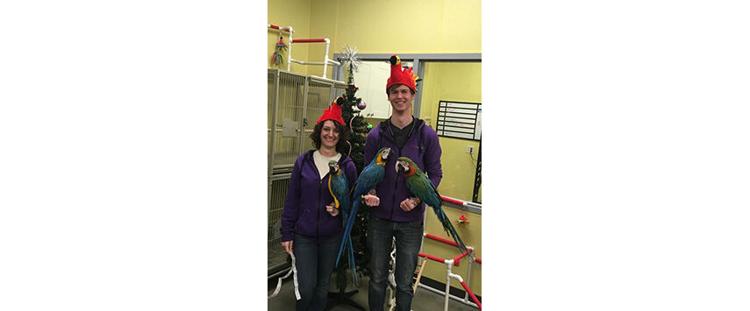 Started by owner Mike Griffeth nine years ago in Derry, N.H., Woofmeow is so much more than a place to find pet food and supplies. From the beginning, Griffeth had a vision for Woofmeow that would make the store not only a great place to visit and shop, but more resilient in an increasingly competitive market.
"I wanted to do something big that would create a sticky destination that families would love to visit for hours on end," he says. "We aim to create a reason for people to come to us."
Griffeth's history in the pet retail world goes back almost 30 years, starting with a job at a pet store while completing his undergraduate degree, which led him to reevaluate his plan to go to dental school. After gaining some more experience in the industry, he started his own chain of stores called Pet Paradise, which he describes as fairly typical pet retail stores about 5,000 to 6,000 square feet in size.
"About 10 or 12 years ago, I looked around and thought, well, this internet thing is not going away," Griffeth says. "I saw that format as vulnerable to both physical competitors and the web, so we decided to move away from that concept."
Shortly after that, the first Woofmeow location opened in what was previously a Jeep dealership. In designing the layout for the space, Griffeth sought to create a fun, engaging experience that would draw customers through the whole store. A large koi pond greets shoppers first, then the store's famous aviary comes into view around the corner. The store also has a bakery, a dog wash area and a range of live animals. In addition to the massive aviary that includes everything from tiny finches up to macaws, Woofmeow has indoor and outdoor chicken flocks with some exotic varieties in the mix.
"We put the pets back into the pet store," Griffeth says. "Many were becoming just pet food stores, I wanted to amp it up and make it fun again for the kids."
The aviary is perhaps the store's most well-known attraction, Griffeth notes, citing the number of online reviews for the shop that mention the approximately 6,000 square-foot area dedicated to birds in the Derry location. The birds in Woofmeow's large selection are all raised by hand, making for tame and friendly pets, and the store runs a full battery of tests to ensure a healthy flock.
"We have just about anything you could imagine," Griffeth says, noting that the store has gone beyond household pets and supplied birds to zoos over the years as well. "It pulls customers in from all around."
Building the Brand
About two years ago, Woofmeow's second location opened in Dover, N.H. A large format store like the one in Derry, the newer location features another unique attraction that makes the business a special destination for pet owners.
"We have a dog swimming pool that is a huge hit with dogs—and a couple of cats, too," Griffeth says. "The idea was to look at it is, why would you come to Woofmeow? You can go anywhere and buy pet food, but you can't get a fresh baked cookie from a bakery unless you come into Woofmeow. You can't take your dog swimming unless you go to Woofmeow.
"Even if they don't buy anything, they're going to have a good time and see what it's all about," Griffeth continues. "They're going to remember Woofmeow."
Of course, Woofmeow also offers a full line of pet foods as well as a destination-type experience, stocking a range of options to try to meet every pet owner's needs.
"We highlight fresh foods over kibble only," Griffeth says. "We are constantly challenging ourselves to make a healthier bowl. In all, I believe we have an average of seven to eight double-door freezers per store for fresh frozen pet food and treats."
Woofmeow offers foods to suit a variety of budgets and preferences, including both value and high-end brands. Griffeth seeks to find brands that set the store apart in the market, providing service to everyone but also carving out a unique service and product selection that can compete with online retailers.
"What we're always trying to do is separate ourselves and give people a reason to visit the store," says Griffeth. "We know fresh is the best food you can do for your pet, so if we're going to do it, we're going to do it freaking awesome. That gives us some insulation against the online world because they can't do it as well."
Beyond the store's food offerings and unique in-store experience for both people and pets, Woofmeow also seeks to provide best-in-class customer service. The store has launched online ordering, offers a rewards program and hosts nail clinics. Griffeth also cites the store's staff as a key part of its success.
"We invest in our staff to ensure they receive training on what's important to Woofmeow and how we conduct business," he says. "We have wonderful staff in our stores, so we're glad to say that's not a challenge [for us]."
However, as any pet specialty retailer knows, the business always comes with some difficulties. Aside from hitting supplier or distribution obstacles, Griffeth cites finding strong brand partners who are invested in supporting the retail channel as a challenge.
"Helping other brands to understand the importance of promoting themselves through us, the retail partner, has also been challenging," he says. "The retail landscape moves quickly, and we need our partners to be able to do the same to keep the channel viable."
But despite any hurdles, Griffeth has been able to build a business that both does well in serving its customers and is able to do good for its local community, which he notes is one of the most rewarding things about being a pet specialty retailer. The store does not sell dogs or cats, instead partnering with area humane societies and rescue groups to help find homes for the animals in their care. The store also supplies those groups with food, ensuring a consistent diet for the cats and dogs and freeing up the organizations from having to worry about where their next food donation will come from.
"We make sure we service our customers the best way possible. We are local ambassadors for the local pets and their parents—we do what's right for them too," Griffeth says. "We help out those that need it at the shelters or rescue groups —again, because we're doing what's right."
After successfully expanding to a second location, further growth is always an option for Woofmeow. Griffeth is keeping an open mind for new markets that might be well served by the store's large-format feel combined with local flavor. He says overall, the Woofmeow team is always aiming to do better than they did last week, and advises fellow pet specialty retailers to continually look for their own ways to innovate and improve as well.
"Stay away from things that you've done 10 years ago," Griffeth says. "Take chances, but don't expect 100 percent of them to work. You have to stand out, you have to be different."  PB