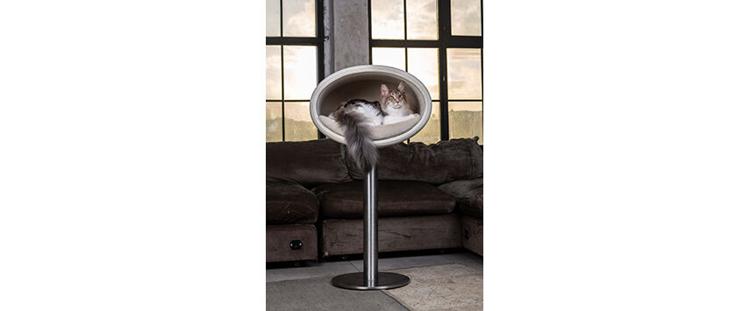 Remember that episode of "Friends," where it's revealed that Phoebe doesn't buy furniture unless it has a story behind it? Well, a similar ideology seems to be taking place in the pet industry, as consumers want to know exactly what they're buying before they bring it home. For retailers, this means working with manufacturers to deliver an alluring merchandising plan that showcases both the style and function of the pieces they carry.
Pet furniture, in particular, has a lot of boxes it must check. Consumers want these pieces to be versatile, comfortable and easy to clean, meaning that keeping these products in their packaging doesn't cut it. Consumers want to invest in goods that will provide comfort for their pets while enhancing or (at the very least) blending into their living spaces.
"Pet furniture is now greatly influenced by home décor trends," says Beth Sommers, president and chief merchandising officer for Pure and Natural Pet. "Customers like products that fit into their homes and complement their style; colors and fabrics are particularly important."
With all the options and varieties out there, displaying pet furniture isn't an easy task. Noriko Scott, marketing manager for Richell USA, explains that because the prices of pet furniture, "are more in line with prices charged by furniture stores," customers need to be able to visualize how the pieces will look in their living spaces before shelling out the money to actually purchase them.
That said, "the top two challenges" of merchandising and displaying pet furniture are lack of floor space and keeping the display area neat, tidy and attractive, says Tara Whitehead, director of marketing for MidWest Homes for Pets.
Though many retailers don't have a large amount of space to spare for furniture merchandising, manufacturers are willing to help by customizing their approach.
"Most retailers are constrained by a lack of space, so we have collapsible bed display stands, swatch books, a laminated product-showcase sheet, signage and stickers that can help our retail partners be flexible and effective in showcasing our bedding range without carrying much inventory risk," explains Wonjung Song, director of product innovation and procurement at P.L.A.Y. Pet Lifestyle and You.
Stores that aren't hindered by square footage can offer larger display options and take advantage of opportunities for product comparison.
"For retailers that have the room and desire maximum visual impact, we recommend an elevated display for one or more stacks of our bedding from the same collection," advises Song. "It's important to have at least a handful of those on display because consumers typically like to touch and feel the quality of the item."
As e-commerce has become a dominant force in the shopping habits of modern pet parents, retailers can counteract this by thinking about why consumers opt to shop online and identify what needs it satisfies.
"The ease in which merchandise can be viewed by the consumer in the dotcom space needs to be effectively translated to point of sale in a brick-and-mortar environment," says Mel Abernathy, vice president of sales for Primetime Petz. "For instance, there is much opportunity for retailers to utilize loop-video content provided by their vendors."
Combining the sale of furniture in brick-and-mortar and online can provide greater assurance to customers who are investing in pieces that will be suitable for their pets and homes.
"Many of our accounts that feature our stairs are online. For those with a brick-and-mortar store, we are able to supply fabric swatches and samples of each size stair," Sommers says. "We recommend placing a stair out on the floor as a display, using the swatch ring for color options and adding our educational document as a counter sign."
When retailers afford tactile means for consumers to interact with products, this increases the likelihood that pet parents will choose the correct product for their pets more quickly. With increased customer satisfaction, retailers and manufacturers may also look forward to an uptick in customer loyalty, which could translate into future sales for accessories to complement the furniture.
"It is advantageous to have a sample item on display, when possible, so the customer can interact with the product, and it is best to find fixture solutions that will keep your shelves and your store in order," explains Whitehead.
As Scott trusts her retail partners to best present Richell's products according to the priorities of regional customers and local culture, she doesn't outline specifications for visual merchandising. Rather, she explains that while most customers prefer to experience products through encounters during which they can see and touch the product, they also value convenience.
"[Pet owners] have been getting more particular about what they will allow in their homes. Multi-functioning, high-end, style-coordinating pet gates and crates are in," says Scott. "We find that when potential customers are able to see, feel and touch our products, we almost always win them over."
The More You Know
The importance of a strong retailer-supplier relationship can never be underestimated. When retailers are equipped with merchandising and educational tools from their manufacturing partners, they will be able to fulfill the needs of their businesses and ensure a successful partnership.
"Education is key. We provide as many tools as possible to relay our message—images, video, manuals," reveals Chris Beal, director of e-commerce for Primetime Petz. "We do our best to keep the product simple to use and operate."
Welcoming manufacturers to engage in meetings onsite for associate training will afford opportunities to understand how products should be arranged and presented.
At MidWest Homes for Pets, the company "strives for face-to-face, in-store communication with our retail partners, demonstrations at trade shows and conversations before a product order is placed to help determine how it will best be merchandised," says Whitehead. "Our sales team covers regional territories, so they try to stay attuned to local trends and needs when offering display solutions."
Through employing staff members whose careers include strong retail experience, Victoria Bouldin, vice president of operations for Primetime Petz, reveals that the company has created a team that is highly-experienced in developing fresh approaches to merchandising.
"We have a couple of team members who have either owned their own pet stores or have been around retail forever, who have experience in merchandising, and have great ideas about how to best display furniture," she explains. "We consider the type of store, the style, clientele and amount of space available to work with."  PB