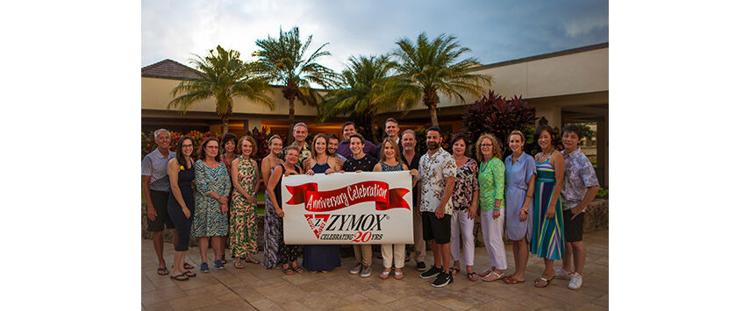 When it comes to starting a business, the statistics aren't promising; it's estimated that 20 percent of businesses fail in their first year, with that percentage rising to 50 percent within five years. For Pamela Bosco and the rest of the Pet King Brands team, those numbers are, well, just numbers.
In 1999, Bosco broke into the pet industry the same way many of us do—personally. Her German Shepard was suffering from chronic ear infections, and after treating him with ZYMOX technology, she realized that her products not only healed, but could help dogs live happy, pain-free lives. What's more, they provided an opportunity to offer alternatives to antibiotics when antibiotic resistance became a growing concern. That opportunity has paid off, impressively.
"Experiencing 20 years of consistent, explosive growth is a major accomplishment," says Debra Decker, marketing manager for Pet King Brands. "Bosco achieved this by leveraging the products' effectiveness, her determination and astute business skills, and has not compromised her values along the way."
The idea for expansion occurred when Bosco realized just how frequently ear infections and skin allergies occur in pets—they're the most common reasons an animal is taken to the vet. After treating her own dog and seeing the results, Bosco discovered the impact ZYMOX technology could have on every pet's health.
"Bosco owes her discovery to her brother, Michael Pellico, the bioscientist credited with creating and adapting an enzyme technology used in the No. 1 dentist recommended oral care products for people suffering from dry mouth," explains Decker. "The patented LP3 enzyme system is utilized in all ZYMOX and Oratene products, and is based on an advanced technology that has been used for over 40 years."
The LP3 enzyme system consists of lactoferrin, an iron-binding protein that inhibits growth and deprives microorganisms of iron; lysozyme, an enzyme that disrupts and splits the formation of a cell wall to kill bacteria; and lactoperoxidase, which combines with hydrogen perioxide, thiocyanate or iodide to produce hypoidite and hypothiocyanate ions to inhibit microorganisms by oxidizing their metabolic pathways.
In layman's terms, the enzymes have an innate ability to kill, destroy and eliminate bacteria, viruses, fungi and yeast. All three enzymes are found naturally in milk, meaning that they're 100 percent safe and gentle.
While the foundation—passion and science—was strong, 20 years of providing a revolutionary solution didn't come easy. After all, starting a business comes with a fair share of obstacles.
For starters, Bosco was a young widow raising four small children while trying to introduce her product into a market that was already flooded with pet care goods.
To try and break the mold, Bosco was tasked with, "working to educate the veterinary community on the science of enzymes in ZYMOX with a very small team," explains Decker. "She also fought against the current of popular thinking at that time when antibiotics were considered the only option and the topic of antibiotic resistance was scarcely discussed."
While Bosco does believe that there's a time and place for antibiotics, she opted to have her products honor that famous Hippocratic oath: First, do no harm.
"Being able to offer solutions which provide relief without side effects has remained the company's mission since its inception," adds Decker.
Solution-Focused 
So, what are the secrets (read: products) that have kept Pet King Brands going strong over the past two decades?
Expansion and innovation are vital, as "the company has grown from offering a couple products to a full line of ZYMOX ear and skin topicals [and] the Oratene Brushless Oral Care line," explains Decker.
Consistency is key, as all of the products across both lines feature that patented LP3 enzyme system.
In general, the ZYMOX brand consists of, "non-prescription products [that] have been recommended by veterinarians for over 20 years and have changed the way pet owners manage these common health problems," says Decker.
Specifically, the brand is twofold: it includes a line for cats and dogs, which consists of an ear cleanser, ear solutions with and without cortisone, a shampoo, leave-on conditioner and topical cream and spray; and an equine line, which features a skin wash, skin guard and topical spray and cream that manage common hoof and hide conditions, such as thrush, white line and rain rot.
Additionally, the company introduced a hydrocortisone-free formulation of ZYMOX ear solution for rabbits, small mammals, exotics and animals that are pregnant or lactating.
For its Oratene oral care line, products include a brushless toothpaste, a water additive, breath freshening spray and an oral gel, designed for serious oral conditions. While all of the Oratene products include the LP3 system to eliminate odor-causing bacteria, they also feature the MD2 system, which works to dissolve plaque biofilm with mutanase and dextranase, additional enzymes that effectively make plaque biofilm soluble and unable to adhere to the tooth's surface.
Supporting Retailers
Though Pet King Brands was initially only offered in veterinarian offices, the company quickly expanded into the independent retail space as it realized that displaying its products in brick-and-mortar stores added one-stop convenience by providing shoppers with an even bigger selection of complementary products.
To encourage retailers to carry the company's products, it offers everything from eye-catching floor and counter displays, signage and educational shelf talkers to training opportunities for groups or individuals through webinars.
Recognizing the threat online retailers and big-box stores present, Pet King Brands enforces a "strict" MAP policy, explains Decker, and introduced an Authorized Seller Brand Partner program to protect the company's distribution channels, integrity of its brand and quality of its products.
"Bosco and Pet King [are] very committed to ensuring a level playing field and combating the issue of counterfeit products entering the marketplace," she says.
Over the next few years, the company plans on implementing several ideas to ensure its continued success.
"Pet King Brands plans to introduce new products to serve more species in the future, and will be developing additional training tools and marketing assets to assist retailers," Decker continues.
No matter what its future endeavors hold, it's clear that the company won't lose sight of what drives its business and innovations: the love of animals.  PB