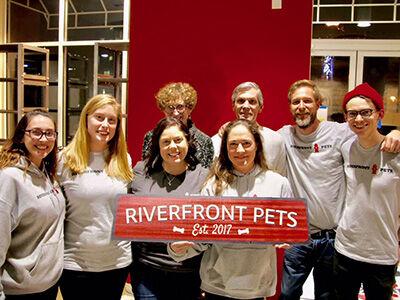 The idea for Riverfront Pets was born when Laura and Clinton Gangloff became empty-nesters and downsized to a new home in Wilmington, De., five years ago. Clinton's previous experience starting small businesses, combined with the fact that many of their new neighbors had pets and there was some great open retail space in the area, made opening a pet specialty store a natural next move. The store had its grand opening in December 2017 and quickly established itself as a welcoming, well-designed destination for local pet parents.
"We thought it would be a great idea to create a destination pet store with integrated services so that people could gather together to share their love for animals," Laura says. "It seemed like the perfect way for us to spend some time together."
The Gangloff's move to Wilmington not only offered the opportunity to open the new store, but also provided inspiration for the overall look and feel of Riverfront Pets.
"Our neighborhood is sleek and modern, and I am a great fan of industrial chic," Laura says. "We wanted the store to be a seamless part of the neighborhood, so it seemed like a good place to start."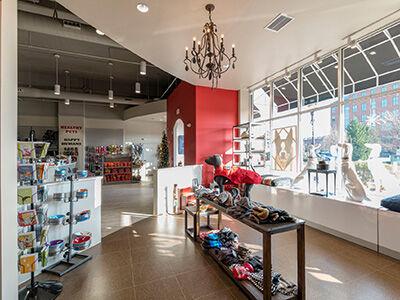 The store, which recently won the Retailer Excellence Award for Merchandising/Store Design at Global Pet Expo, is spacious, leaving lots of room for humans and animals to browse the selection. The Gangloffs take a less traditional approach with the layout and organization of the store, prioritizing keeping brands and complementary styles together over grouping products by category. 
"We decided early on to display items according to brand, rather than category," Laura says. "For example, rather than having all of our leashes in one spot, we have an area devoted to Ruffwear that includes leashes, harnesses, backpacks/daypacks, apparel, toys, etc., that are all coordinating. In a section of the store devoted to couture, we include high-end artisan leather, crystal and hand-painted leash options."
Since services are also an important part of what Riverfront Pets offers its customers, areas like the grooming room and self-wash—featuring baths that would be at home in a high-end spa—are prominently placed. The Gangloffs strive to provide full-service pet care, offering walking and sitting services as well. 
"Ideally, your dog will be picked up and taken for a walk, dropped off at the shop for a groom and returned home with a delivered bag of kibble all before you return home from work," Laura says. "We also have a trainer that offers classes or individual sessions either at home or at the shop."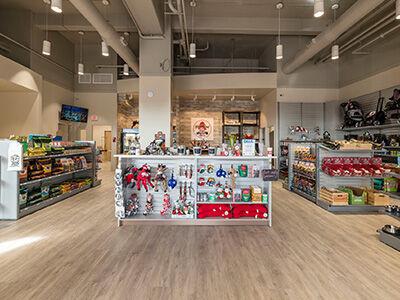 Quality Philosophy
When building their product selection, the Gangloffs look for vendors that put quality first, seeking out healthy, nutritious foods made in small batches with natural ingredients. They also partner with suppliers that prioritize working with independent brick-and-mortar stores, creating a varied assortment of well-made goods that sets them apart from larger retailers. The Gangloffs also aspire to build their own brands, starting with spent grain beer biscuits, for which they hope to partner with local breweries, and eventually moving on to kibble.
"We are small and cannot compete with big-box pricing or a large online presence," Laura says. "Ideally, we look for unique, locally crafted accessories (for pets and pet lovers) that can't be found anywhere else."
Most importantly, every product in the store has to be something the Riverfront Pets team can personally stand behind. "We are most proud of our customer service, so everything in our store is something every employee believes in 100 percent," she says.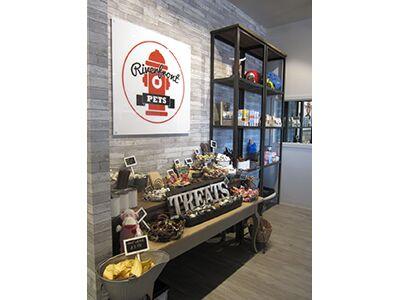 Community Center
Riverfront Pets is deeply involved with its local community, hosting events and partnering with other businesses and organizations as much as possible. The store works with the Delaware Humane Association, holding adoption events at least twice a month—along with the occasional spontaneous puppy party—offering licensing for newly adopted pets, and attending the DHA's events. The store also invests in its community through marketing, with plans to be involved with a local minor league baseball team this year, and puts on creatively themed events outside the usual holidays that both do good and offer a fun outlet for their customers.
"This month, it will be a Spring Cleaning event with mimosas," Laura says. "If you clean out your house and bring a new or gently used item for donation to the DHA, you will receive a free self-wash coupon at Riverfront Pets."
This focus on the community goes hand-in-hand with the personal interactions and connections that Laura finds most rewarding about being a pet specialty retailer. "Personally, I love welcoming people and their pets into the store," she says. "Delaware is a small state, and it seems that everyone is only one or two degrees of separation from everyone else. When someone brings a dog into the store, there is an instant connection—we find out so much about each other."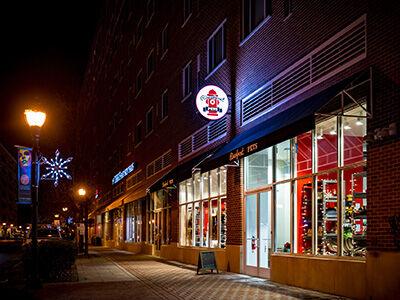 Riverfront Pets is set to expand its efforts in the coming years, including growing its online presence, doing more to support rescue and adoption efforts and opening a doggie daycare.
Although the store is still relatively new and the Gangloffs have only been in the pet business for a few years, Riverfront Pets has already had much early success. Laura says that she and Clinton still have a lot to learn to continue to build on their achievements so far, but the attention that the staff puts into both the appearance of the store and customer service has helped to secure a loyal customer base.
"We can solve problems for animals that the owner didn't know they had, or just make people feel welcome enough to keep coming back," Laura says. "It is extremely rewarding to think that the look and feel of the shop is something that people and animals gravitate toward and that we have been recognized for our efforts to create a pet loving community."  PB