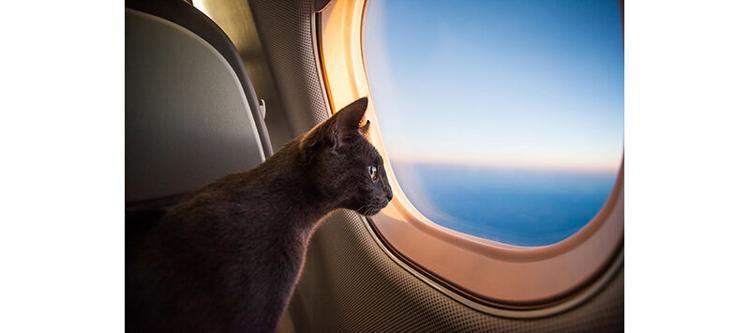 Pets are essential members of families, especially for Millennials, who treat pets as starter children. With this increased significance in the family structure, pets are going everywhere with their owners.
"Pets are part of the family," says Gretchen George, president of PetRageous Designs. "Families treat and prepare care for them as they would children or other family members they care for. This means planning for the expected and the unexpected."
Pets need the same gear as children when on the go—water, snacks, a place to rest and things to play with. Making sure all these are at the ready is essential for pet parents, as "having convenient and accessible travel items for your pet helps make life on-the-go that much easier," says George.
While food and water bowls are the first thing to come to mind when buying travel gear for pets, there are many more products pet parents should have on hand for travel.
"Having travel toys, blankets and bedding for the car, the tent, the hotel room or guest room are great examples of things to have on hand, as well," says George. "When these items can easily stow away or be used in everyday life, too, [it] makes them even more essential."
With current events, it's especially important to be ready for the unexpected.
"Aside from typical trips, vet visits and vacations, there are many unexpected scenarios in which you will need to have your travel gear handy to make sure your companions stay safe and secure," says Leah Angelos, sales manager at ZippyPaws. "For example, if your car breaks down and you cannot call for help, you would not want to leave your pet unattended!"
Michael Leung, co-founder and lead product designer at Sleepypod, also agrees that it's important to be prepared in case an emergency hits.
"Whether it's a natural or manmade disaster that requires you to evacuate with your pet, or even if for unforeseen circumstances you require a friend to care for your pet for a few hours or a few days, you never know when an emergency will strike," says Leung. "Keep in mind that having a bright or distinct colored harness or carrier is particularly helpful for visibility. If for some reason you and your pet are separated, it will be easier to spot your pet."
Fun in the Sun
Travel accessories aren't just for trips to the vets or vacation preparations. Pets need specific products for when they're splashing in the water and frolicking around.
"Cooling vests and life jackets are great for regulating temperatures, and keeping them safe in the off chance that they fall into a body of water nearby," says Angelos. "Additionally, larger dogs or disabled dogs might need a little more help getting around on adventures, so the support lift harness is a great tool for that."
Travel gear can also ease the transition from home to afar. If pet parents acclimate pets to beds and toys while in their homes, pets will see these products as comforting even when in strange environments.
"A bed that folds up and can be used at home, in the car while traveling and at the end destination offers some familiarity for pets," says George. "It's an item they are used to and can help ease the nerves of anxious pets as they travel by offering the comforts of home on the road."
Robust Retailing
When it comes to selling travel supplies, retailers should acknowledge the best way to promote these to pet parents.
"We suggest merchandising these products on endcaps or in showcases to display like-kind products together," says George. "A pet owner may think of a travel bowl, toys, waste bags but not think to have a travel blanket or bed. If they see these items along with the more commonly purchased travel items, it can suggest to them they should also have those too."
It's also important for retailers to take note of what their customers are buying and searching for. Consumers who live on the coasts may be looking for water safety products while those in the mountains need hiking gear.
"It's important to cater to what is in highest demand in your area while offering a great variety of products," says Angelos. "For example, summer time or stores in hotter areas might benefit from bringing in more products geared for hot weather."
Future Fun
When it comes to pets, the need for travel products isn't going anywhere. There will always be a need to be prepared to take pets on the road and keep them safe, and retailers who carry these products will be ahead of the rest.
"Safety is a key consideration when purchasing products for travel," says Leung. "The last thing you want to happen is for your pet product to fail your pet in an unfamiliar setting or if surrounded by unfamiliar people."
This category will continue to evolve as the need to travel with pets grows, and retailers need to adjust and grow as needed.
"The essential travel gear category is always evolving and introducing new and improved products for consumers," says Angelos. "At ZippyPaws, we are growing and expanding our categories, including travel gear, to make sure we can improve the daily lives of all pet owners."  PB