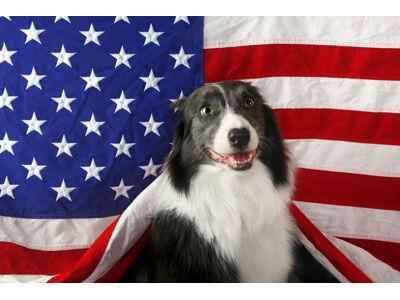 For many pet parents, a logo with the American flag and the phrase "Made in the USA" is a welcome sign. These consumers seek domestically made products because they perceive the description to mean much more than just the fact that the item was not imported from overseas. Manufacturers say the made in the USA trend is as strong as ever, as consumers see these products as being higher quality and safer.
According to a report from The NPD Group Inc., nearly 80 percent of shoppers said that a "made in the USA" claim is important to them to some degree, and 44 percent said it is extremely or very important.
Most consumers prefer not to pay more though, as only 23 percent said they are willing to spend the extra money all or most of the time if the item is made in the USA. Still, half of shoppers said they would sometimes be willing to pay more for products that are made in the USA—a decision that the report authors write, "is likely dependent on what they are buying." 
Many of the shoppers who are willing to spend a bit more just might be buying pet products.
"The consumer looking to buy made in the USA is generally not as impacted by price," says Glenn A. Novotny, president of Emerald Pet Products in Walnut Creek, Calif. "They are more interested in making sure they feed their pets top quality products from reputable brands."
Novotny adds that made in the USA and sourced in the USA continue to be important features in the treats category. "The USA standard reassures the consumer that each treat has undergone stringent standards during production," he says. "Made in the USA will continue to increase in popularity for pet safety and also to support U.S. jobs."
People do want to support U.S. jobs, says Ann Price, president of Richmond, Va.-based Puppy Bumpers, Inc.—a company whose safety collars are made in the USA by people with disabilities. "If we made these overseas I could cut the price by at least half," she says. "That isn't what we're trying to do. We're trying to help the community."
The setup helps everyone, says Price. Workers are delighted because they have dogs and are working to make a product that prevents dogs from squeezing through fences. Meanwhile, Price can get a quick response if there is an issue with the products. That would not be so easy, for example, if she got a container load of Puppy Bumpers from China. "It would scare me if the loops were bad," she says.
Others agree that although price does play a role in some consumers' purchase decisions, many pet owners are willing to pay more. "They may choose to not buy a made in the USA product if it's too expensive," says Kyle Frautnick, marketing director for Primal Pet Foods in San Francisco. "Other consumers will pay whatever it takes to get the best made in the USA product available. The trend is probably moving toward the latter, as there is an uptick in demand for premium products."
While made in the USA often denotes premium quality, sourced in the USA does not necessarily have the same positive implication. Frautnick says domestically sourced meats are not always higher quality. "For example, you can source inedible, denatured proteins from the United States and label it made in the USA. In this instance the 'made in the USA' claim is accurate, but it doesn't mean it's better."
Primal Pet sources the majority of its proteins from the U.S., but it also sources beef and lamb from New Zealand and produces the products in the U.S. The label on Primal's updated packaging reads, "Made in the USA with Beef/Lamb from New Zealand."
"We take pride in where our ingredients are sourced and are very transparent about it," says Frautnick. "We recommend asking your pet food manufacturer where they source from and inquire if they use human-edible protein sources, not just if they are made in the USA. While the 'made in the USA' statement can be a good thing, it doesn't tell the entire story on its own. Often, I think consumers see 'made in the USA' and assume it's better, when that isn't always the case."
Ensuring Quality
Retailers and consumers should not dismiss a product that contains ingredients that are not made in the USA, says Susan Weiss, CEO and founder of Ark Naturals for Pets, in Naples, Fla. "A large percentage of herbal ingredients, virtually all glucosamine, chondroitin, etc. is from outside the USA," she says. "The question rather is not about what you purchase —be it the consumer, retailer or manufacturer—but is there any guarantee of quality of the ingredients that the product uses."
Made in the USA has been part of Ark Naturals' business model since the company launched. "When we started our business in 1996, the comment to me was, 'Why should I pay more?' Well we know how that rolled out," says Weiss. She adds that when the company buys raw materials, it sends ingredients out to independent labs to be tested prior to using that ingredient in one of the Ark Naturals formulas.
In pet supplements, the made in the USA trend is extremely important, says Harald Fisker, president of Grizzly Pet Products in Woodinville, Wash. Pet supplements often contain pharmaceutical-like ingredients, so ingredient certification is important. In the U.S., the National Animal Supplement Council (NASC) has set rigorous Good Manufacturing Practice (GMP) and certification standards.
"Companies adhering to these and audited by the NASC may use the NASC seal on their supplement packaging, so look for the NASC seal as the best supplement quality validation," Fisker says. He adds that all Grizzly supplements, foods and treats are produced in the company's production plants in Alaska or Washington.
Made in the USA is an important selling point in wellness products because consumers are looking for products that are safe. With this in mind, Vetericyn Animal Wellness in Rialto, Calif., manufactures and bottles all its Vetericyn Plus products in its own facility under strict FDA quality standards.
"Pet parents treat their dogs, cats and horses like their own children," says Geoff Hamby, director of marketing for Vetericyn. "In terms of wellness and products that are more wholesome and natural, having the products regulated and made in the USA makes people feel more confident and comfortable."
According to Scott Van Winkle, vice president of sales and marketing for Vetericyn, the impact of the made in the USA trend isn't limited to this country.
"We have many international partners that specifically request U.S. products for their customers," he says. "The American flag on our products definitely helps drive consumer sales internationally. Pet products that are consumable or applied topically are generally researched more as to their origin because pet parents want to purchase products that have proper oversight and regulation."
Van Winkle suggests retailers that prioritize made in the USA products should also consider where product boxes, labels and ingredients are sourced.
Made in USA does mean better quality in the aquarium products segment, says Lance Reyniers, president of Python Products, Inc. in Milwaukee. "A lot of companies are bringing in products from China and other overseas, and they are leaching BPA, arsenic and lead into your aquarium and those are all accumulative," he says. "The same way they are not good for babies and children, they are not good for pets."
On the manufacturer's side, made in USA is important for other reasons besides preventing fish and consumers from being harmed. For example, if a supplier is having trouble coming up with a part, or has another issue, Python Products can meet with the company and find a solution.
Reyniers says retailers are helping the trend by supporting the smaller businesses and not buying whatever the distributor presents as the cheaper alternative. He has seen stores that merchandise entire made in the USA sections, complete with little American flags. He is also noticing retailers that display signs on their doors that read,  "We carry American-made products."
In leashes and collars, made in USA has another advantage, says Alisha Navarro, president of 2 Hounds Design in Monroe, N.C. "The best thing about made in the USA is that the collar/leash companies that focus on it tend to be very on trend," she says. "They know what is going on in the fashion industry, their products are really well made and typically follow the human fashion trends very closely."
Navarro adds that made in USA collars and leashes are often made with better nylon webbing, and the hardware is the best available.
While consumers of all ages are concerned about the made in the USA trend, Millennials might be especially interested. Anita Dungey, president of Auburn Leathercrafters in Auburn, N.Y., says these young shoppers are on a budget, so they are conscientious consumers. "For them, it's about the experience—and part of that experience is supporting your neighbor," she says.
Another trend, says Dungey, is that retailers are getting to know their customers and their suppliers, and making sure they answer this demand for made in the USA products. "I think that retailers are educating themselves and communicating with their customers," she says. "I think they're kind of part of the whole dialogue." 
The made in the USA trend will continue to increase in popularity due to pet safety concerns and a desire to support U.S. jobs, says Novotny, from Emerald Pet. "If you look at your local grocery store today, most are highlighting local brands they carry," he notes. "I anticipate seeing an increase in USA and even regional support across the U.S.