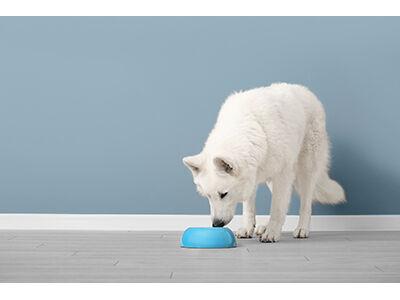 It's common knowledge that heavily processed foods are bad for us. But what about for our pets? Just like their human counterparts, pets today are struggling with high rates of obesity. According to the Association for Pet Obesity Prevention, 59.5 percent of cats and 55.8 percent of dogs in the U.S. are considered overweight or obese.
On the heels of the coronavirus pandemic, pet parents are rethinking the traditional kibble diet and looking for healthy alternatives, such as raw foods. Raw pet foods, treats and toppers may not be the new kids in the pet food aisle anymore, but there are still plenty of reasons to be excited about the innovations in the category.
"Raw diets, whether fresh, frozen raw or freeze-dried, are minimally processed, uncooked and usually include meat, bones and organs—just like a dog's natural ancestral diet," explains Alison Cremeans, director of marketing at MiracleCorp, makers of Stewart Raw Naturals.
Over the past decade, raw pet food has grown from an off-beat fad to an entire category of its own. In fact, according to Nielsen research, freeze-dried and dehydrated food sales rose 39.1 percent while frozen and refrigerated fresh foods jumped up 55.4 percent in 2019.
One major driver behind these numbers is increased awareness among owners of the health benefits of high-quality, minimally-processed raw foods for their pets.
"When the grains, glutens and artificial ingredients found in commercial kibble are eliminated from a pet's diet and replaced with a raw diet, the change is noticeable," says Joey Weichmann, national sales manager for Vital Essentials. "Pets that are fed a raw diet have more energy, a healthy skin and coat, and often experience less allergies. The crunching of a raw diet is good for dental health because it helps to remove tartar and plaque. Also, the stool of pets who are fed a raw diet has less odor and is smaller and firmer."
Point: Brick-and-Mortar
The nature of raw food means that brick-and-mortar retailers face less competition from online stores since shipping frozen foods is both costly and a health and safety concern.
"I like to compare the model of frozen distribution to local retailers to traditional grocery," says Lindsay Meyers, product development and veterinary channel manager at Primal Pet Foods. "Amazon is convenient and inexpensive for shelf-stable products, but my preference in buying grapes and meats for my dinner table is to head to my local grocery store. Curbside pick-up and home delivery options at local retail during the pandemic have pushed this concept even further."
While the category has plenty of raw opportunity for retailers, it does have its own unique set of challenges. One of the biggest is, of course, the investment into appliances like refrigerators and freezers to store raw food products.
Retailers also need to have the, "ability to communicate the options available to pet parents who may not venture to the freezers," says Weichmann. "[Vital Essentials] has developed some countertop displays that can be placed at the front of store, directing customers to look for our foods in the freezer section."
One way to overcome the refrigerator/freezer hurdle is to stock shelf-stable raw food products. This is a great place for retailers who are new to raw pet food to start because it requires minimal investment.
"Integrating appliances into your set may not be possible for every retailer," says Cremeans. "You can start with shelf stable recipes and gather feedback from your customers and learn from the sales data about how much you should expand your raw offerings."
Cold Products, Hot Sales
Another key component of becoming a trusted provider of fresh and nutritious raw pet foods is stocking the latest category offerings. That way, loyal customers can continuously try new things and shoppers who are unfamiliar with raw foods have a new entry point to the category.
For example, some recent additions to the marketplace feature crossovers from other pet industry trends, like adding CBD and hemp to raw treats for extra health benefits or utilizing locally-sourced ingredients, says Weichmann.
Raw food toppers and treats have also been trending and are a great gateway for pet parents who are hesitant to take the raw diet plunge due to budget or other concerns.
"Instead of abandoning your price sensitive customers, assure them that even a little raw nutrition goes a long way," says Cremeans. "Instead of feeding raw or freeze-dried raw exclusively, suggest products that can be used as treats or toppers as an introduction into raw nutrition."
Education is also an important factor when trying to convert customers from a traditional kibble diet to a raw diet. This can be accomplished through signage detailing the low cost per day of raw food toppers, a small freezer endcap display or even a simple conversation.
"Talk about [raw foods]," advises Meyers. "Educate your staff and your customers. Asking a customer to change their pet's diet can be stress inducing, so start small. Get those shelf stable shoppers thinking about fresh food additions and watch your frozen sales grow exponentially."
The Right Mix
Even though marketing through education is the most effective—and obvious—option, it's not an easy undertaking to continuously keep staff and customers up to date. Luckily, retailers can get ease some of this burden by partnering with a mix of strong, hands-on brands.
"Look for a partner that cares about your success as well as the health and safety of your customers and their pets," says Meyers. "[Primal Pet Foods] offers resources to help our retailers with social media, staff training, web ordering, as well as consumer support including frequent buyer programs, promotions and education campaigns."
Retailers should also be cognizant of the variety and quality of raw food products they select to put on their shelves. Food safety is especially important when it comes to raw pet foods, so Patti Salladay, manager for Northwest Naturals, recommends choosing brands that use a USDA Human Food Certified facility and are transparent about their manufacturing process.
Finally, retailers need to offer more than just one type of raw food to truly find success in the category. Weichmann advises following the moderate, low and no model. In other words, "offer a brand that has moderate vegetation (20 percent), a brand that has low vegetation (5-10 percent), and a brand with no vegetation (0 percent). This way they will be able to better serve all of their customers that walk through the door."
And being successful in the raw pet food category is about more than serving a niche market of consumers; it's about embracing where the entire industry is headed, according to Meyers.
"Everyone wants their pets to be healthy, so a retailer who can switch a lackluster pet onto a nutritious raw diet will win the gratitude of their owners, creating a satisfied customer," explains Salladay. "Satisfied customers often lead to great referrals."  PB