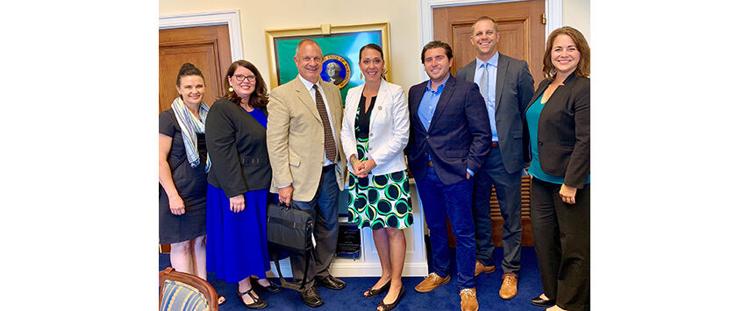 Here at Global Pet Expo, you're among thousands of others involved in the pet care community who know that relationships are a primary key to business success. Chances are you're here to make and strengthen relationships with manufacturers, distributors, retailers and more to grow your business.
But another important relationship you need to build, in order to protect your business for the future, is with your elected officials. These lawmakers make decisions on trade restrictions, breeder rules, pet food regulations, environmental policies and more—all of which could have significant impacts on your business.
We at the Pet Industry Joint Advisory Council (PIJAC) have made it easy for you. You are invited to come to Washington, D.C., on Sept. 9 and participate in the 3rd annual Pet Care Community Fly-In. You will join dozens of pet care community professionals from around the country to deliver the critical message to elected officials that pets are important for human health and quality of life.
In 2019, nearly 100 participants spread across Capitol Hill helping lawmakers understand the extraordinary positive impact of pets, from the value of the human-animal bond to the significant role of pets in our nation's economy. A broad cross section of pet care professionals was represented, from all sizes of retailers to companion animal suppliers to product manufacturers and distributors. We discussed the benefits of animal interactions to veterans and schoolchildren and the impact that tariffs were having on pet businesses, among other issues.
This is a unique opportunity to support the pet trade, let your elected officials know what issues are important to you in a face-to-face setting and make connections with other like-minded pet care professionals. Perhaps most importantly, it's a chance for you to be the face of responsible pet care to your elected representatives in Washington. That personal connection—relationship—helps to build trust before a specific issue arises.
To make it as easy as possible for you to help us tell our story, we do all of the logistical work for you. You don't have to contact the Congressional offices, set up the meetings or figure out which issues to talk about—we at PIJAC do all that for you. All you need to bring is yourself and your personal stories of who you are, what you do and the impact local, state and federal laws have on you, your family, your business and your community. We put together groups of pet care professionals and give you a meeting schedule, talking points on industry-wide issues and materials for you to leave with the lawmakers.
While in Washington, you'll also get to learn about the importance of pet ownership in America, the latest scientific evidence of the benefits of the human-animal bond, and updates on the political, regulatory and legislative landscape in Washington—and how it affects you—in special morning and lunchtime briefings.
After the fly-in meetings are over, you're also invited to attend the annual Pet Night on Capitol Hill. Relax and network with Members of Congress, their staff and others in the pet care community at a complimentary reception with presentations, awards, refreshments and special guests, such as therapy dog teams.
Over the next few months, we'll be sharing details about how to register, the discounted hotel block and more. For now, mark your calendar and make plans to represent your business and your pet care community to the lawmakers who need to know about the incredible power of pets.   
We also encourage you to come see us here at Global in booth 2412 to find out about how PIJAC can help you engage with elected officials at all levels of government throughout the year, and the many different issues we address on behalf of the pet care community every day.
If you're not a member already, please join PIJAC today at pijac.org/join. You support is critical as we work to protect and strengthen the pet care community.
We look forward to seeing you in our nation's capital in September!  PB
Gwyn Donohue is the Pet Industry Joint Advisory Council's Director of Communications and Public Affairs.