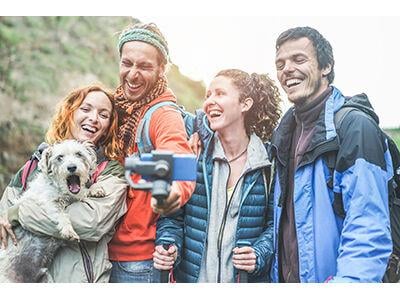 Millennials have been cemented as the generation with the primary purchasing power, and companies have centralized their marketing efforts around them, consistently looking into new ways to attract their interest. However, Builders, Baby Boomers, Generation X and the up-and-coming Generation Z are all pet-owning demographics that retailers need to accommodate, as well.
In June, the American Pet Products Association (APPA) released Volume 3 of the APPA National Pet Owners Survey: Generational Report, which for the first time included information about the youngest pet-owning generation—Gen Z.
"Gen Zers are the next Millennials—they are up and coming to be the next big spending generation, and their focus on and love for pets is arguably higher than any other preceding generation," says Laura Morgan, social media manager and email marketing specialist at P.L.A.Y. Pet Lifestyle and You. "On the flip side, Baby Boomers often have more disposable income than Millennials, and may be able to afford items with a higher price tag."
Stephanie Volo, chief marketing officer of Earth Animal, shared that while the many benefits of pet parenthood are universal, certain benefits may be more of a priority to different generations—a Millennial may be looking to ease into pet parenthood, while a Boomer may look at a pet as a new child.
"Different generations definitely benefit from pet ownership in a variety of ways, primarily due to their activity level, types of hobbies and general lifestyle," says Morgan. "For example, someone from a younger generation might enjoy having a pet to go on runs or take a hike with, while someone from an older generation might enjoy having the companionship, especially for those who are retired and spend more time at home then out and about.
"As a result, it's important to keep different generations' needs in mind in order to decipher which products might appeal to your various customers."
Customer Service
P.L.A.Y. Lifestyle and You has found that Millennials and Gen Zers enjoy its "Instagram-worthy" plush toys, such as its Barking Brunch, American Classic and Fetching Flock. Despite not having as much of a disposable income, Millennials have proven their willingness to spend more for environmentally friendly items. When it comes to Baby Boomers and above, the company has noticed that these customers tend to prioritize keeping their pets feeling comfy and entertained at home. Morgan notes that many older pet parents have older pets, and as a result, they're drawn towards products suited for senior dogs.
"When introducing new products to a consumer, you should always focus on solving the question of how your products will make their lives easier, better or more fun," she explains.
West Paw's consumer research found that Millennials tend make purchasing decisions that align with their core values.
"Millennials tend to be 'cause-driven' when it comes to purchasing decisions, and this wasn't necessarily the case with Baby Boomers and Generation Z," says Spencer Williams, CEO and president of West Paw.
Millennials also focus on being informed consumers, and many turn to the internet to learn more about a product's performance and reception.
"For Millennial shoppers, we've added a QR code to many of our products so they can scan to see a video of the product in use," says Susan Calles, national marketing manager for Ethical Products.
When helping customers of all generations and life stages, it's, "about choice, discovery and experience," says Volo. Gen Zers may shop and engage differently or view their health in other ways, so individual needs have to be addressed on a case-by-case basis, meaning that sales associates should be equipped with accurate product knowledge to assist in any way they can. Volo also highlights the importance of having a wide variety of products that can appeal to lifestyles across the board.
Pet retailers can also consider merchandising products by a pet owner's life stage.
"We often think of what dogs need as they age, puppies, adolescence, adulthood, etc.—which is important— but there are things all dogs need regardless and that is healthy treats and foods, exercise and walks, and comfortable beds," explains Williams. "By grouping products together by a pet owner's lifestyle, cross selling will be much easier for retailers."
Mindful Marketing
The internet is a broad tool that appeals to a majority of customers, especially in this day and age. Incorporating social media channels, such as Facebook, Twitter, Instagram and maybe even Tik Tok engages audiences and can elevate a company or brand's presence—especially to reach younger generations.
West Paw has utilized its digital platforms by offering different ways for Millennials to connect with the brand through content it shares with its retailers. Beyond just sharing content, the manufacturer prioritizes engagement and personal responses by answering texts, emails, phone calls and social media comments. The extra effort can also provide valuable feedback for a company.
Aside from hearing from the company itself, word of mouth is also a powerful tool.
"West Paw also reposts user-generated content to help Millennials make their decisions," says Williams. "Millennials turn to social media for opinions on which products to buy. And they trust and take tips from commenters on the posts—far more than from the brands themselves."
Partnerships are another way to reach different audiences. For Ethical Pet Products, teaming up with a website popular with Millenials and Gen Zers alike is an avenue to promote its upcoming line and the company itself.
"We've partnered with Cosmopolitan magazine to develop a line of pet toys and accessories specifically designed to appeal to the millennial/Cosmo audience," says Calles. "The Cosmo Furbabies line will launch at Global Pet Expo 2021."
Stepping outside the virtual world and relying on  traditional marketing strategies may be more effective when trying to reach older generations.
"The best strategy is to have a mix of several different mediums to ensure that you are reaching a wide array of customers," says Morgan. She explains that a mix of a robust social media presence, email program, print and digital ads, direct mail and potential event marketing, "will allow you to reach all of your customers, whether they are tech savvy or not."
Morgan also highlights the importance of using the medium you market with to your advantage. Be mindful that in a crowded digital space, short, snappy copy is optimal, whereas long-form copy lends itself to offering more informational content and storytelling.  
At the end of the day, "retailers have to be as accessible as possible," says Volo.
Traditional media, although not as powerful as it once was, is still an effective way to reach out to earlier generations. Volo mentions that even passing out flyers and having mailers are another option to bring awareness about a retail store to the local community.
"We got a list of dog registrations in our town to do a mailing," says Volo about a traditional marketing strategy Earth Animal used for its retail store. Another method they employed was putting out an ad in the local newspaper.
Testing out a few strategies to see what will work best for reaching your community, your customers and potential customers is key to discovering the right approach for your business.
"It is important to take into account the various needs that different age groups will have in terms of why they want a pet and what they hope to do with them," says Morgan. "...all age-based marketing will still have one thing in common—knowing that pet parents just want the best for their furry friends."  PB