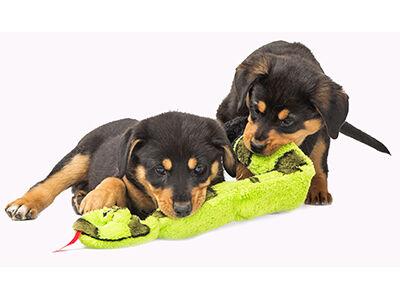 There's a lot for pet specialty retailers to love about plush dog toys. For one thing, these toys are entertaining and colorful, adding visual interest and energy to the store. They help bring in customers as well, since pet owners are notoriously unable to resist spoiling their furry friends and these playthings provide the perfect way to do so. According to plush toy manufacturers, this is translating into very good activity.
"The demand is growing substantially for plush toys, with consumers constantly on the lookout for cute, fun and unique styles to satiate their dog's appetite for play," says Mark Watkins, sales manager of ZippyPaws. Headquartered in Chino, Calif., the company makes a variety of dog toys and accessories.
"More and more, people are focusing on that playtime, as well as on the interactive qualities of toys for when they can't be there with their pets," Watkins continues. "The growth has been tremendous year over year in our plush toy category."
The increased spending on plush toys is part of a broader trend of "record-breaking" spending on pets in general, says Sarah Johnson, sales manager for P.L.A.Y. (Pet Lifestyle and You). Based in San Francisco, the company designs eco-friendly, premium plush toys, bedding and outdoor/active lifestyle products for dogs and cats, as well as accessories for pet lovers.
"Plush toys are a fun go-to for customers when they're looking for something new and adorable—not to mention great for photo-ops to share on social media," she says. "This is a category where someone can always find a fresh design and toys that mean something to them. Also, plush toys are typically affordable, so pet parents are comfortable buying them regularly. Not to mention that many people would prefer their pup work on trying to destroy a plush toy rather than shoes or furniture."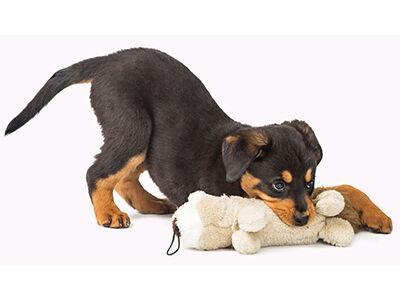 Construction & Design
That brings up a point that pet specialty retailers should keep in mind—destruction. First, no toy is completely destruction-proof, but plush toys have suffered from an image problem with the perception being that these toys are likely to get torn apart within days of leaving the store. But that was yesterday's plush; today, most of these toys are designed to put up a good fight. It all comes down to the construction, and using quality materials. Consumers have played a part as well.
"Compared to tougher materials like rubber, silicon and rope, plush toys do typically have a shorter lifecycle, so it's not surprising that many dog owners may have concerns about durability," says Johnson. "However, many people have made it their mission to find durable plush toys, and, as a result, the category as a whole has seen a lot of innovation and improvement in recent years."
These innovations include deploying strategies such as double/reinforced stitching (especially around pressure or tear points), embroidering facial features, incorporating materials like mesh or rubber into the plush toy, double-layering fabric, using "tough plush," and other tactics focused on improving longevity.
The toy's design can also help thwart wanton annihilation.
"Today's toys use various materials and commonly have multiple features like an interaction component, a squeaker and crinkle," explains Gretchen George, president of PetRageous Designs. "The variation in materials and features helps keep dogs more interested in the toy rather than giving their full attention to trying to destroy it."
"Also, quality plush toys of today aren't just made from a single piece of fabric and stuffed with fill," she continues. "They have independent parts that are stitched together; for example, limbs, heads, tails, etc. that are stitched to the body of the toy." Located in Wilmington, Mass., PetRageous designs products for dogs and cats, including feeding items for both, and toys and apparel for dogs.
Still, despite the advancements, plush toys aren't going to be right for every dog. For example, says Ward Myers, president and owner of Spunky Pup, they may not satisfy retriever dogs that like to run.
"A tennis ball and/or a flying toy would fit them well," says Myers, whose Orono, Minn., company makes a line of premium dog toys, including plush, rubber, launchers and more, as well as premium freeze-dried dog treats. "In some cases, a solid rubber or nylon toy can be good for heavy chewers."
Although chew style is a consideration, whether or not a plush toy would be a good fit can also depend on the dog's temperament.
"Some dogs can make a plush toy last a long time and will protect it as their property," says George. "Other dogs are simply wired to destroy a plush toy and won't quit until they're done, no matter how durable the fabric or stitching may be. For these types of dogs, rope toys may be more appropriate. There are lots of options in rope toys. Knotted and tug ropes are great for owner and pet interaction."
Interaction is one of the key plusses toys offer, along with helping to prevent boredom and to encourage mental and physical stimulation in dogs, says Johnson. "These benefits can be gained from a wide-range of toy styles and most dogs will benefit from some variety in what they play with."
Ellen Lawson, owner and president of Fluff & Tuff, a Troy, Mich., manufacturer of ultra-plush, premium-quality dog toys, says offering a variety of toy types is important.
"This is a great way to keep a dog active," Lawson says. "Just as we wouldn't want to do the exact same workout every day, dogs need to have different alternatives to keep their bodies and brains busy. Plush toys are a great way to actively participate in play with the dog. Having a few styles in the house and switching them out once a week will keep dogs interested in their toys. And then, chew toys and interactive treat toys are a nice way to keep them busy and stimulated."
However, if giving a plush toy to the dog, Lawson strongly advises doing so only if the dog can be supervised. If that isn't possible, she says a different type of toy should be provided.
Powering Plush Sales
There are good reasons to lavish attention on the plush toys category. For one thing, these toys are the highest earning in the department, says Leslie Yellin, executive vice president for Multipet International.  Based in Moonachie, N.J., the company designs and offers a broad range of pet products that includes cat and dog toys, travel accessories and solution-based brands.
"Although some toy materials make for a higher retail, the traffic pull and repurchase history on plush continues to be the main draw," Yellin explains.
That they're often a lower-ticket item is a plus, says Johnson, since purchasing a plush toy doesn't require too much evaluation from customers. Additionally, their margins tend to be better than those of consumables, providing a nice assist to the bottom line.
Still, although these toys will often sell themselves, pet specialty retailers should nevertheless be prepared to offer suggestions. After all, helping customers figure out the best toy for their needs will only make them happier and more likely to return to the store.
"Finding out what type of dog they have helps as certain breeds have classic play behaviors," says Yellin. For example, a dog that is a golden retriever or who has a mix of Golden usually enjoys water play, chase and retrieve. Another question is age; is it a puppy that is teething and therefore might be steered away from plush so it doesn't rip or tear the toy?
There are other questions to pose. In addition to inquiring about the type of play preferred—for example fetch or tug-of-war—Watkins advises asking:
If the dog is tough on toys or primarily gentle. There are some dogs that just tear through the toy to get to the stuffing, he explains. And then there are others that like to carry the toys around or cuddle with them.

If the dog seems to prefer interactive toys.

If the owner has noticed the dog responding to certain kinds of squeakers or other types of sounds, like crinkle.

How the owner likes to play with the dog.
Don't overlook this last point; keeping the customer in the equation and getting their perspective is important, says Johnson.
"Does the customer want the toys to be machine-washable?" she asks. "Does he or she want premium-quality plush toys that are well-made, safe and durable, even if they cost a little more? Is the eco-friendliness or social responsibility of the brand something the customer may care about?"
As for merchandising and retailing plush toys, this seems limited only by the retailer's imagination. For example, says Johnson, these toys make great, eye-catching themed window and counter displays. She recommends changing them out regularly to keep the excitement up and the look fresh for customers.
Of course, what works will vary by the store, since every retail space is different, says Lawson. "Some do well with slatwall and pegged product; others do best with the product neatly displayed in galvanized tins on tables," she says. "Whichever way they're displayed, using branded signage—logos, photo boards, banners—is a great way to draw attention to a product."
But along with using POS materials, it's best if retailers clearly separate the brands they carry, Lawson adds. "There are so many toys on the market that defining your selection with branding will help reduce confusion for your shoppers."
One thing for sure; as long as pet owners continue to treat their dogs as if they were one of their children, the demand for plush toys is always going to be there, says George.
"Picking out a new plush toy is something consumers get to share with their pooch," she says. "It's a positive experience for them. And for retailers, this is an opportunity to offer some additional fun and colorful products to their space." PB