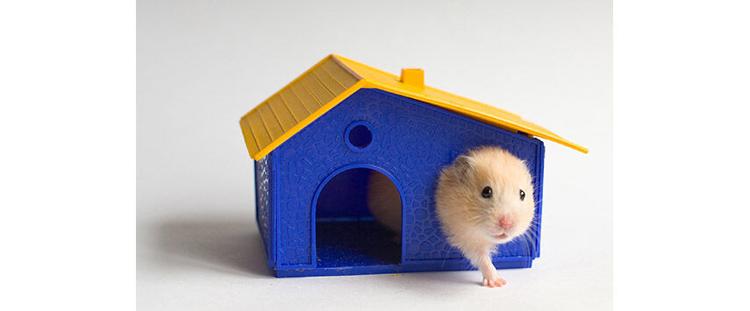 Small animal habitats are a critical category for retailers, particularly since a successful sale of a habitat to a new pet owner can build a strong foundation for a regular customer. But these products also present some challenges, as there's the wide variety of small animal pets and the range of sizes and features they require. Then there's the question of how to merchandise these relatively large products efficiently and effectively. By staying on top of current trends, knowing how to help customers make the right choice and developing an impactful merchandising strategy, retailers can make the most of the small animal habitat category.
"I think the major trends in small animal habitats are bigger habitats and more neutrals—appealing to young people but aesthetically pleasing in a home," says Tara Whitehead, director of marketing and communications, MidWest Homes for Pets.
As seen with many other kinds of pet products that are always visible in the home, small animal habitat manufacturers are focusing on providing products that not only provide a secure living space for the pet, but also blend well with the surrounding decor. This is also an important consideration since habitats tend to take a significant amount of space, especially as well-informed customers seek to provide the most comfortable home for their small pets.
"When it comes to small animal care, bigger is better," says Whitehead. "This is why MidWest's Ferret Nation, Critter Nation, and Guinea Habitat are among the most popular in their categories. We are working to continue to cater to this need, as we are introducing a larger cage in the rodent category in February 2020 and looking into additional large rodent cages later in the year."
In addition to sheer size, features that make it easier to care for and play with the animal are also growing in popularity.
"The options that ferret owners are excited about are multiple levels that allow each level to close off for easy cleaning without removing their pet and providing opportunities to play and exercise by attaching a tube," says Amanda Altman, marketing coordinator at Marshall Pet.
As more pet owners are doing their own research on caring for their small animals, it's essential that retailers be prepared with products that meet their needs. Lucas Stock, communications manager at Oxbow Animal Health, highlights that these informed shoppers are on the lookout for bigger habitats that can provide a happy life for their pet.
"In addition to basic nutrition needs, small pets require daily opportunities for mental and physical enrichment to be at their happiest and healthiest," Stock says. "The ideal habitats will provide plenty of space for small animals to explore and to engage in their instinctual behaviors."
John Gerstenberger, vice president of product development at Ware Pet Products, also emphasizes that more space and accommodating natural small pet behaviors like burrowing are increasingly important considerations. He adds that retailers should keep the shifting demographics of small pet ownership in mind.
"Small animal pets are not just for kids any more, but are an emerging pet category and deserve products that are species specific and designed based around their unique nutritional and play needs," Gerstenberger says. "Also, products for these pets must now appeal to an ever-expanding range of adult pet owners, including their desires and tastes in product designs, packaging designs, etc."
The Right Questions
Since small animals come in such a wide variety of sizes and species, each with distinct needs, it is essential that retailers know the right questions to ask to match the customer with the appropriate habitat. For ferrets, Altman recommends asking about the number of ferrets that will be housed in the cage and how many hours a day the animal will be alone in the house, as well as space constraints and the cage's cleaning features. Whitehead also points out that ascertaining if this is a first small pet is also important, especially since this can provide an opportunity for further product recommendations.
"Retailers need to understand the customer's needs and level of experience with a small animal," Whitehead says. "Is this their first? How many will they be housing? Do they need assistance picking out necessities and accessories as well as health and wellness items for their new pet?"
While many customers do some research online before getting a new pet and about the products they need to care for it, retailers still play an invaluable role in making sure pet owners have the right information and know about all of the factors involved in choosing the right habitat.
"Retailers must help the customer understand what small animal they are buying for, and help identify the unique behaviors, diet, play, etc., for that individual species," Gerstenberger says. "We encourage pet parents of small animal pets to provide as much secure space for their pet as they can afford . . .  rarely can too much secure space be provided."
Whitehead stresses the importance of building relationships with and taking advantage of materials provided by the habitat manufacturers.
"Allowing a sales representative to visit your store and demonstrate product, to have an actual conversation and build a retail-sales relationship, is invaluable," she says. "Look for quality images, infographics, instruction manuals and, especially, product videos to begin your initial research."
Stock further notes that their retailer partners have access to extensive educational, point of sale and promotional support, including Oxbow's "Nurture Their Nature" campaign, which includes digital enrichment trainings for retailers, support for hosting in-store events, social media kits and more.
"We strongly encourage all retailers to build a dedicated enrichment and habitat section for small animals, as this is the most basic and effective way to reinforce the understanding that enrichment is essential to the daily health and well being of small animals," Stock says.
Many manufacturers of small animal habitats offer informative and attractive packaging, but they are in agreement that there is no substitute for having fully assembled cages in store.
"While an assembled habitat on a shelf is more space intensive, it still provides the consumer with the best visual for making a more informed habitat purchase," says Gerstenberger.
Whitehead also points out that having habitats set up is the perfect opportunity for an all-in-one marketing display, featuring the enclosure itself, accessories, and possibly even food and an actual pet.
"For those retailers who carry live animals, we recommend they set up the habitats in the store whenever possible so consumers can see the construction, materials, finish, and overall quality," she says. "Cross-merchandise with food, toys, treats, and accessories and use these products to "house" the small animals within your store."
Altman further emphasizes the benefits of combining habitats and pets.
"The best way to sell the habitat is by putting an animal in it," Altman says. "Seeing the pet in the habitat encourages the sale of both animal and habitat."
Although a habitat is usually a once in a small pet's lifetime purchase, a successful sale in this category is the perfect opportunity to become the retailer of choice for all of the customer's further needs. Because of this, retailers need to stay on top of the trends in this varied market and work with their manufacturer partners to ensure they have the best possible options available in their stores.
"As an expanded market that includes both younger and older demographics as well as families enjoying small animals as pets, they are looking for products that do more than just meet their pet's unique needs," Gerstenberger says. "They are seeking 'new' and different, innovative, and better quality at a reasonable price."  PB