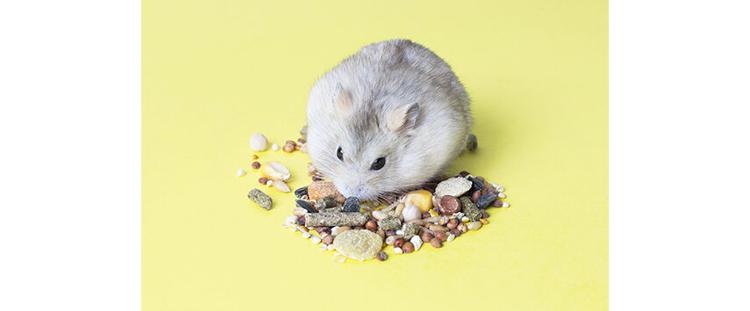 Pets like guinea pigs, rabbits and chinchillas may be small, but that doesn't mean an owners' love for them is. Just like parents of dogs and cats, small animal parents want the absolute best for their fur babies—especially when it comes to nutrition.
"As pet owners become more educated about the unique dietary needs of their small animal, they seek a well-rounded, quality diet they feel good about feeding their small pet," says Gina Nicklas, marketing specialist in small animal for Wisconsin-based Kaytee. "Pet parents are willing to pay more for high-quality food if it means better nutrition."
With an increasing number of small pet owners interested in investing in their pet's health, retailers have an opportunity to be their go-to resource.
"In today's super-competitive marketplace, it's essential to serve as a 'one-stop shop' for all pet parents, and investing in even a modest small animal set will help you accomplish this," says Lucas Stock, communications manager for Oxbow Animal Health. "As bonuses, margins are often very attractive in small animal, and the category doesn't demand a giant footprint in your store."
Unique Diets
One major way that small pets differ from their canine and feline counterparts is their specific dietary needs.
"Unlike dogs and cats, which receive the majority of their daily nutrition from a uniform food, hay should be the focal point of the diet for most small pets and should be available in unlimited quantities at all times," says Stock.
Oxbow has been growing and harvesting hay for small animals for over 30 years, using knowledge from five generations of family farming experience. The Omaha, Nebraska-based manufacturer was also the first company to bring Western Timothy hay to the small animal marketplace.
Oxbow currently offers a range of different hay varieties, including Alfalfa, Oat, Orchard Grass, Western Timothy and Organic Meadow, to ensure small pets stay interested and satisfied.
"In addition to hay, we produce multiple lines of uniform, species and life stage specific foods, as well as healthy treats and hay- and herb-based supplements, which are designed to support common wellness needs in small pets," says Stock.
With so many different types of small pets available, manufacturers have taken some of the guesswork out of shopping by formulating foods for specific species and development stages. For example, Oxbow offers seven different fortified foods just for rabbits of various ages and taste preferences.
Naturally Nutritious
While their nutritional needs may be different, many of the trends in the small pet category mirror those found in cat and dog foods.
"As with other pet food sectors, the natural movement shows no sign of stopping. Pet owners are still very keen to feed a healthy food that only contains the ingredients that a small pet would encounter if naturally grazing," says Claire Hamblion, marketing manager for Supreme Petfoods.
The UK-based manufacturer's Science Selective line of small pet food features natural ingredients. The recipe for adult rabbits, for instance, contains 25 percent crude fiber to promote general well being and vitality. Plus, each Selective formula contains zero added sugar, which can be damaging to small pets' teeth, skin and digestive systems.
Similarly, parents of small pets are also increasingly interested in grain-free pet foods.
"The grain-free phenomena is really quite remarkable in that there is very little doubt in the minds of consumers about the benefits," explains Hamblion.
According to a Supreme Petfoods survey from two years ago, 93 percent of small pet owners believe that there is a benefit to feeding their pets grain-free food. In response, the manufacturer created Selective Naturals Grain Free foods for both rabbits and guinea pigs.
Wild Eats
Another industry-wide trend that's showing up in the small pet world is ancestral diets.
"In the wild, small animals are natural gatherers versus their dog and cat counterparts, which are more commonly considered hunters. Foraging is a core instinct of small animal species and essential to their overall well being," says Nicklas. "When small animals are kept as pets, they no longer need to search for sustenance… which makes it even more important to provide plenty of mental and physical stimulation through food ingredient variety."
Kaytee recently launched a new line of small pet food, Food from the Wild, to help fill this foraging gap. The food medleys feature a variety of premium pellets and natural ingredients for each species' specific diets. The chinchilla blend, for example, is crafted with rose hip, marigold, sweet potato and Timothy hay.
"[We] created Food from the Wild to give pet parents a small animal food they can feel good about feeding their small pet," says Nicklas. "Food from the Wild has no added sugar, no fillers and no artificial preservatives. The real fruit, vegetables and botanicals offer added enrichment for a well-rounded small animal diet."
Big Sales
Retailers looking to boost sales of small pet nutrition products should start with education. Since small pets remain less popular than dogs and cats, owners may lean on retailers for more guidance in choosing the right food. It's crucial for salespeople to be knowledgeable about the needs of a wide range of small pets.
"To provide top notch advice, retailers really need to know what they are talking about," says Hamblion. "We provide online training to ensure they have everything they need to make great recommendations and to help with problem solution. We address the needs of true herbivores and also the more omnivorous species, like hamsters, mice and rats."
Retailers should also think carefully about how they display small pet products. Their food may take up less space than bulky cat or dog kibbles, but that doesn't mean they don't need a substantial in-store presence.
"Incremental space on the floor is an effective driver of additional nutrition sales. Whether through dedicated endcaps or promotional displays, it's always great to dedicated as much real estate to small animal nutrition as possible," advises Stock.
While both of these steps require an investment of valuable (and limited) resources from retailers, it's definitely worthwhile.
Hamblion explains that, "with the younger generation living in increasingly smaller apartments and living alone or with friends for longer before starting families, we feel that small pet ownership will continue to take the place of cat and dog ownership." PB