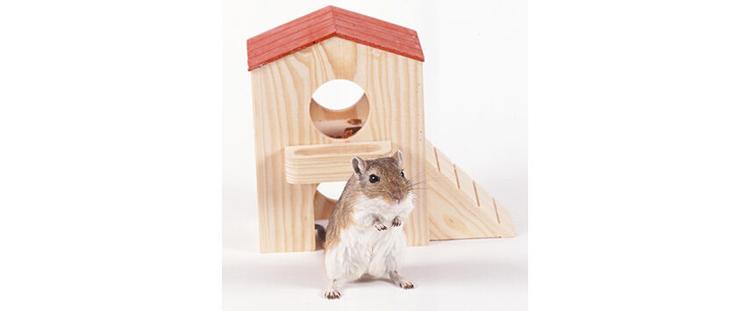 Imagine a world without phones, computers and televisions; a place where the only thing available to you is a rubber ball. Day after day, it's just you and the ball, you and the ball, you and the ball…
Now, let's take that one step further: you're stuck in a small room, by yourself, with only one or two hours of social interaction per day. Sounds pretty miserable, right?
For most small animals, that's just a regular day. With their owners busy working, doing chores and socializing, it's important to make sure small animals have some sort of stimulation throughout the day to keep their minds sharp and their bodies strong.
"In the wild, small animals would explore, chew, hide and play throughout the day," says Lucas Stock, communications manager at Omaha, Neb.-based Oxbow Animal Health. "When these instincts are overlooked or not properly supported, the negative results can include a sedentary lifestyle, obesity and multiple boredom-based behaviors."
In other words, toys play a necessary part in shaping the lives of small animals.
John Gerstenberger, vice president of product development for Phoenix-based Ware Pet Products, believes that when small pet owners are seeking out toys, they're most likely looking to:
• Solve a problem.
• File down their animal's teeth.
• Encourage play and exercise.
It can get tricky for retailers to have a comprehensive small animal section just because of the sheer amount of species that are considered part of this category. Being that everything from hamsters and ferrets to birds and cats can be squeezed under this umbrella, properly stocking these aisles can pose quite a challenge.
The first step retailers should take to get a sense of clarity on the various needs of different breeds is to acknowledge the necessity of a large toy selection.
"It is important to offer a set with several small animal options, as consumers look to give their pet a variety of toys," explains Gina Nicklas, marketing specialist—small animal for Chilton, Wisc.-based Kaytee. "A rabbit, guinea pig or chinchilla may really enjoy a chew toy to help wear down their teeth, a hamster or mouse may prefer something that allows him/her to burrow and a ferret may prefer an interactive and playful maze."
If the idea of aisles upon aisles of multiple toys for every single species seems daunting and, quite frankly, a little excessive, don't worry: There's a fair amount of crossover.
"Every small animal species is unique, but pets of all shapes and sizes share instinctual behaviors such as playing, chewing, hiding and exploring," says Stock. "Pets may interact in different manners with toys, but both a rabbit and a rat are likely to find some of the same toys engaging and entertaining—whether they're pushing, tossing, chewing or climbing on them."
That being said, retailers can't completely throw caution to the wind and only stock three or four items.
"With safety in mind, it's important to understand the recommended species for each toy," explains Nicklas. "In some cases, there are restrictions for baby animals or different sizes available based on the pets' size."
A good tip for choosing and providing enrichment toys for these creatures is to find products that get them in touch with nature and bring them back to their ancestral roots.
"In the wild, small animals forage for food, burrow for protection and encounter a variety of different objects," continues Nicklas. "Because of that, it's a good idea to give a small pet multiple toys, provide areas for them to burrow and feel comfortable, and give them something to chew on."
It's no secret that most retailers dedicate the large majority of their store to dog and cat food, toys and accessories, giving small animals a space that matches their size. It gets further complicated when the already-limited small animal space is crowded with bedding and food, often seen as more of a necessity than toys.
"Devoted toy sections are a good idea because they allow customers to understand the different toys and benefits of each," continues Nicklas. "This can be done by separating burrowing type toys, chew type toys and interactive playful type toys."
Oxbow "strongly encourages" retailers to build a dedicated enrichment section, because, "This is the most basic and effective way to reinforce the understanding that enrichment is essential to daily health and well being of pets."
The common consensus seems to be that the best way to market these products is by having them in displays.
"A great way to display it is to have the products inside the display habitats or containment solutions with real, live animals," explains Gerstenberger. "This shows the products in action, and they can potentially touch and feel and see how it's used with a real animal."
These habitats should include "numerous enrichment items… at all times," advises Stock, explaining that items should be rotated frequently to showcase all the new and innovative products in this field.
And, of course, there's always the classic power of signage.
"[It] is a great way to cross promote and catch your customers' attention while they are shopping for daily staples such as hay, food and bedding," explains Stock.
When it comes to pairing up the right animal with the perfect toys, "it's very important to learn about the customer's unique home environment, and always ask two to three key questions" to steer a consumer toward a solution, advises Gerstenberger. He recommends asking what pet(s) they have, what space or habitat that pet will have and what problem they're trying to solve.
As always, retailers can't underestimate the growing power of social media.
"Social media is a great and cost-effective way for getting the word out about new products, and enrichment is no exception," says Stock. "Check with your brand partners to see what type of support they can offer."
For its part, Oxbow offers a digital social media calendar and content kit to help its partners promote the benefits of its Enriched Life line of products.
It all comes down to a balancing game of providing a wide selection of products that are tailored to the specific—often overlapping—mental and physical needs of small animals.
"A diverse selection is important as it can help mimic the ancestral variety seen in the wild," says Nicklas. "As owners provide more toys to their small animal, they are not only providing them hours of fun, but are forming a bond with the pet."  PB