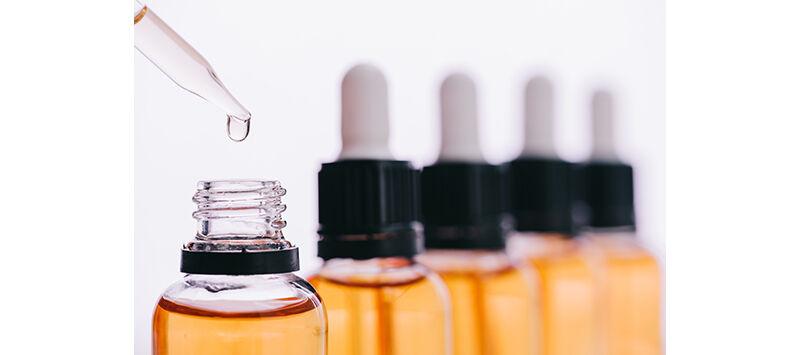 When it comes to the pet health category, supplements are becoming a bigger part of the conversation. But these products mean more than just vitamins and minerals—they're targeting particular parts of the body, improving emotional wellness and using natural ingredients like organic CBD. Retailers will have to keep track of these new developments in order to fully take advantage of this robust category.
Pet multivitamins may be a familiar part of the supplements market, but products that focus on specific ailments are becoming increasingly popular. Tomlyn Veterinary Science supports overall pet wellness by manufacturing a diverse range of supplements.
"We provide supplements that support immune systems, proper digestion, healthy joints, calming aids, first aid and more," says Brittany Green, a product manager for the Fort Worth, Texas-based company.
Tomlyn offers both pre and probiotic supplements for cats and dogs that support a balanced gut and optimal digestion. Its Joint & Hip chews for dogs contain chondroitin to improve mobility. The manufacturer also addresses emotional health along with physical well being—its Relax & Calm chews include high levels of L-tryptophan to soothe stress and anxiety in both cats and dogs.
"All products have been developed and created with the help of on-staff technical services veterinarians to ensure they meet a particular need of the pet parent," says Green.
In addition to formulating its products with the input of veterinarians, the company also prioritizes the quality of the ingredients it uses.
"Tomlyn is also a member of the National Animal Supplement Council, or NASC, and adheres all products to their strict guidelines to guarantee the highest quality," says Green.
Like Tomlyn, Earth Animal is another manufacturer that places importance on ingredient quality and using its products to address specific health needs. Based in Westport, Conn., the company is celebrating its 40th anniversary. Founded by husband-and-wife team Dr. Bob and Susan Goldstein, the company first developed natural flea-and-tick collars that don't use harsh chemicals.
"Veterinarians are still prescribing insecticides and pesticides, which have terrible side effects and many of which are carcinogenic," says Susan.
Earth Animal has since expanded to developing natural supplements for pets. Susan says that these products provide numerous benefits to pets without harmful side effects.
"They energize the body. They help to stimulate the immune system. They help reduce inflammation," she explains.
The company offers Organic Herbal Remedies that tackle head-to-toe health. The company's Vital Eye daily supplement provides ocular support using natural ingredients like bayberry and chamomile. Its Allergy & Skin remedy soothes skin irritated by allergies or insect bites, while Immune Support boosts immunity to allergens and infections. All of these products are formulated by Dr. Bob.
Earth Animal also offers Daily Health Nuggets for both cats and dogs. This supplement offers optimal levels of vitamins, minerals, enzymes, essential fatty acids, fiber and antioxidants for pets. It's also never exposed to high temperatures, maintaining maximum bioavailability of nutrients. Susan says this product is perfect for pet parents who choose not to use store-bought dog or cat food and want to make sure their animal companions are getting the nutrition they need.
"If you're home cooking, it's really important to balance the vitamins and minerals on a daily basis," she says.
The company also launched a new CBD supplement line called Nature's Comfort, in order to help pets with pain, anxiety, inflammation and nausea.
"CBD has been clinically proven to have some really good benefits for dogs and cats," says Dr. Bob.
He developed the Zen-Pen, a transdermal CBD gel that's easier to administer to pets than pills or tablets. It can be applied to the inner flap of a dog or cat's ear to provide quick relief.
"The therapeutic effect of the CBD is almost immediate to the animal," says Dr. Bob.
Seeking CBD
Along with Earth Animal, more companies are developing supplements that use CBD. Jon Neveloff, a partner at King Kanine, says that he's seen CBD products shoot up in popularity in part because of millennials, who are willing to spend more money on their pets and prefer natural and organic products.
"A couple of years ago, we had to explain what CBD was, and now the conversation is what needs to be better," he says.
Located in Plantation, Fla., King Kanine entered the pet industry with a deshedding tool. Now, its products are mainly CBD-focused. Neveloff says there are multiple benefits that make CBD perfect for inclusion in supplements.
"It's a natural antioxidant," he explains. "It's really suitable for joint issues, aches, nervousness, separation anxiety if you're traveling or if your dog's afraid of thunder or fireworks."
The company offers King Kalm CBD Oil in multiple dosages for cats and dogs. Made from natural phytocannabinoid rich broad spectrum oil, the supplement is designed to promote overall wellness in pets. King Kanine also gives these products to rescues and shelters in order to keep pets anxiety-free and more adoptable.
The benefits of CBD can also be delivered via treats. King Kanine's King Calm Crunch comes in three different flavors and also contains omega-3s and vitamins. Like Earth Animal, the company also offers topical treatments. King Kalm Balm contains CBD oil, as well as Manuka honey, beeswax and coconut oil—all of which help soothe cracked paws and noses.
If a retailer is considering carrying CBD supplements, Neveloff says they have to be selective and knowledgeable in order to avoid carrying inferior or even dangerous products.
"They need to know [what] they're selling," he says.
King Kanine places extra emphasis on educating retailers about their products through in-person education sessions. Each King Kanine product box also includes a QR code that delivers product information pages when scanned.
"It's important for us because we want to be able to tell [retailers] the difference between what we do and what other people do," he says.
Neveloff says interest in CBD is also helpful to independent retailers because customers will want someone knowledgeable and trustworthy to talk to when selecting CBD products. By researching the benefits of specific CBD products, retailers can effectively serve as a valuable resource to customers.
CBD Dog Health has also joined the CBD supplement movement by offering treats, tinctures, salves and meal enhancers. CEO Angela Ardolino agrees that retailers have to extensively research the CBD products they choose to carry in-store. She recommends asking CBD manufacturers for full panel, third-party lab test results for all of their products.
"Not all CBD products are created equal," says Ardolino. "Some CBD companies marketing to pets have just put a dog label on a human product—which can be dangerous because there are artificial flavors, like xylitol, in human products which can be toxic to dogs."
Ardolino started CBD Dog Health after CBD helped her dog Odie find relief from joint pain and anxiety. Like Earth Animal, CBD Dog Health creates products that are formulated to help pets heal without harmful side effects.
"I set out to make a product that is all-natural, made in the USA and which has no pesticides, herbicides or chemical solvents," she says. "CBD Dog products contain full spectrum hemp CBD, as well as essential oils from the USA, which provide incredible relief for dogs, cats and horses."
Headquartered in Lutz, Fla., CBD Dog Health offers three different varieties of CBD oil supplements. CALM reduces stress and anxiety, EASE deals with joint mobility and allergies, while HEAL helps with cancer, seizure reduction and dementia. The oils are species-specific in terms of their dosages and ingredients. For example, lavender has been removed from the feline version of CALM since it causes an adverse reaction in cats. The company plans to release versions of these supplements for horses.
Berkeley, Calif.-based Holistic Hound also uses CBD in its pet supplements. Co-founder Heidi Hill says these supplements have a whole host of benefits for pets.
"They can be used to help address both acute and chronic conditions such as diarrhea, arthritis, pain/inflammation, allergies, etc., as well as to stave off or prevent future health problems or as treatment for existing conditions," says Hill.
Hill started Holistic Hound in 2003 as a retail pet store that emphasized holistic healthcare. Ten years later, Hill developed a line of pet health products inspired by the health benefits of CBD.
"The Holistic Hound line of full spectrum hemp oil and medicinal mushroom supplements for dogs and cats is now available at retailers nationwide, and we continue to expand our line to include additional types of CBD-based products formulated specifically for our animal companions," says Hill.
The company is releasing three new products this spring. Full Spectrum Hemp & Mushroom Soft Chews contains ashwagandha, an herb used to promote calmness, hormone balance, immunity and joint health. The Full Spectrum Hemp Healing Balm blends organic, full spectrum hemp oil with CBD, and essential oils and butters to help with joint pain, inflammation and wound care. The company's Full Spectrum Hemp Oil with 1000 mg CBD offers a stronger and more concentrated CBD option for optimal health benefits.
Having been a retailer herself, Hill says she works closely with the stores that carry her products. Holistic Hound provides retailers with online and in-person education sessions as well as POP signage, brochures and monthly emails to keep them updated on CBD supplement happenings.
"Because this is such a new product category, education truly needs to be a hands-on experience," Hill says.
With the broadening supplement market, retailers should take advantage of these educational opportunities in order to maximize these products' sales potential. PB