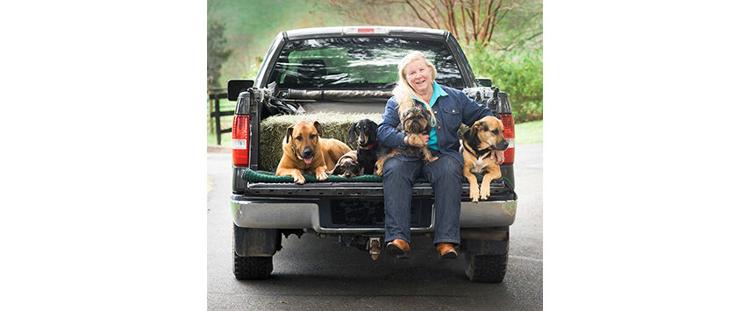 Pets can inspire us to do a lot of things, from being more active to caring about the environment. For Patricia Harris Zeller, her Chesapeake Bay Retriever, Ernie, inspired her to take on an entirely new career path.
When he was 8 years old, Ernie was diagnosed with cancer. After consulting with multiple veterinarians, Zeller found a holistic vet who suggested she switch from kibble to raw food and Chinese herbs. Ernie had such great results on the new diet that Zeller eventually decided to go all in and open her own holistic pet supply shop.
"Up until this time, I had been an ad agency creative director and business owner," says Zeller. "My dog 'suggested' I use my skills to 'tell the world' there was a better way to feed pets."
In 2003, Zeller sold her agency and opened the Animal Connection in Charlottesville, Va. The first store was just 800 square feet with three freezers, but it has since expanded to 3,500 square feet with eight freezers.
In this much larger space, the Animal Connection provides customers with a wide selection of raw foods, supplements and other supplies to help pets stay happy and healthy.
Zeller's vision for the Animal Connection has always been about more than just helping pet parents find the best pet products, though. She also wants the shop to be a resource for holistic vets, dog trainers, rescue groups and anyone else interested in pet wellness.
"It was important to be positioned as a pet lifestyle professional but also as a community leader in the pet world," she adds.
Marketing Marvel
One way that the Animal Connection has been particularly effective is in its modern marketing strategy—a fact recognized with the 2019 Retailer Excellence Award for Internet Marketing from Pet Business and the organizers of Global Pet Expo.
However, even though Zeller spent 20 years in the ad agency world, she personally found the transition from traditional media to social media particularly challenging.
"I teamed with a consulting firm that did a brand review and helped me break down my marketing message to a format that would work in today's instant society and coached me on effective uses of social media," explains Zeller.
This collaboration led to the creation of the Animal Connection's weekly Facebook Live talk show, What's Barking Local. The show is co-hosted by Zeller, who interviews guests from the central Virginia animal community, such as rescue groups, dog trainers, pet food suppliers, veterinarians and even kayakers who bring their dogs camping.
"[Barking Local] takes my gift for gab, my marketing skills and allows me to reach over 350,000 people every week to spread the word about my store's products and services," says Zeller. "It also gives the rescue groups and non-profits I bring onto the show a chance to tell their story to a large audience."
In-Person Experiences
This year, Zeller has been focused on expanding the store's live experiences, such as in-store grooming and a self-serve dog wash, to stand out from the big-box competition.
"Online giants can't provide things like grooming, self-serve dog washes, fun events that our customers look forward to every month," says Zeller. "We do everything—photos, selfie stations, cookie decorating, dog walks followed by brunch, Easter egg hunts all through the store—anything we can do that is creative, unique and super fun!"
One of Animal Connection's greatest efforts is its annual Dog Fest. What started out eight years ago in a picnic shelter with 200 attendees has grown into a community-wide event that draws over 5,500 attendees, 45 vendors and 18 non-profits.
Over the years, Zeller and her team have found innovative ways to enhance the event for pet-loving guests. Last year, for instance, they partnered with a local brewery to create Big Dawg Blonde Ale, which was sold at the festival to raise funds for pet rescue projects.
"My store's vendor tent featured 'the world's largest treat and sample bar'—almost 100 ft. long, and all donated by my loyal suppliers!" she adds.
Zeller also strives to make customers' everyday experience at the Animal Connection just as special. The store itself doesn't use traditional slant walls and grids. Instead, Zeller uses pieces such as antique store finds and repurposed farm tubs to create unique displays.
"My grandfather had a country store in eastern North Carolina, and I like to think his store inspired me in much of our display," says Zeller.
Customers can even take a piece of the cheeky and fun Animal Connection experience home thanks to the store's line of branded merchandise. The store's tag line, Bark Local, encourages consumers to shop locally and is available on shirts, buttons and even shopping bags.
Lessons Learned
Being a successful pet retailer today involves juggling a lot of different priorities, according to Zeller. From working with suppliers and training staff to selecting products and working with media outlets, it's a wonder she gets any sleep. Her first priority, though, is education—for herself, her staff and her customers.
"One has to know how pet food is manufactured, about the ingredients and where they're sourced, how to read labels correctly and how to recommend the right pet food for dogs of all ages, breeds and medical conditions," Zeller explains. "We have to be good communicators so we can give this information to our employees and customers."
When it comes to aspiring pet retailers, Zeller advises against jumping in without a thorough and detailed game plan.
"Do your demographic and marketing research before you decide to open a store. Have a clear plan of why you want to be in business because to do it well, you have to spend huge amounts of time to make it successful," she says.
Zeller also recommends seeking out support, resources and ideas from both inside and outside of the pet industry.
"When you travel, visit stores to see how they display their merchandise and experience their customer service—not just pet stores," she says. "Find the support of other independent retailers for support and inspiration. Learn from business leaders who may not be in the pet industry. You never know where you'll find a great idea that sets you far and above your competitors!"  PB