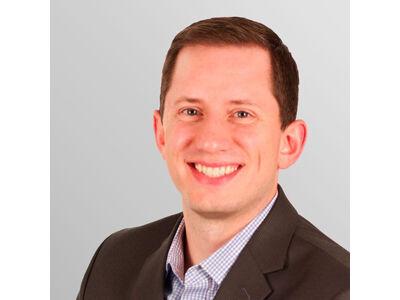 With yoga, meditation and mindfulness going mainstream, it was only a matter of time before Zen culture would become a dog and cat thing.
The latest data from GfK MRI shows that a remarkable 43 percent of U.S. consumers—and 42 percent of pet owners—say they prefer alternative cures to traditional medicine. The proportion among women pet owners is higher (46 percent versus 39 percent for men); and the 35 to 44 age group among pet owners recorded the highest levels of enthusiasm for alternative cures.
Pet parents who supplement their own health between doctor visits may also do the same for their furrier family members. From general health maintenance to more specific and targeted products, there are now more than 1,800 functional pet treats offering preventive care or relief for a variety of ailments.
The latest incarnation of this trend is the rise of functional pet treats with a holistic spin. As the benefits of "alternative" ingredients grow in popularity for humans, pet parents and forward-thinking treat manufacturers are realizing they often have similar benefits for pets.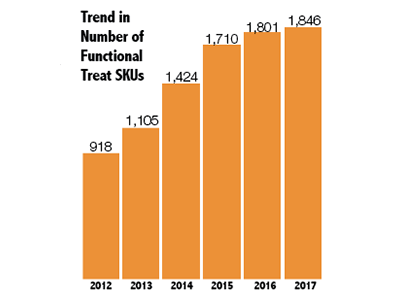 Dental Benefits Dominate
We humans brush and floss every day, so it is no surprise that oral and dental SKUs are the most accessible and commonly purchased functional treats. We like our teeth pearly and want our breath to stay fresh, so keeping Fido's kisses minty clean is an easy sell. Overall, nearly 67 percent of all functional treats have a dental benefit.
Other functional pet treat benefits—like allergy relief, joint health and weight management—are also common sights in pet retail, so having a claim may not be enough to stand out on shelf.
The biggest opportunity for future growth, and a powerful way to set your treat brand apart, may be "alternative" ingredients that bring overlapping benefits to humans and pets:
• Turmeric—good for gastrointestinal disorders and keeping arthritis and inflammation at bay
• Coconut—well-known for its positive effects on beauty and hydration, promoting healthy skin, smooth coats, and a natural energy boost
• Honey—a soothing appetite inducer that can help with allergies and inflammation
Just as holistic ingredients and their benefits are going mainstream on the human side, they are also moving from being hidden in pet treat ingredient panels to front and center on pet food packaging. And anyone who walked the show floor or new item section at Global Pet Expo can attest that this is a trend that will continue to grow.
GfK now tracks  different functional benefits in treats through its POS panel representing over , pet specialty shops, so we are well-placed to keep tracking this new development in the pet marketplace. Stay tuned for more insights and data. PB
Sean Simpson is Client Service Manager on GfK's POS Tracking (Pet) team. Need more data about the U.S. pet marketplace? Write to Marleen Cassarino (marleen.cassarino@gfk.com) to find out how you can join GfK's POS panel today.