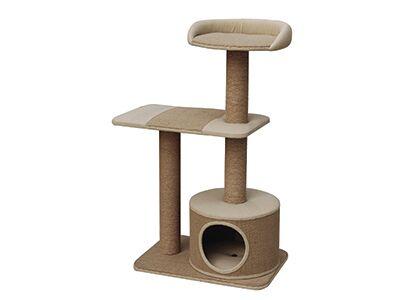 Pet Business: PetPals Group has been manufacturing cat furniture and toys for more than 20 years now. What has been the key to the company's longevity? What sets you apart from other competitors in the market?
Libby He: The key to the company's longevity is that we keep changing and innovating our products. At PetPals, we are proud to offer a variety of products—whether influenced by classic or fashion-forward trends—to meet the dynamic, ever-changing needs of our customers around the world.
The difference between PetPals and our competitors is that we are using durable and eco-friendly materials on our products, such as sisal, water hyacinth and paper rope. Also, we use particleboard on most of our cat furniture, which allows over 40 lbs. capacity. We aim to provide the best quality of pet supplies with reasonable prices.
PB: PetPals has been a pioneer in the use of eco-friendly materials to create pet products. What led the company to be an early adopter of these types of materials? What benefits does this provide to pets and their owners?
He: Since climate change has become a serious problem, we are trying to adopt more eco-friendly materials in our pet supplies. In addition, PetPals' products are made with the pet parent in mind, so most of our products don't use any chemical glue, because cats don't like the smell. For example, our paper round bed and seagrass round bed use a double-knitting technique that doesn't contain any chemical materials.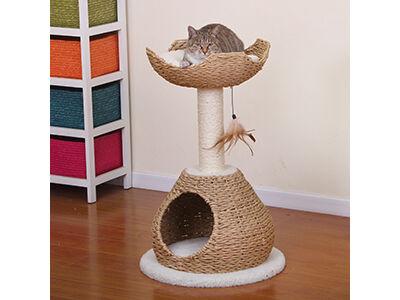 PB: What are some of PetPals' most popular products? What are some of the key features of these products?
He: The key features for most our products is differentiation—we are using different materials to provide high-quality products. Also, we design our products based on cat behaviors and to coordinate with home decor.
Other highlights of our products include:
Durable materials.
Saving storage and shelf space.
Classical, eco-friendly and fashion-forward design.
Our top six products in 2017 were:
The PetPals Cozy features paper rope, ultra-soft fleece pillows and duel sisal posts.
The PetPals Piller is a three-level condo that features paper rope and jute.
The PetPals Ace is a black and white paper rope perch and condo lounger.
The PetPals Kitty Starter Kit is an all-in-one product that is easy to display on the shelf.
The PetPals WalkUp is a condo and perch that features paper rope and a sisal post.
The PetPals Lily Pad is a 2017 Pet Business Industry Recognition Award Winner that features natural wood and an interactive racing toy.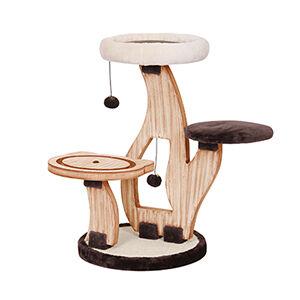 PB: What are the newest product introductions from PetPals Group? How do these products improve upon what's come before?
He: This year, we adopted more fashionable design and paid more attention to color and function. We improved materials and solved more problems, such as storage, packaging and shelf display. Our new products for 2018 include:
The PetPals Meadows features a spacious 18 x 18-inch perch, teal blue solid chenille, chocolate detail and a chocolate paper rope post.
The PetPals Cushy features jute and ultra soft fleece bedding, and a rubber massager.
The PetPals Lena is a cute cat-shaped condo featuring durable felt materials.
The PetPals Kitty Advancer Kit is an all-inclusive product with easy on-shelf display.
The PetPals Duffy/Buffy/Puffy Scratching Posts feature funny cat face designs, are easy to carry and save storage space.
The PetPals Tumbler Toys rotate and vibrate, and can be filled with treats.
PB: Aside from offering high-quality products, how does PetPals Group help retailers drive sales in their stores? What types of sales and marketing support do you provide?
He: PetPals is currently working on educational literature now. Most retailers miss sales opportunities because they misunderstand products. Before selling to the end customer, retailers need to know how the products work. Then they can educate the customer and provide an appropriate recommendation. Also, in the near future, we will post more product instruction videos on social media, which helps customers use the product correctly.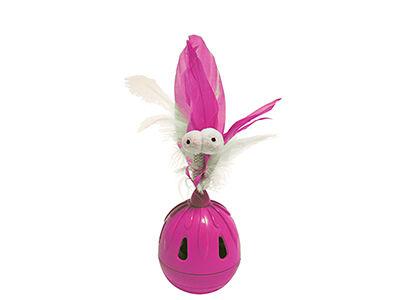 PB: What advice would you give to retailers looking to increase their sales of cat furniture and toys? Are there any particular merchandising and/or marketing tips you can offer?
He: Because cat furniture and toys are the main source of entertainment for cats, retailers really need to show the different functions of products to customers, as well as advise customers based on their cats' behaviors.
PB: What does the future hold for PetPals Group, as well as the cat furniture and toys categories in general?
He: PetPals Group will become one of the top 10 pet suppliers in the world. We currently have more than 20 years' experience and keep exploring new designs. We are proud to offer a variety of products influenced by classic, fashion-forward or eco-friendly design. Since environmental issues have been getting a lot of attention, the use of eco-friendly products will become more popular, even for cat furniture and toys. Products like ours enable pets to play more comfortably with chemical-free materials. PB